Above Image: h/t Fox News video.
The voter registration deadline in Arizona was Monday … that is until a federal court judge extended the deadline until October 23.
Howard Fisher reports, Judge extends Arizona's voter registration deadline to Oct. 23; state won't appeal:
In a ruling late Monday, U.S. District Court Judge Steven Logan said the COVID-19 pandemic and the restrictions on travel and gathering imposed by Gov. Doug Ducey made it difficult for some groups to fulfill their goals of getting more people to register to vote.
So he said that, at least for this year, the Monday, Oct. 5 voter registration deadline does not apply.
Instead, he is directing the state's 15 county recorders to accept all voter registration applications received by 5 p.m. on Oct. 23.
Democratic Secretary of State Katie Hobbs said she will not appeal the decision.
"We need to give the voters clarity," she said. "We don't want to prolong this."
That, however, may not be the end of it.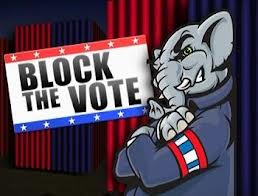 Logan allowed the Republican National Committee and the National Republican Senatorial Committee to intercede in the case. And their attorney, Kory Langhofer, said late Monday he is still reviewing the ruling with his clients to see if they want to try to get it overturned.
That would be a substantial hurdle in a short period of time, especially if the 9th Circuit Court of Appeals sides with Logan and the GOP groups have to seek intervention by the U.S. Supreme Court.
At a hearing earlier in the day Monday, Hobbs' attorney Kara Karlson argued that moving the deadline closer to the election would create problems. She pointed out that early ballots go out Wednesday, Oct. 7, and, presumably, will start to come back to county offices soon after.
Logan brushed that aside, questioning whether the cutoff of 29 days before the election, one of the longest in the country, was "antiquated."
"The court takes note that 31 other states have later voter deadlines than Arizona," he said. In fact, Logan noted, some states allow people to register right up to Election Day.
Next year Arizona should enact legislation for same-day voter registration, and join the 21st Century. As of June 30, 2019, 21 states and the District of Columbia had enacted same-day registration provisions enabling voters to register and vote at the same time.
Langhofer had no better luck with his arguments to Logan that face-to-face voter registration isn't the only way people can sign up to vote.
"Any individual possessing a computer, smartphone or postage stamp may register to vote in a matter of minutes without leaving her home or risking exposure to COVID-19 pathogens," he said.
Logan was not impressed.
"This court acknowledges the efforts made by the secretary and the state to make voter registration easier," the judge wrote.
"The court is also cognizant of the large population of Arizona that lacks access to the internet," Logan continued. "Registering to vote has never been easier for some, though others are not so fortunate."
Instead, the judge said he was convinced by arguments by about how successful the groups Mi Familia Vota and the Arizona Coalition for Change had been in getting people signed up to vote — at least until March, when the pandemic and the governor's orders changed everything. Those two groups filed the suit that led to the judge's ruling Monday.
Specifically, Logan said the challengers were registering about 1,523 voters a week before the pandemic; that figure dropped to 282 a week during the restrictions.
Mi Familia Vota and the Arizona Coalition for Change's attorney told the judge that once those restrictions were lifted, the number of new registrations returned to pre-COVID levels. That attorney, Zoe Salzman, said if he granted an extra three weeks — she had asked for an Oct. 27 cutoff — the challengers would be able to register another 25,000 voters.
All that, Logan said, means the additional burden on the state and the county recorders of extending the registration deadline is outweighed by the effect on those who would be hurt by leaving it in place.
"The harm suffered is loss of possibly tens of thousands of voter registrations," the judge said, adding that it would also interfere with the constitutional rights of the challengers to organize voters. "Plaintiffs' interests outweigh those of the government."
In another election dispute arising out of individuals confined to assisted living or nursing homes being able to vote while COVID-19 restrictions prevent voter assistance in the facility, an Arizona judge upholds video voting proposal opposed by the state:
Some Arizonans who vote remotely are legally entitled to use video screens to do so despite a state law that makes it illegal, a judge ruled Monday.
In an extensive ruling, Maricopa County Superior Court Judge Randall Warner agreed with Assistant Attorney General Michael Catlett that Arizona law requires that a ballot "be delivered" to someone who is seeking the help of a "special election board." These are panels set up in each county, consisting of one Republican and one Democrat, who go to homes, nursing homes and other facilities to help people who are unable to fill out their ballots.
"The statute is unambiguous," Warner wrote.
But the judge said that doesn't end the issue.
"The county recorder has a duty — as does everyone else involved in the election process — to ensure a voter's disability does not prevent them from voting," he said. That includes a requirement to make "reasonable modifications."
"If a person's disability is such that they cannot meet with a special election board in person, then the 'in person' requirement must yield to federal law," Warner wrote.
The practice at issue comes up when a voter cannot, or will not, meet with a special election board.
That can range from individual concerns by someone who may have a compromised immune system to those confined to nursing homes, assisted living centers and similar facilities where access has been restricted because of COVID-19.
Instead, the policy crafted by Maricopa County Recorder Adrian Fontes — and echoed by guidelines issued by Secretary of State Katie Hobbs for other counties — has election workers use a computer tablet to "meet" with someone who is confined. That voter can use his or her own computer or a tablet furnished by the election board.
Election workers would go through the ballot line by line with voters, confirm the ballot reflects their views, and then effectively "sign" the ballot for them.
Catlett argued there is no need for video voting at these facilities, even in the face of COVID-19. He pointed out the Arizona Department of Health Services has decreed that election workers are "essential" and are permitted to enter these premises.
That argument did not impress Warner.
"The issue is not the legal impediment to in-person contract, it is the health risk," the judge said. "Federal law does not allow Arizona to impose on disabled voters the choice between voting and protecting their health."
Still, the judge said, his ruling is not a broad license for expanded use of video screens to cast ballots.
"That does not mean the county recorder is free to use video voting whenever he wants or for any voter who asks," Warner wrote. He said the law still requires that personal contact, a requirement that "only yields to federal law when necessary to allow a disabled person to vote."
Catlett, however, argued that what's being proposed here is not just different but also dangerous.
"It strips away the one method for voter integrity that the Arizona Legislature included in the statutory procedures," he said.
"It may be the wave of the future," Catlett told Warner.
"It may be a great thing," he continued, even if there are safeguards. "But all of those considerations need to be decided by the Arizona Legislature."
Warner dismissed that contention, saying the risk of fraud is low.
"Bipartisan special election boards are a safeguard against that," Warner said. "Conversely, there would be irreparable harm if disabled voters are unable to vote, and it is later determined that this violated their rights under Arizona and federal disability law."
But Monday's ruling also was not a clear victory for Fontes.
He had asked Warner for a blanket ruling to rule his policy of how and when to allow video voting is necessarily legal. And Fontes was backed by Hobbs who put out her own guidelines for video voting that mirrored what Maricopa County had adopted.
Warner refused.
"There is no way to know in advance exactly what situations will necessitate a video interaction," the judge said. More to the point, Warner said he can't determine when video voting is legal and when it is not without having a specific case in front of him.
"The court cannot issue declaratory relief approving the policy in advance of its application," the judge said.
During arguments earlier in the day, Catlett asserted bullshit "facts" not supported by any evidence, and red herrings that were mere speculation on his part. (That's the kind of thing that gets you sanctioned by the court).
Attorney Joshua Bendor, representing Fontes, told Warner that Catlett was raising issues that did not exist in a bid to quash all forms of video voting.
"This case is about the recorder's attempt, using a very targeted policy, to ensure the disabled people in Maricopa County who are physically unable to mark their own ballots due to disability can vote in the election this year," he said.
The AARP reported, COVID-19 Threatens Voting in Nursing Homes as Election Approaches (excerpt):
[There is] a growing chorus of advocates, state officials and election experts worried about the voting roadblocks that COVID-19 presents to many of the nation's 1.3 million nursing home residents — and the specter that some won't be able to vote in this fall's general election. More than 800,000 other people live in other kinds of residential care communities, including assisted living facilities, and will likely also be affected.
There isn't reliable national data for voter participation among residents of nursing homes and long-term care facilities, but they are a population that checks several boxes for high voter turnout. Nearly two-thirds are over age 65 and most are women; these are two groups who historically turn out to vote in higher numbers than the rest of the country.
With many residents cut off not just from loved ones but also election volunteers and county officials who would normally help them vote, experts fear that turnout will drop.
"Ensuring everyone can exercise their right to vote is of utmost concern to AARP," says Elaine Ryan, the organization's vice president for state advocacy and strategy. "We must remove any barriers residents of long-term care facilities may face, especially during this pandemic."
Given the widespread GOP voter suppression efforts nationwide, I would expect an appeal to be filed in this case.