This is a sad, mournful day in America. A woman of small stature but who was a true giant of jurisprudence on the U.S. Supreme Court, Ruth Bader Ginsburg, affectionately known as Notorious RBG, has died from pancreatic cancer at the age of 87.
I swear I heard the collective mournful cry of at least 150 million American women go up on learning of her death. Their champion for women's rights and equality is gone.
Goddammit 2020!
NPR reports, Justice Ruth Bader Ginsburg, Champion Of Gender Equality, Dies At 87:
Justice Ruth Bader Ginsburg, the demure firebrand who in her 80s became a legal, cultural and feminist icon, died Friday. The Supreme Court announced her death, saying the cause was complications from metastatic cancer of the pancreas.
The court, in a statement, said Ginsburg died at her home in Washington surrounded by family. She was 87.
"Our nation has lost a justice of historic stature," Chief Justice John Roberts said. "We at the Supreme Court have lost a cherished colleague. Today we mourn but with confidence that future generations will remember Ruth Bader Ginsburg as we knew her, a tired and resolute champion of justice."
Architect of the legal fight for women's rights in the 1970s, Ginsburg subsequently served 27 years on the nation's highest court, becoming its most prominent member. Her death will inevitably set in motion what promises to be a nasty and tumultuous political battle over who will succeed her, and it thrusts the Supreme Court vacancy into the spotlight of the presidential campaign.
Just days before her death, as her strength waned, Ginsburg dictated this statement to her granddaughter Clara Spera: "My most fervent wish is that I will not be replaced until a new president is installed."
It may be crass to discuss the political consequences of Ginsburg passing, but I assure you that Republicans are already dancing on her grave.
Just this week, Donald Trump presumptuously issued his list of potential court nominees selected by the Federalist Society. Trump releases list of 20 new possible Supreme Court picks: "The release, less than two months before the election, is aimed at repeating the strategy that Trump employed during his 2016 campaign, when he released a similar list of could-be judges in a bid to win over conservative and evangelical voters who had doubts about his conservative bonafides."
I guarantee you that phone calls have already been exchanged between the White House and Senate Majority Leader Mitch McConnell's office as I write this. You should expect Donald Trump to announce his nominee in short order.
The McConnell Rule
When Justice Antonin Scalia died on Feb. 13, 2016, within the hour of his death, McConnell said the Senate shouldn't confirm his replacement until after the election. "The American people should have a voice in the selection of their next Supreme Court Justice. Therefore, this vacancy should not be filled until we have a new president," McConnell said.
This unprecedented judicial blockade was an unconstitutional usurpation of the prerogatives of the president to fill judicial vacancies (and was part of the broader scheme of judicial blockade of Obama's nominees for all other federal judicial vacancies).
The Washington Post reported that McConnell boasted to constituents at an August 2016 political event in his home state of Kentucky, "One of my proudest moments was when I looked at Barack Obama in the eye and I said, 'Mr. President, you will not fill this Supreme Court vacancy,'" he said to cheers at the annual Fancy Farm Picnic.
McConnell's Hypocrisy
In February, this evil GOP bastard McConnell said he would fill Supreme Court vacancy if it opened this year: he told Fox News that he would fill a Supreme Court vacancy if it opened up this year, despite it being an election year.
By May, when Justice Ginsburg was hospitalized, Republicans were already plotting their move. 'We're going to fill it': Republicans ready for any Supreme Court vacancy:
Justice Ruth Bader Ginsburg's hospitalization this week and the looming end of the Supreme Court's term raise the prospect of yet another prized vacancy for President Donald Trump. And if there is a surprise opening or retirement in the months before the presidential election, GOP senators plan to act on it, despite denying President Barack Obama a Supreme Court seat in an election year.
"We're going to fill it" if there is one, said Sen. John Barrasso (R-Wyo.), the No. 3 GOP leader. "With Justice Scalia … people might not have thought he was the one, because he wasn't the oldest at the time. You just never know."
So in what's already been the most consequential year for politics in a generation, with a presidential impeachment and a rampaging pandemic, Capitol Hill could get significantly crazier.
This is now a prescient statement.
"If you thought the Kavanaugh hearing was contentious this would probably be that on steroids," said Sen. John Cornyn (R-Texas). "Nevertheless, if the president makes a nomination then it's our responsibility to take it up."
Supreme Court nominees can now be confirmed by a bare majority after McConnell changed the rules in 2017 to overcome a Democratic filibuster of Neil Gorsuch, Antonin Scalia's successor.
[T]he GOP would need the support of 50 of its 53-member majority to fill a vacancy. Vice President Mike Pence can cast a tie-breaking vote.
This evil GOP bastard Mitch McConnell did not even wait for Ginsburg's body to turn cold before releasing this statement: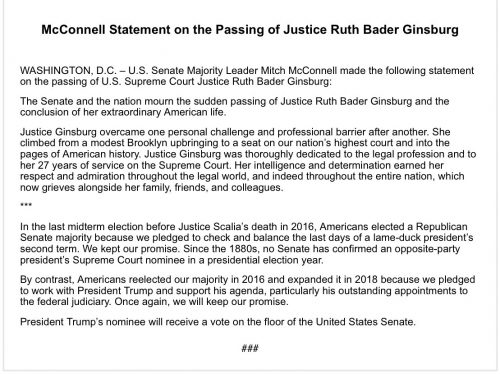 The 2020 federal budget expires on September 30, and there may be a government shutdown if Congress does not pass a CR short-term spending bill.
The Supreme Court's 2020-21 session begins the first Monday in October, in two weeks.
There are 46 days to Election Day from today. It is unlikely that a nominee can be confirmed by the Senate before Election Day (but the nomineee will be known).
Donald Trump has plainly signaled that he is going to challenge the legitimacy of the results of the election if he loses. This likely will result in him inciting violence from his supporters to hold onto power. All bets are off then.
There will be an interregnum period between Election Day and Inauguration Day. The new Congress will be sworn in  on January 3.
The most likely scenario is that Mitch McConnell and a lame duck Republican Senate would try to jam through a nominee during the interregnum, with several of those senators having retired, and several more having lost their seats in the November election. The certified result of their elections may not even be finalized at the time.
If Joe Biden has been elected president, and Democrats take back control of the Senate, "the people have spoken" as McConnell says, and the will of the voters should be honored.
This would be a partisan power grab by an authoritarian political party that is morally bankrupt. The control of power by a minority party – a tyranny of the minority – is the GOP's only guiding principle. This would be unprecedented, and should not proceed. It will require four Republican senators to defy Donald Trump and Mitch McConnell to deny them 51 votes to confirm. Are there even four Republicans of good conscience in America?
It would also be an insult to Ruth Bader Ginsburg's final wish: "My most fervent wish is that I will not be replaced until a new president is installed."
Any Justice nominated and confirmed under such circumstances will be denied any legitimacy on the court going forward. We already have this problem with Justice Neil Gorsuch, who filled the "stolen seat" that constitutionally should have been filed by Merrick Garland.
Mitch McConnell has already broken the Senate, and he intends to break the U.S. Supreme Court. There should be a special place in hell for this truly despicable, evil man.
This is war. Democrats must build a blue wave that sweeps away the authoritarian cult members of the personality cult of Donald Trump, from president all the way down to your local school board. The survival of American democracy depends on it.
It is a time for choosing.