Berdetta Hodge has spent her adult life aiding local communities and instilled the value of public service in her family.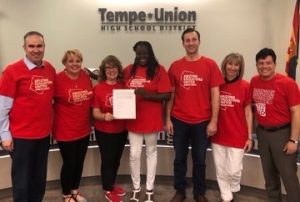 Her son Jevin Hodge is a candidate for the District One seat of the Maricopa County Board of Supervisors and is a fixture in Maricopa County and Arizona State Politics.
She is currently the East Valley NAACP Education Coordinator and is the Vice President of the Booker T Washington Child Development Center.
In 2016, she became the first African American elected to the Tempe Union High School Governing Board and the first African American woman elected in the City of Tempe.
She currently serves as the Board President.
Ms. Hodge wants to continue her service to the community and seek a second term to the board.
If re-elected, she pledges to work for:
Safe schools and meet student and educator needs to abide by CDC Coronavirus guidelines.
Erase the digital divide among students.
Quality Education for all of the district's children
High pay and good working conditions for the district's teachers, school leaders, and staff.
Ms. Hodge graciously took the time to discuss her candidacy for reelection to the Tempe Union High School Board.
The questions and her responses are below.
Please tell us three reasons you are running for the school board?
 "Simple: because I want to do all I can to support the next generation of leaders and that starts by ensuring we level the playing field for all students in our education system. I represent my community in a unique way. I have been a student, parent, and have volunteered in the district in several capacities since I graduated high school. I am the first African American on the board and I lend a strong voice from a viewpoint that has not been heard; I strive to represent everyone in Tempe and make sure all of our community has a seat at the table. It is an honor for me to serve the community that has served me so well." 
How would you rate the current school board you are running to stay part of and please explain why?
 "Excellent. I believe our board is excellent because it is THE MOST DIVERSE IN THE STATE. We have very diverse representation including, but not limited to: single parents, members of the LGBTQ community, African American, Native American, Hispanic, a teacher, a lawyer, business leaders, and age diversity. We do not always agree, nor should we; we may have different paths to get to a solution, but we generally always come to the same conclusion: Putting students, teachers, staff, and our community first."
In your opinion, what are the three most important education issues schools and all stakeholders in the district face?
 "The COVID 19 crisis has changed everything. Our kids are coming back from an ongoing pandemic and we have to protect them, keep them safe and healthy, and make sure their social and emotional well-being is taken care of."
 "Enforcing social distancing protocols so that we can ensure that our kids are safe. That starts with supporting and educating our teachers and staff so that they can maintain that."
 "Access to digital technology and infrastructure is critically important. We have to make sure all kids have access to technology should they need to stay home. We need to erase the digital divide because there is no safe way we can have all kids in class at the same time." 
What are your views on the implementation of the district reopening in the fall?
"We need to prioritize the health and safety of our students, teachers, and staff. The reopening will have to be a blended approach and a process that ensures we are social distancing. We also have to consider all aspects of education including activities and extracurriculars – like how to play sports or instrument cleanliness. What sports can we play? How do we enforce a social distracting protocol even during the in time between classes? It's not going to be easy, but we will get there together."
To what extent should your school district ensure all students have access to high broadband and a laptop/tablet for virtual learning should the fall opening be delayed?
 "It needs to be a top priority — to the highest extent. We are working on a process that will help to bridge the digital divide. We have already started to supply incoming freshmen with laptops, and we are will provide students that do not have laptops with a device. Additionally, we are working to ensure that all students have access to the internet. This will be an iterative process, but we will get there."
In your opinion, please advise at least one way your school district should make up for any of the lost learning time of this last academic quarter?
 "In my opinion, we create a system that allows students to access additional learning opportunities. It could be something along the lines of instituting a masters type system where kids get access to information, material, and educations that will help them get ahead and/or catch up. I would be remised if I do not recognize our teachers! The teachers have done a phenomenal job with their students in providing the highest quality of education despite the current environment."
Is there anything not covered in the first seven questions that you would like the reader to know?
"It has been the greatest honor to serve on the Governing Board and as a President.  I have been very proud of the teachers, students, staff, and the entire community as we have worked together to get through this pandemic."
For more information on Ms. Hodge and her candidacy, please click on her website here, her interview with Maricopa County School Superintendent Candidate Jeanne Casteen here, and her Facebook Page here.
Please remember:
Primary Election Day is on August 4, 2020, and General Election Day is on November 3. 2020. Please see the below graphic for all-important voting dates. 
Please check your voter registration at vote.
Register/sign up for the Permanent Early Voting List (PEVL) in Arizona or any state that allows early or absentee balloting and mail. Arizona residents can sign up at vote. 
Arizona residents, mail your General Election ballot by October 28, 2020, for the November 3, 2020 election.
Check-in with the Secretary of State's office where you live to verify your mail-in ballot was received, processed, verified, and counted.
Know the voter ID requirements in your state.
If you can, support Clean Election Candidates with a small contribution.
Also, please remember to stay informed on all the candidates and vote for all the offices on the ballot.
Also, remember to research all the ballot initiatives, sign to get them on the ballot if you support the measure, and vote on them as well.