No one will ever trust working with America again. This will have long-term negative consequences for our alliances and coalition building in the future. This is a dark day for America.
The Turkish invasion of northern Syria to massacre our U.S.Kurdish allies, who successfully defeated the ISIS Caliphate and who are holding thousands of ISIS prisoners of war, green-lighted by Donald Trump over the weekend has begun. The Washington Post reports. Erdogan orders Turkish offensive against northern Syria as Kurds mobilize civilian defense:
President Recep Tayyip Erdogan announced Wednesday that Turkey's military has launched a long-expected offensive into northeastern Syria targeting U.S.-allied Syrian Kurdish fighters who have played a central role in battling the Islamic State militant group.
"The Turkish Armed Forces, together with the Syrian National Army, just launched #OperationPeaceSpring against PKK/YPG and Daesh [ISIS] terrorists in northern Syria," Erdogan wrote Wednesday afternoon on Twitter, referring to the Syrian Kurdish force as well as the Islamic State [in a false equivalency.]
"Our mission is to prevent the creation of a terror corridor across our southern border, and to bring peace to the area," he said, referring to plans to create a Turkish-controlled "safe zone" in northeastern Syria. Turkish media outlets aired footage of warplanes leaving from an air base in southeastern Turkey. Witnesses reported explosions in and around Tal Abyad, a Syrian border town, as well as Ras al-Ayn, a town farther east along the frontier.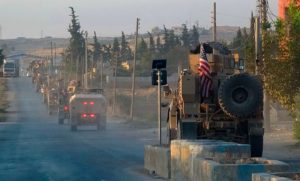 The White House announced Sunday that it was withdrawing U.S. troops from the area that Turkey planned to invade, igniting a firestorm of criticism in Congress — including from Republican leaders, who accused President Trump of abandoning the Kurds. In sometimes conflicting statements since then, Trump has defended the removal of U.S. troops. (Right: "Bug out," US forces withdraw from northern Syria).
"The United States has spent EIGHT TRILLION DOLLARS fighting and policing in the Middle East," Trump tweeted Wednesday morning, using an inflated figure that has been repeatedly debunked. "Thousands of our Great Soldiers have died or been badly wounded. Millions of people have died on the other side. GOING INTO THE MIDDLE EAST IS THE WORST DECISION EVER MADE….."
"Should have never been there in the first place!" he added later, after Erdogan's announcement that the offensive had begun.
Turkey views the Syrian Kurdish fighters as terrorists allied with Turkey's Kurdistan Workers' Party, or PKK. A spokesman for Erdogan, Fahrettin Altun, writing in The Washington Post on Wednesday, called for international support for Turkey's offensive.
"Turkey has no ambition in northeastern Syria except to neutralize a long-standing threat against Turkish citizens and to liberate the local population from the yoke of armed thugs," Altun wrote.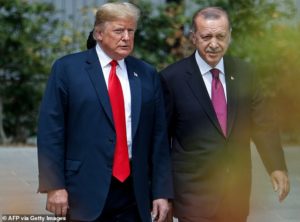 Why did The Post editors give editorial space to foreign propaganda? Especially after The Post's coverage of Erdogan's security thugs beating up protestors on his last visit to Washington, D.C.? A note to Erdogan and his thugs: You can't beat up protesters here.
Turns out that they can. US Dismisses Charges Against 11 Erdogan Bodyguards Involved in Washington Brawl. Giving America the middle-finger, Trump has invited Erdogan back to Washington, D.C. in November, presumably to celebrate his massacre of the Kurds. Trump says Turkish President Erdogan will visit D.C. in November. What could possibly go wrong?
Officials said they were uncertain whether Turkish forces would conduct a symbolic feint inside the border — which they said could enable the U.S. troops to return to reactivate the safe zone — or would force their way deeper into Syria.
Outside experts have cautioned that a large-scale Turkish operation, if it precipitated a security breakdown at prisons holding Islamic State militants, could prompt a larger U.S. withdrawal from Syria. The American presence, which includes about 1,000 troops in northeastern Syria, is a lean force dispersed across a number of bases.
Remember when this idiot Trump falsely asserted that that Obama founded ISIS, literally? "He was the founder. His, the way he got out of Iraq was that that was the founding of ISIS, okay?" It was President George W. Bush who signed the Status of Forces agreement in 2008, which planned for all American troops to be out of Iraq by the end of 2011. Obama was following through on an agreement made by Bush and abiding by the will of the Iraqi and American people. See NPR: Fact Check.
The way the US is leaving Syria today has the potential to result in the rebirth of ISIS, giving them a second lease on life, like a phoenix rising from the ashes. And this really can be laid squarely at the feet of Donald Trump and his rash and impetuous decision to betray or Kurdish allies. And if those newly freed ISIS terrorists kill Americans, their blood will be on the hands of Donald Trump — just as surely as our Kurdish allies massacred by Turkey.
The United Nations and nongovernmental groups have warned of the humanitarian toll of a large-scale invasion, which could create thousands of new refugees and displaced people and risk civilian casualties because of shelling or airstrikes.
A medic from the Kurdish Red Crescent, speaking on the condition of anonymity fearing retribution from Turkey, said that hospitals have stockpiled drugs in basements across the region and that doctors are on high alert. "We're worried, of course," he said. "God forbid there are airstrikes or mortars close to us."
Sabah, a Turkish newspaper close to Erdogan's government, published a report Tuesday describing how the battle might unfold. It said Turkish armed forces would wait for the full withdrawal of U.S. troops before commencing any operation. Warplanes and howitzers would pound enemy positions, then Turkish troops would enter Syria from several points along the border, east of the Euphrates River.
The military would advance as far as 18 miles into Syrian territory, the report said, without naming its source. After the operation was completed, Turkey would "continue its humanitarian work to bring back locals [i.e., replacing the Kurds with Syrian refugees] in the area."
On the other side of the Turkish border on Wednesday, many residents were steeling themselves for the worst. Mikael Mohammed, a Kurdish father of three who owns a clothing store in Tal Abyad, a quarter-mile from the Turkish frontier, said he had not had any customers since Tuesday. U.S. troops based in the town withdrew early Monday after the White House announcement.
And the town itself was divided. Some residents supported the Syrian Kurdish force, which formed the core of the U.S.-allied Syrian Democratic Forces, as it faced off against Turkey's military might. Others supported rebel groups backed by Turkey.
"We have people who were displaced from Afrin because of the Turkish invasion — they are worried that they will be displaced once again," Mohammed said, referring to Ankara's 2018 military offensive against a Kurdish enclave west of Tal Abyad.
"People are scared. When we used to see U.S. troops in the streets of Tal Abyad, we would feel safe; they were here to protect us. Yesterday, we saw U.S. troops, but this time they were on their way out of the area, and that terrified people," he said.
The US is abandoning our Kurdish allies to slaughter, for what purpose? Crappy Trump Towers in Istanbul? Reminder: Trump Has a Massive Conflict of Interest in Turkey:
Whatever else it may be, Trump's policy toward Turkey is also a significant conflict of interest, as Trump himself has admitted. In 2015, while running for president, Trump gave an interview to Stephen Bannon, not yet his campaign manager, in which he talked about Turkey. Right away, he admitted that his business interests in the country would make it difficult for him to deal with Turkey with a clear mind.
"I have a little conflict of interest 'cause I have a major, major building in Istanbul," Trump told Bannon during a Breitbart radio show. "It's a tremendously successful job. It's called Trump Towers—two towers, instead of one, not the usual one, it's two."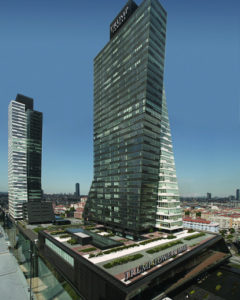 Those Trump Towers are a pair of glass buildings in Istanbul that have borne Trump's name since 2012. Trump doesn't own the buildings—the situation might be less complicated if he did. Instead, Trump licenses his brand to the building's actual owner, Turkish business magnate Aydin Dogan, who has been described as the single largest payer of taxes in Turkey. He's a one-time antagonist of Erdogan who is now in step with the strongman.
Erdogan attended the opening of the Trump Towers in 2012.
The conflict of interest and the way it could affect Trump's position on important issues—or at least the perception of how it could affect his position—quickly became obvious after Trump made this comment. In June 2016, after Trump said he supported a ban on immigration by people from countries he said were associated with Islamic terrorism—he called them "terror countries"—Erdogan objected, and so did Dogan, and both threatened to remove Trump's name from the buildings.
That's no small threat—according to personal financial disclosures filed by Trump, since he launched his bid for the presidency, he has earned somewhere between $3.2 million and $17 million in royalties from the deal. (The amounts are given in ranges; the precise figures are unclear.)
Less than a month after the threat to remove his name was made, Trump very publicly voiced support for Erdogan when the Turkish leader faced a coup attempt. And his closeness with Erdogan has continued, even over the objections of some of Trump's most reliable supporters. For instance, in May 2017, when Erdogan visited Washington, D.C., for a White House visit, Turkish agents violently attacked protesters outside the Turkish ambassador's residence—shoving past local police officers to do so. Video showed Erdogan calmly watching the attack from his car. Although the House of Representatives, then under GOP control, voted 397-0 to condemn the attacks, Trump refused to do so. A few months later, Trump praised Erdogan, describing him as "a very good friend" and saying he gets "very high marks" for the way he runs Turkey.
When he ran for office, Trump said he would handle conflicts of interest like this by turning over his businesses to his children. He didn't. Instead, he simply stepped away from the daily operations of his business empire, but he retains full ownership of almost all of the assets, including the licensing company that collects royalties from Dogan.
If Trump is making foreign policy decisions that affect the national security of the United States based upon his own financial incentives and personal wealth, that is an abuse of power which is an an impeachable offense.
This is a developing story.