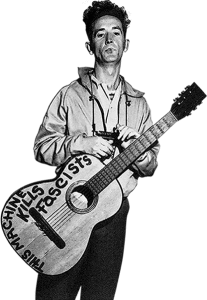 Woody Guthrie must be turning over in his grave about now with headlines like this in the Washington Post: Trump's flirtation with fascism.
Who would have ever thought that 71 years after the war "to rid the world of fascism" that fascism would have found a new home in the United States, and in the Republican Party?
Woody left us his marvelous machine, now we need someone to take it up again in his cause of fighting fascism.
The Republican Party continued its descent into "Trumpism," the new American fascism on Tuesday, even after a disgusting debate insult fest last week in which Donald Trump defended the size of his penis, Shameful, Disgusting, Despicable – Fox News Focus Group Slams Fox News Debate, and "The Donald" began asking his supporters to raise their right hand in a salute to show their allegiance to him. Hmmm, why is this so eerily familiar? Trump Plays Dumb About Right Hand Salute.
Trump won three out of four states on Tuesday, extending his delegate lead to almost 100. Trump wins in Hawaii, Mississippi and Michigan.
This sets up The Ides of March primary on March 15, with winner-take-all primaries in Florida (99) and  Ohio (66), and the proportional award of delegates in Illinois (69), Missouri (52), North Carolina (72), and the  Northern Mariana Islands Caucus (9).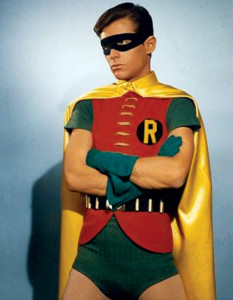 If "The Donald" vanquishes Marco Rubio in his home state of Florida, and John Kasich in his home state of Ohio, he will have padded his delegate lead by another 165 delegates and almost certainly forced the Beltway media villagers' darling and Boy Wonder, Marco Rubio, out of the race.
So much for the Beltway media's #MarcoMentum effort at driving the campaign narrative.
The new Surveys from CNN/ORC out today for Florida shows Trump at 40%, followed by Rubio at a distant 24%, Cruz at 19%, and Kasich at 5%.
A separate poll released on Wednesday from Quinnipiac University shows Trump leading Rubio by 23 percentage points. The RealClearPolitics RCP polling average has Trump up by 15.8% in Florida.
It's curtains for the Boy Wonder. (Rubio won exactly zero delegates on Tuesday.)
In Ohio, Trump has a small lead over Kasich, by a margin of 41% to 35% in the new CNN/ORC poll. Cruz comes in third with 15 %, followed by Rubio at 7 %. Quinnipiac's Ohio poll also shows Trump leading Kasich by 6 points. The RealClearPolitics RCP polling average has Trump up by 5%.
John Kasich has previously said I'm dropping out if I don't win Ohio, but he has since hedged on his statement. We'll see.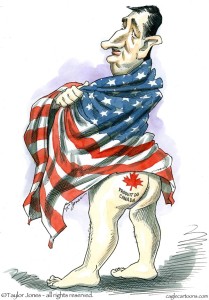 This would only leave the most hated man in the U.S. Senate, Ted "Calgary" Cruz, standing in the way of Trump's coronation as the Republican Party nominee for president. As the Washington Post's Richard Cohen recently opined, "The choice is between a fiercely friendless reactionary and a bombastic, thoroughly dishonest egomaniac." Cruz or Trump: A choice between two dangers. This is no choice at all.
The Florida Sun Sentinel recently published a non-endorsement in the Florida GOP primary finding all the candidates unqualified to be president. Why we can't endorse Trump, Rubio, Cruz or Kasich:
The Sun Sentinel Editorial Board is not going to make an endorsement in Florida's March 15 Republican presidential primary because the kind of person who should be running is not in the race.
We cannot endorse businessman Donald Trump, hometown Sen. Marco Rubio or Texas Sen. Ted Cruz because they are unqualified to be president. Ohio Gov. John Kasich is the best of the bunch, but if you measure a candidate by the caliber of his campaign, Kasich's lack of traction and organization make a vote for him count for little.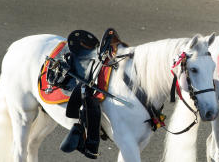 I would expect to see the #NeverTrump opposition to Trump's candidacy turn to serious discussion of breaking up the GOP and running an independent candidate after next Tuesday, rather than swallowing hard and turning to the hated Cruz.
The problem with this last resort option is obvious to all: who exactly is this knight in shining armor on a white horse who will ride to the rescue of the GOP establishment? If such a person actually exists, shouldn't he have appeared by now?
No one is coming to save you. The GOP establishment is trapped in the House of Horrors that it built for itself by appeasing far-right fringe elements and relying on the Mighty Wurlitzer of the right-wing noise machine of the conservative media entertainment complex. The lunatics have taken over the asylum. R.I.P. GOP.