When last we checked in our feminine hero for truth and justice back in August, a New York state Supreme Court judge denied Donald Trump's effort to delay the proceedings in the defamation lawsuit filed against him by longtime magazine columnist E. Jean Carroll, a move that allows her to pursue his DNA sample in an effort to prove claims he sexually assaulted her in the 1990s. Trump must comply with discovery in E. Jean Carroll defamation lawsuit. President Donald Trump was given a series of deadlines to produce his DNA and other evidence as part of mandatory discovery in an ongoing defamation lawsuit.
"We are now eager to move forward with discovery so that we can prove that Donald Trump defamed E. Jean Carroll when he lied about her in connection with her brave decision to tell the truth about the fact that Donald Trump had sexually assaulted her," Caroll's attorney Roberta Kaplan said.
Hold the phone!
Donald Trump's new Roy Cohn and fixer, William "Coverup" Barr, the most corrupt Attorney General in the history of the United States, in an extraordinary move has asserted a specious argument to remove this case from the New York state courts to federal court to prevent any discovery from proceeding until federal appeals have been exhausted.
The Washington Post reports, Justice Dept. intervenes on behalf of Trump in defamation case brought by woman who accused him of rape:
The Justice Department on Tuesday intervened in the defamation lawsuit brought by a woman who says President Trump raped her years ago, moving the matter to federal court and signaling it wants to make the U.S. government — rather than Trump himself — the defendant in the case.
In filings in federal court in Manhattan, the Justice Department asserted that Trump was "acting within the scope of his office as President of the United States" when he denied during interviews in 2019 that he had raped journalist E. Jean Carroll more than two decades ago in a New York City department store. Carroll sued Trump over that denial in November.
The maneuver removes the case — at least for now — from state court in New York, where a judge last month had rejected Trump's bid for a delay and put Carroll's team back on course to seek a DNA sample and an under-oath interview from the president. It also means that Justice Department lawyers will be essentially aiding Trump's defense, and taxpayers could be on the hook for any potential damages, if the U.S. government is allowed to stand in for Trump. Winning damages against the government, though, would be more unlikely than in a suit against Trump, as the notion of "sovereign immunity" gives the government and its employees broad protection from lawsuits.
Justice Department lawyers said that because Trump was acting as president when he denied the allegations, a judge should "substitute the United States for President Trump as defendant."
This is a rather convoluted explanation. Simply put, the U.S. government has sovereign immunity from being sued for defamation claims. Case dismissed. The taxpayers cannot be on the hook for any damages, although we will be paying for the Justice Department lawyers instead of Donald Trump.
In a statement, Roberta Kaplan, Carroll's lawyer, blasted the department's filing. She noted that because a New York state court had rejected Trump's bid for a delay, he was "soon going to be required to produce documents, provide a DNA sample, and sit for a deposition."
"Realizing that there was no valid basis to appeal that decision in the New York courts, on the very day that he would have been required to appeal, Trump instead enlisted the U.S. Department of Justice to replace his private lawyers and argue that when he lied about sexually assaulting our client, explaining that she 'wasn't his type,' he was acting in his official capacity as President of the United States," Kaplan said.
"Even in today's world, that argument is shocking. It offends me as a lawyer, and offends me even more as a citizen. Trump's effort to wield the power of the U.S. government to evade responsibility for his private misconduct is without precedent, and shows even more starkly how far he is willing to go to prevent the truth from coming out."
Throughout his tenure as president, Trump has faced persistent criticism for comments and other actions that legal observers see as bending the Justice Department to his political will.
* * *
The Justice Department has previously intervened in lawsuits in which Trump has personally sued those who are investigating him and seeking to get information on his private finances.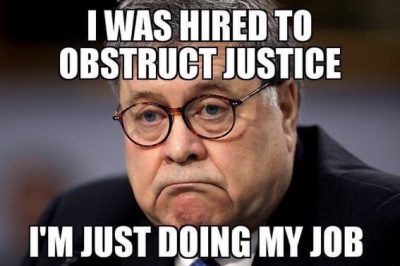 In fact, on Tuesday, the U.S. Court of Appeals for the District of Columbia Circuit ordered additional written arguments in President Donald Trump's ongoing battle to prevent congressional investigators from obtaining his tax returns. The three-judge panel directed the parties to complete supplemental briefs addressing whether the court's decision should take into consideration a recent congressional memorandum detailing how the president's financial documents are relevant to the House's ongoing legislative agenda. Appeals Court Orders Additional Arguments Over House Democrats' Subpoenas for Trump's Tax Returns. The supplemental reply briefs are due by Sept. 21 with another round of oral arguments scheduled for Oct. 20.
Also on Tuesday, U.S. District Judge Emmet G. Sullivan issued a series of deadlines in a minute order on the District of Columbia docket that seeks to finally dispense with the Michael Flynn case. Michael Flynn's Trial Judge Sets Key Hearing in DOJ Effort to Dismiss the Case. On September 29 the court will hear oral arguments over the latest version of the motion to dismiss, the government's response to Gleeson's latest argument, and Gleeson's reply brief.
Carroll said in a statement that the Justice Department's actions "demonstrate that Trump will do everything possible, including using the full powers of the federal government, to block discovery from going forward in my case before the upcoming election to try to prevent a jury from ever deciding which one of us is lying."
"But Trump underestimates me, and he also has underestimated the American people," Carroll said.
The department's filings were signed by Jeffrey Bossert Clark, the acting attorney general in charge of the Civil Division, as well as James G. Touhey Jr., director of the torts branch, and attorney Stephen R. Terrell.
Citing the Federal Tort Claims Act, the department said that Barr has the authority under federal law to move such a case to federal court if he certifies a federal employee was acting within the scope of their job during an incident, though he had delegated that authority to Touhey.
Touhey, the department said in a filing, "certified that the defendant employee, President Trump, was acting within the scope of his office or employment at the time of the incident out of which the claim arose."
What will happen next is unclear — though the proceedings will almost surely stall Carroll's case. The department did not immediately raise any defenses of Trump. A federal judge will first have to consider whether to grant the request to make the U.S. government the defendant in the case.
The New York Times adds:
Though [Federal Tort Claims Act] gives employees of the federal government immunity from most defamation lawsuits, legal experts said it has rarely, if ever, been used before to protect a president, especially for actions taken before he entered office.
"The question is," said Steve Vladeck, a University of Texas law professor, "is it really within the scope of the law for government lawyers to defend someone accused of lying about a rape when he wasn't even president yet?"
* * *
The department's request to represent Mr. Trump in the case is in keeping with other arguments that the president has made in state court in New York, said Ben Berwick, a former Justice Department lawyer who now works at Protect Democracy, a legal group that is involved in multiple lawsuits against the Trump administration.
"The president has argued in multiple cases that he is immune from civil lawsuits in state courts, and at every turn that argument has been rejected," Mr. Berwick said. The president has fought cases in New York against his company and his foundation, among other matters.
* * *
The closest similar case came in 2005, Mr. Vladeck said, when a federal court in Washington ruled that government lawyers could defend Cass Ballenger, then a Republican representative from North Carolina, in a defamation lawsuit brought against him by the Council on American-Islamic Relations.
Mr. Vladeck said that while it was fairly uncommon for the Justice Department to assume the defense of a private matter on behalf of any government official, it was even more extraordinary for department lawyers to seek to shield Mr. Trump's personal behavior behind a screen of "sovereign immunity." If the federal judge in Manhattan assigned to the case agreed with the department's arguments, Ms. Carroll's lawsuit would effectively be over, Mr. Vladeck said.
Some current and former Justice Department lawyers, speaking on the condition of anonymity, echoed Mr. Vladeck's concerns, saying they were stunned that the department had been asked to defend Mr. Trump in Ms. Carroll's case. By moving to take control of the matter, the department had raised a critical question, the lawyers said: Was it truly within the scope of a president's duties to comment on the physical appearance of a woman who had accused him of rape?
But rare as it was to use the Federal Tort Claims Act in this way, it was hardly the first time that Mr. Trump's Justice Department stretched legal norms on his behalf.
The case is Carroll v. United States, 20-cv-07311, U.S. District Court, Southern District of New York (Manhattan).