When wealthy doctors who make campaign contributions are at risk, Congress can act in a bipartisan manner to "get 'er done!" Congress acted at the eleventh hour before a 21 percent cut to Medicare doctors would have been triggered. Senate overwhelmingly approves 'doc fix':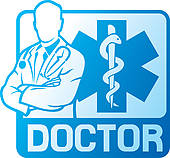 The Senate on Tuesday overwhelmingly approved a $200 billion Medicare reform package that will end a two-decade-old headache for Congress known as the "doc fix."
The rare bipartisan bill, which passed 92-8, marks one of the biggest achievements yet from the newly GOP-controlled Congress. It will now head to President Obama, who has promised to sign the bill.
Obama praised the doc fix bill and said he "will be proud to sign it into law."
"It's a milestone for physicians, and for the seniors and people with disabilities who rely on Medicare for their health care needs," he said in a statement.
The nearly 300-page bill repeals automatic cuts to doctors' payments under Medicare known as the Sustainable Growth Rate (SGR), ending Congress's ritual of temporarily putting off the cuts.
"This has been a long ordeal that a lot of us have worked on for a long time," Senate Finance Committee Chairman Orrin Hatch (R-Utah) said ahead of the vote, calling it a "major, major accomplishment."
* * *
The House-approved bill had been met with some resistance from a core group of fiscal conservatives in the Senate who objected that it was not fully paid for.
To win support from those conservatives on the overall bill, leadership allowed a vote on an amendment from Sen. Mike Lee (R-Utah) that would have forced lawmakers to fully pay for the bill. The measure was defeated, 58-42.
The amendment would have undone a carefully crafted deal between Boehner and House Democratic Leader Nancy Pelosi (D-Calif.) about how to pay for the bill. Even with two-thirds of the bill's costs not offset, the House overwhelmingly approved the bill before leaving town for a two-week recess.
* * *
The bill will cost $214 billion over 10 years, with $73 billion of that cost offset with spending cuts or new revenue, according to the Congressional Budget Office (CBO). The bill includes reforms to transition Medicare's payment system from incentivizing quantity to quality in care and is likely to produce small savings for the government over time, according to the CBO.
* * *
To help pay for the measure, the bill makes beneficiaries making more than $133,000 a year pay a higher share of premium costs, a provision McConnell praised but some Democrats opposed.
Democrats had also objected that the bill includes just two years of funding for the Children's Health Insurance Program. An amendment to increase it to four years of funding failed on Tuesday.
Before anyone takes a victory lap, Despite 'doc fix,' some doctors still face cuts:
Some Medicare doctors will still face a temporary 21 percent hit to their pay this month even after Congress met the government's Wednesday deadline to stave off the cuts.
* * *
The bill passed just before 10 p.m., which Senate leadership said would be just enough to halt the payment cuts.
But the Center for Medicare and Medicaid Services (CMS) wrote in a notice to providers on Wednesday that "a small volume of claims" will be paid using the reduced rate.
Oh, missed it by that much! This is what happens when GOP leadership engages in manufactured crises and leverages everything to the last minute just before a deadline expires. This is no way to run a government responsibly.