We have a dysfunctional government because Tea-Publicans are in charge. They do not believe in government, only the control of absolute power, and they possess no demonstrable skills at governing responsibly or effectively.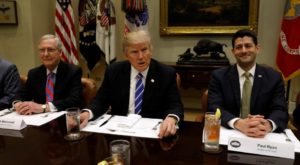 Late last night, a bipartisan vote of the Senate rejected the House GOP short-term spending bill (CR) on a vote of 50-49, well short of the 60 votes necessary to proceed under the Senate's cloture rules. Of course, the House GOP leadership knew its CR bill, negotiated only among the competing factions of the GOP to the exclusion of any Democrats, was DOA on arrival in the Senate where Democratic votes would be necessary to pass it, even before the House held a vote on its CR bill. It was political gamesmanship and brinksmanship designed to provide propaganda talking points to the conservative media entertainment complex in an election year. Senate rejects funding bill, partial shutdown begins:
Senators voted late Friday to reject a House-passed bill that would have funded the government until Feb. 16, beginning a partial government shutdown.
Most Democrats voted to block the bill as part of a risky strategy to force Republicans to negotiate with them on a legislative fix for "Dreamers," immigrants who illegally came to the country at a young age and now face the prospect of deportation. The procedural motion on the bill failed 50-49.
Only five Democrats voted to advance the bill — Sens. Joe Manchin (W.Va.), Joe Donnelly (Ind.), Heidi Heitkamp (N.D.) and Claire McCaskill (Mo.), who are all up for reelection this year in states carried by President Trump in 2016 election, and newly elected Sen. Doug Jones (D-Ala.).
Republicans were also not united, as Sens. Rand Paul (Ky.), Lindsey Graham (S.C.), Mike Lee (Utah) and Jeff Flake (Ariz.) also voted against advancing the legislation. Sen. John McCain (R-Ariz.), who is battling brain cancer, was absent.
The procedural vote remained open for roughly two hours on Friday night, remaining well below the needed 60 votes to pass.
What should have happened next is that the Senate GOP leadership walk over to the House side and bitch slap House Speaker Paul Ryan and his lieutenants for sending them a bill that they knew was DOA on arrival in the Senate. "Stop wasting our time!"
But in this case the Senate GOP leadership was all-in on this political strategy to produce propaganda talking points rather than govern responsibly. The Septuagenarian Ninja Turtle, Senate Majority Leader Mitch McConnell, was posting bullshit talking points like this to his Twitter account, presenting the Senate vote as a false choice — a "Sophie's choice" — pitting poor children on the CHIP program against children on DACA.
Mitch McConnell, the man who broke America, is a cynical evil GOP bastard who I hope will suffer for all eternity in a special ring of Hell designed for him by Dante for all the damage that he has done to America during his political career.
This cynical political posturing is not limited to our feckless GOP congressional leadership.
There is the always insecure egomaniacal man-child Twitter-troll-in-chief in the White House who is a racist and promotes a white nationalist agenda. The New York Times reports, How Trump and Schumer Came Close to a Deal Over Cheeseburgers:
President Trump and Senator Chuck Schumer of New York, the top Democrat in the Senate, came close to an agreement to avert a government shutdown over lunch on Friday. But their consensus broke down later in the day when the president and his chief of staff demanded more concessions on immigration, according to people on both sides familiar with the lunch and follow-up calls between Mr. Trump and Mr. Schumer.
The negotiations between Mr. Trump and Mr. Schumer began when the president called Mr. Schumer on Friday morning, giving the White House staff almost no heads-up. In a lengthy phone conversation, both men agreed to seek a permanent spending deal rather than the stopgap measure being negotiated by lawmakers on Capitol Hill.
Less than an hour later, Mr. Schumer was meeting with Mr. Trump over cheeseburgers in the president's study next to the Oval Office. The White House chief of staff, John F. Kelly, was there, as was Mr. Schumer's chief of staff, Mike Lynch.
As the meal progressed, an outline of an agreement was struck, according to one person familiar with the discussion: Mr. Schumer said yes to higher levels for military spending and discussed the possibility of fully funding the president's wall on the southern border with Mexico. In exchange, the president agreed to support legalizing young immigrants who were brought to the United States as children.
Mr. Schumer left the White House believing he had persuaded the president to support a short, three to four-day spending extension to finalize an agreement, which would also include disaster funding and health care measures.
* * *
The immigration concessions from Democrats were not conservative enough, Mr. Trump told Mr. Schumer. The president said he needed more border security measures as well as more enforcement of illegal immigration in parts of the country far from the border.
As the evening wore on, Mr. Schumer got a call from Mr. Kelly that dashed all hopes for a Trump-Schumer deal before the shutdown deadline of midnight. Mr. Kelly, a hard-liner on immigration, the person familiar with the call said, outlined a long list of White House objections to the deal.
* * *
"In my heart, I thought we might have a deal tonight," Mr. Schumer recalled later on the Senate floor, shortly after the government officially shut down at midnight. At 11:55 p.m., he had been greeted with a blistering White House statement that "Senate Democrats own the Schumer Shutdown."
The problem here is that White House chief of staff John F. Kelly and White House adviser Stephen Miller are immigration hardliners, and in Miller's case, a white nationalist. They are the demons sitting on Trump's shoulders whispering into his ear feeding his racist prejudices and policies. As has been widely reported, Trump goes with the advice of the last person he has spoken to because he is malleable and easily manipulated. Kelly and Miller, the demons whispering into Trump's ear, are impediments to any DACA deal.
Then there are the immigration hardliners in the Congress who also do not want any DACA deal and have our racist president's ear. In spending fight, Republicans embrace Trump's hard-line stand on immigration:
Amid the chaos and confusion of Capitol Hill this week, one prevailing trend emerged: Republican leaders are embracing the party's hard-line position on illegal immigration.
While the battle over spending continues, GOP lawmakers have chosen to align with the conservative posture that took root in the party with President Trump, a development that is causing consternation among some Republican dissenters.
Senate Majority Leader Mitch McConnell (Ky.) and other GOP lawmakers repeatedly cast the spending fight as Democrats displaying more loyalty to undocumented immigrants than Americans — a wager that the nativist leanings that propelled Trump to power will energize their political base in this year's midterm elections.
* * *
That strategy marked the latest chapter in a decades-long realignment for a party that championed outreach to the fast-growing Latino population as recently as the George W. Bush administration. Those overtures vanished in the presidential politics of 2016 as Trump steamrolled former Florida governor Jeb Bush and Sen. Marco Rubio (R-Fla.), who both espoused a more welcoming approach to immigrants.
"We just had an election where this is a key issue," said Rep. Jim Jordan (R-Ohio), a member of the hard-right House Freedom Caucus. "I think the people spoke loud and clear."
Some Republicans worried, as they did even before Trump's rise, that this will harm the party in the long-term as the country becomes more ethnically diverse. In the short-term, it has complicated bipartisan spending talks, revived GOP tensions and left lawmakers without a sweeping deal on an issue that has long vexed Congress.
"Yeah, that's a frustration," Sen. Jeff Flake (R-Ariz.) said in an interview Friday. Flake, a centrist, was lamenting that the Senate has yet to vote on a deal to protect immigrants brought into the country illegally as children, despite what he said was a promise from McConnell to do so this month.
While the Senate has not yet taken an immigration vote, McConnell delivered red meat for the conservative base on immigration. He lambasted Democrats for withholding support for a month-long government spending bill because talks had yet to produce a deal to protect those immigrants, known as "dreamers."
McConnell repeated the term "illegal immigration" several times in his floor remarks — punctuating the words for emphasis. It was unusual for the leader to use that phrase for young undocumented immigrants. Several times when McConnell said "illegal immigration" Thursday night, Flake, seated a few rows behind him, visibly grimaced.
In recent public comments, McConnell also has used the term "chain migration" to refer to the practice of U.S. citizens sponsoring extended family members for green cards. Many Democrats say it should be dropped because they consider it a derogatory term to describe legal, family-based immigration.
In a tweet Friday, Trump used similar words, saying Democrats "want illegal immigration and weak borders. Shutdown coming? We need more Republican victories in 2018!"
Hours ahead of the shutdown deadline, GOP aides, lawmakers and other officials huddled in an endless stream of private meetings, deciding to brand the impasse the "#SchumerShutdown" after the top Senate Democrat, Charles E. Schumer (N.Y.). A website launched by congressional Republicans, SchumerShutdown.com, features a video referencing Democratic support for changes in immigration policy.
The term had been hatched earlier Thursday during a conference call of staffers for House and Senate GOP leaders. Brendan Buck, the top communications adviser to House Speaker Paul D. Ryan (Wis.), told his colleagues as the call began that they should start using the term.
* * *
One reason those efforts have sputtered, some Republicans say, is the powerful influence of hard-right immigration activists on the president, who is key to any deal. For example, Sen. Lindsey O. Graham (R-S.C.), who is working with Sen. Richard J. Durbin (D-Ill.) to broker a compromise, has grown frustrated with Sen. Tom Cotton (R-Ark.), a more hawkish figure who has Trump's ear.
Cotton, Graham said, is becoming the "Steve King of the Senate," a reference to the Iowa congressman who has been at the forefront of the hard-right movement on immigration. "If we keep making demands that are just not realistic in phase one, we'll never get there," he added.
Cotton shot back that King knows how to win in Iowa but Graham, who ran for president, does not.
In McConnell's orbit, there is a sense that much of the Senate Republican Conference is closer to Cotton and Sen. David Perdue (R-Ga.) on immigration than it is to Graham, even if they are not as vocal about it.
Mark Krikorian, the executive director of a think tank that advocates reduced immigration, said that he has detected a change in McConnell's rhetoric over time.
"McConnell has definitely become more hawkish on immigration," he said. "And I don't think that's necessarily an evolution in his own perspective as much as it is a change in the party."
Let's be clear: there is a bipartisan majority in Congress to pass CHIP funding, a DACA fix, funding for community health centers, funding for opioid addiction, etc. If these bill were brought up as stand alone bills, they would all pass. This is how governing is supposed to function.
But cynical evil GOP bastards hold these bills hostage and package them with unpopular bills to force Democrats into voting against measures they actually support to produce propaganda talking points for the conservative media entertainment complex and political ads in an election year. These evil GOP bastards are not interested in governing responsibly or effectively. The only thing that they care about is the control of absolute power, by any means necessary.
"Absolute power corrupts absolutely." This is an abuse of power by the GOP. The only solution to fix this problem is to throw Tea-Publicans out of office en masse this year.