British Prime Minister Boris Johnson (words I never thought I would ever have to write) says Brexit must be done by October 31, Halloween, with or without an exit agreement with the European Union. While Johnson has said that he does not want a "no deal" Brexit, he actually is making it all but certain that a "no deal" Brexit is what Great Britain is going to do on Halloween.
With just over two months before the deadline to leave the European Union, British Prime Minister Boris Johnson has made a dramatic move by asking Queen Elizabeth II to suspend Parliament. The queen has approved his request. The Washington Post reports,  What Boris Johnson's move to suspend Parliament means for Brexit:
"It is this day ordered by Her Majesty in Council that the Parliament be prorogued on a day no earlier than Monday the 9th day of September and no later than Thursday the 12th day of September 2019 to Monday the 14th day of October 2019," the announcement supporting Johnson's request read.
Johnson, who has been Britain's leader since July, told reporters on Wednesday that his move to close Parliament — known as "proroguing" in formal British political lingo — would allow his government a fresh start to set out its "very exciting agenda."
But as with much in Britain these days, many believe the real point of the move is simple: Brexit. By suspending Parliament between Sept. 11 and Oct. 14, as Johnson has proposed, politicians would have far less time to try to stop or stall Britain's likely exit from the E.U. which is expected Oct. 31.
Johnson's critics believe the prime minister's push to deliver Brexit at all costs has sparked a constitutional crisis in Britain.
Though Johnson's use of proroguing is unusual, the suspension of Parliament is a regular occurrence in British politics. It is normally done once a year, often between a yearly session in late April or early May. It is different from the dissolution of Parliament, which is done before a general election.
If Parliament is prorogued, members keep their seats and continue to do work in their constituencies, with only their Parliamentary work suspended. The move brings to a close all parliamentary business that is being worked on — such as bills and motions — though some can be carried on to the next session.
There is customarily a suspension of Parliament in Britain for three weeks in September during which time political parties hold conferences. Johnson's proposal would extend that period to more than one month.
British politicians don't vote on whether to prorogue Parliament. Instead, the decision is made by the queen. In practice, she makes the decision on the advice of her prime minister — in this case, Johnson.
If Parliament is prorogued, an announcement on behalf of the queen will be read out in both houses of Parliament. When it is reopened, the queen will make a speech that sets out the government's agenda for the coming session.
Why would Johnson do this?
In his letter announcing he had asked the queen to prorogue Parliament, Johnson noted May's decision to not close it and said the length of the session had meant "Parliamentary business has been sparse." Johnson suggested his decision would help set a "new bold and ambitious domestic legislative agenda for the renewal of our country after Brexit."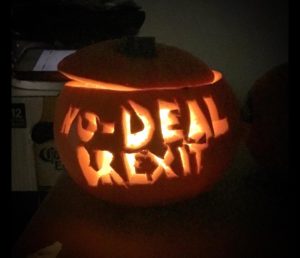 However, by suspending Parliament just days after British lawmakers return from their breaks, Johnson has cut down the amount of time they have to try to legislatively block or delay Britain's exit from the E.U. — leaving just a handful of days in September and late October for a move.
It also means there is less time for Parliament to pass laws designed to soften the economic damage that could be caused by "no-deal" Brexit, which is the default if Britain doesn't reach a withdrawal agreement with E.U. member states before Oct. 31.
The Institute for Government says that the last time a proroguing was used by a government to get around opposition to government policy was in 1948, when the government of Clement Attlee pushed through a law that curtailed the power of Britain's House of Lords.
Can his plan be stopped?
Possibly, but it may be difficult. Many British lawmakers, who are on vacation from Parliament, are angered by Johnson's move.
Members of the British public are also concerned, and many have signed a petition calling for Parliament not to be prorogued or dissolved. By midday in Britain on Wednesday, the petition had generated more than 249,000 signatures.
Parliament considers all petitions that generate more than 100,000 signatures for debate, which means this particular petition will come to the attention of the British government and should generate a response.
While the petition continues to grow, however, it's unlikely it will stop Johnson's plan. A past petition entitled "Revoke Article 50 and remain in the E.U." generated more than 6 million signatures, yet the government was not forced to take any action.
Jeremy Corbyn, leader of the Labour opposition party, called Johnson's no-deal Brexit plan "reckless" and said that his party will attempt to stop Johnson's move next week.
If MPs did call for — and win — a vote of no-confidence in Johnson, they could potentially form an alternative government and prime minister. Lawmakers could also head to court for a judicial review in a bid to prevent Johnson from shutting down Parliament.
Some initially hoped early on Wednesday that the queen would refuse Johnson's recommendation to prorogue Parliament, but such a move would have be a major break with the modern tradition of an apolitical role for the British head of state.
The New York Times adds, With Brexit Gambit, Boris Johnson Reveals a Ruthless Side:
Mr. Johnson's decision on Wednesday to cut short a session of Parliament revealed another side: the ruthless tactician who took office as prime minister this summer. With Brexit hanging in the balance, Mr. Johnson marshaled all the power of Downing Street to cut out the legs of a wobbly opposition, risking a constitutional crisis to get what he has promised.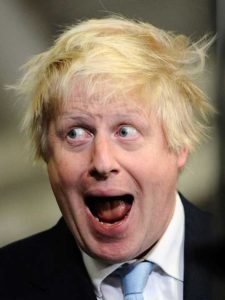 Suddenly the man affectionately known as "BoJo" was being rebranded by some opponents a "tin-pot dictator." And President Trump, known for his own norm-smashing maneuvers, applauded Mr. Johnson, calling him on Twitter "exactly what the U.K. has been looking for."
Mr. Johnson's opponents argue that his policies could result in a disastrous no-deal Brexit with the potential to tear apart the United Kingdom, cripple British agriculture and some manufacturing sectors and throw the economy into a recession, while producing shortages of food and medicines.
But those warnings have been filed away under "Project Fear" by Mr. Johnson and his supporters.
* * *
With his "rabbit-out-of-a-hat decision" to suspend Parliament, Mr. Johnson knocked his opponents back on their feet and "conveyed the sense of a government that's in control," said Tony Travers, a professor of government at the London School of Economics.
By limiting the time available to Parliament to block a no-deal Brexit, Mr. Johnson sought to undermine an opposition strategy announced on Tuesday, analysts said.
After weeks of arguing about who should take charge should they defeat Mr. Johnson, opposition lawmakers had changed their tune. They said they would shelve the idea of trying to throw Mr. Johnson out of office and instead proceed more deliberately, focusing on passing legislation that would stop a no-deal Brexit.
For a fractured opposition, it was a painfully considered strategy to band together and confront Mr. Johnson on their own schedule. It was also an admission that they did not yet have the numbers to replace Mr. Johnson with a caretaker prime minister, in large part because the opposition is divided over whether Jeremy Corbyn, the left-wing, euroskeptic Labour Party leader, is a suitable replacement.
But Mr. Johnson had other ideas.
By cutting short the session of Parliament, he blew a hole in the opposition's plan to take matters slowly and avert a decision about whether to try unseating him. In effect, analysts said, he called their bluff, giving anti-Brexit lawmakers only a matter of days to decide whether they felt strongly enough about stopping Brexit to kick him out of office.
Divided on many policies besides Brexit, and at odds over Mr. Corbyn, the opposition may not be able to organize quickly enough.
"His great advantage is that although his opponents are agreed on wanting to stop him, they can't agree on anything else, and any dramatic, unexpected move which confuses them is likely to divide them for the same reason," said Rob Ford, a professor of politics at the University of Manchester. "They'll come to different conclusions about what's going on and what to do about it."
In effect, Mr. Johnson invited the no-holds-barred confrontation that the opposition had only a day earlier tried to put off.
They are "throwing down the gauntlet to Corbyn and others to call a confidence vote next week," said Matthew Goodwin, a professor of politics at the University of Kent. "Johnson and his team are ruthlessly exploiting the divisions on the Remain side."
Where Mrs. May paid heed to conventions and shrunk from major showdowns, Mr. Johnson fulfilled the hopes of hard-line Brexit backers by inching Britain closer to a constitutional crisis.
"Today has confirmed what many had suspected for so long about his leadership style, that he is willing to be quite ruthless in his pursuit of Brexit," Mr. Goodwin said of the prime minister. Mr. Goodwin said the decision laid the groundwork for "one of the most historic and consequential weeks in postwar British politics."
For some analysts, it was evidence of the influence of one of Mr. Johnson's most senior advisers, Dominic Cummings, a famously aggressive tactician who helped lead the referendum campaign in 2016.
Whoever is calling the shots, many analysts believe Mr. Johnson is inviting an early general election, and the prime minister is bullish about his chances. He has strong poll numbers and the opposition is divided. And the image of lawmakers putting their full weight behind undoing Brexit would provide an ideal backdrop for the 'people versus Parliament' campaign that Mr. Johnson seems eager to run.
Under British parliamentary rules, Mr. Johnson is likely to need Mr. Corbyn's support if the prime minister wishes to call an early general election — which is no sure thing as the Labour leader's poll numbers sag. And Mr. Johnson is still dealing with an insurgent threat from the right in the form of the Brexit Party, which could siphon away crucial votes.
And while Mr. Johnson sharply curtailed Parliament's time to debate Brexit, he has not stopped the body from sitting altogether. Lawmakers will return from summer recess next week, and analysts believe there is still time for opposition leaders to stick to their plan and pass a law blocking a no-deal Brexit.
Mr. Johnson may also have galvanized members of his own Conservative Party who oppose a no-deal Brexit but were so far unprepared to try to throw out Mr. Johnson's government. One Conservative lawmaker, Dominic Grieve, said the move made a no-confidence vote more likely, calling Mr. Johnson's actions "an attempt to govern without Parliament."
Euronews has a good explainer on the consequences of a "no deal" Brexit. No-deal Brexit: everything you need to know:
A UK departure from the EU with no deal on the exit terms would hit more than trade: legal arrangements covering many aspects of everyday life would abruptly cease to apply.
Preparations for a no-deal scenario are being revived – as are business warnings of damaging consequences, dismissed as scare stories by some Brexit supporters.
Euronews has examined in detail how the rules would change under no-deal, and how this might affect the UK and the EU. Articles are clickable in the sections below.
Trade
No-deal Brexit: what would 'WTO terms' mean for UK-EU trade?
Our explainer on trade looks at the potential impact of WTO rules and warnings of disruption to the economy on both sides of the English Channel.
Citizens' rights
What would a no-deal Brexit mean for citizens' rights?
We examine how EU citizens living in the UK and British nationals on the continent would be affected by a no-deal Brexit.
Travel and consumer issues
How would a no-deal Brexit affect travel and consumers?
What no-deal would mean for travellers and consumers, covering issues such as passports and visas, health cover, driving, roaming charges, and cross-border legal cases.
The Irish border
Ireland insists the new EU-UK land border will remain open even under no deal, though the EU will want to protect its Single Market and Customs Union. The government in Dublin will need to decide how to reconcile its obligations to the EU with its pledge not to introduce a hard border.
Northern Ireland conflict 50 years on: will a no-deal Brexit threaten the peace?
Our overall Brexit Guide explains the controversial backstop plan in the negotiated Withdrawal Agreement, while another backstop explainer considers Boris Johnson's opposition to it. Other explainers look at the historical context, and possible technological solutions and other alternative arrangements for the border.
Other areas
The European Commission's Contingency Action Plan for Brexit lays out basic plans in a no-deal scenario to regulate citizens' rights, financial services, air transport, road haulage, customs and exports, and climate policy.
It does not cover issues such as cooperation on security, crime and terrorism. However, a British government paper published when Theresa May was in office makes it clear that the UK would no longer have a formal relationship with Europol, and would no longer be part of existing systems on data-sharing, extradition, and co-operating to fight money-laundering and terrorist financing. The UK's then security minister warned that both sides would be put at greater risk.
For scientific research, the British government has guaranteed funding for UK competitive bids for EU projects submitted before Brexit. But there is uncertainty over future partnerships beyond Horizon 2020, the EU research and innovation programme, when it ends next year. The government says it wants talks with the EU to ensure the UK can continue taking part in programmes as a third country.
Getting ready for no deal
The May government also published a series of papers giving advice to British citizens and businesses on the consequences of no-deal and how to prepare. It confirms that there would be no agreement on applying arrangements set out in the exit deal.
In August 2019, after the Bank of England lowered its growth forecast for the UK post-Brexit, its governor Mark Carney warned that in the event of no deal the economy would suffer an instant hit, prices would rise and the pound would fall, and even large profitable industries would become "uneconomic."
Government documents leaked to a Sunday newspaper, based on the government's preparations for a no-deal Brexit and codenamed "Operation Yellowhammer," contained warnings of possible food, medicine and fuel shortages.
In April 2019 a leaked letter by the government's most senior civil servant warned of an economic recession, food price rises, a severe impact on Britain's security services, police forces and legal system, and a return to direct rule by the UK government in Northern Ireland.
In June, the same civil servant, Sir Mark Sedwill, said government and public services were in "pretty good shape" to cope with a no-deal Brexit at the end of October. He added that in the private sector the level of preparedness varied from sector to sector.
According to various reports in June – based on a leaked Cabinet document, the Institute for Government and other assessments – the UK is far from prepared for a no-deal Brexit.
In its June update on the state of contingency preparations across the EU, the European Commission concluded that they remained "adequate and fit for purpose".
In July the British employers' organisation the Confederation for British Industry (CBI) argued otherwise, its report saying that neither the UK nor the EU was ready for no deal.
The UK Institute for Government has assessed various EU countries' preparations for no deal. A later report by the institute warned that a no-deal Brexit would drain resources and dominate UK government business for years to come.
Brexit was always a foolish idea and a stupid mistake that should be rescinded, but that does not appear possible in the current insane political climate in the UK.