The New York Times followed-up on its earlier reporting last week on following the money, Afghan Contractor Handed Out Russian Cash to Kill Americans, Officials Say (excerpt):
Rahmatullah Azizi stands as a central piece of a puzzle rocking Washington, named in American intelligence reports and confirmed by Afghan officials as a key middleman who for years handed out money from a Russian military intelligence unit to reward Taliban-linked fighters for targeting American troops in Afghanistan, according to American and Afghan officials.
As security agencies connected the dots of the bounty scheme and narrowed in on him, they carried out sweeping raids to arrest dozens of his relatives and associates about six months ago, but discovered that Mr. Azizi had sneaked out of Afghanistan and was likely back in Russia. What they did find in one of his homes, in Kabul, was about half a million dollars in cash.
[None of those interviewed who know Mr. Azizi were surprised when his associates were raided about six months ago and one of his brothers taken into custody with the half a million dollars in cash. As one of his friends put it, he had gone from "not even having a blanket" to having multiple houses, fancy cars, and security escorts.]
American and Afghan officials have maintained for years that Russia was running clandestine operations to undermine the U.S. mission in Afghanistan and aid the Taliban.
But U.S. officials only recently concluded that a Russian spy agency was paying bounties for killing coalition troops, including Americans, which the Kremlin and the Taliban have denied.
According to officials briefed on the matter, U.S. intelligence officials believe the program is run by Unit 29155, an arm of the Russian military intelligence agency known as the G.R.U. that has carried out assassinations and other operations overseas.
That a conduit for the payments would be someone like Mr. Azizi — tied to the American reconstruction effort, enmeshed in the regional netherworld, but not prominent enough to attract outside attention — speaks to the depth of Russia's reach into the increasingly complicated Afghan battlefield, exploiting a nexus of crime and terror to strike blows with years of deniability.
The public revelation last week of that conclusion has touched off a political firestorm in Washington. White House officials said at first that President Trump was never briefed on the matter, but it emerged that the intelligence assessment was included in a written briefing to the president in late February, if not earlier [National Security Advisor John Bolton briefed the president on 2019 according the AP].
* * *
Details of Mr. Azizi's role in the bounty scheme were confirmed through a dozen interviews that included U.S. and Afghan officials aware of the intelligence and the raids that led to it; his neighbors and friends; and business associates of the middle men arrested on suspicion of involvement. All spoke on condition of anonymity to avoid retaliation.
U.S. intelligence reports named Mr. Azizi as a key middleman between the G.R.U. and militants linked to the Taliban who carried out the attacks. He was among those who collected the cash in Russia, which intelligence files described as multiple payments of "hundreds of thousands of dollars." Those files were among the materials provided to Congress this week.
Through a layered and complex Hawala system — an informal way to transfer money — he delivered it to Afghanistan for the missions, the files say. The transfers were often sliced into smaller amounts that routed through several regional countries before arriving in Afghanistan, associates of the arrested businessmen said.
Afghan officials said prizes of as much as $100,000 per killed soldier were offered for American and coalition targets.
Just how the money was dispersed to militants carrying out attacks for the Taliban, and at what level the coordination occurred, remains unclear. But officials say the network had grown increasingly ambitious and was in communication with more senior levels in Taliban military ranks to discuss potential targets.
About six months ago, Afghanistan's intelligence agency, the National Directorate of Security, raided the offices of several Hawala businessmen both in Kabul, the capital, and in Kunduz, in the north, who were believed to be associated with the bounty scheme, making more than a dozen arrests.
"The target of the operation was Rahmat, who was going back and forth to Russia for a long time and said he worked there but no one knew what he did," said Safiullah Amiry, the deputy head of Kunduz provincial council, referring to Mr. Azizi. But by the time the raid took place, "Rahmat had fled."
"From what I heard from security officials, the money had come from Russia through Rahmat," he added.
* * *
The Russians saw an opportunity for long-awaited payback for the Soviet humiliation in Afghanistan in the 1980s, when the Red Army withdrew after being unable to defeat a United States-backed insurgency.
* * *
The U.S. conclusion in 2019 that the Russians were sending bounty money to the Taliban came at a delicate time in the conflict, just as the United States was deep into negotiations with the insurgents over a deal to withdraw the remaining American troops from the country.
Some of the attacks believed to be part of the bounty scheme were carried out around the time the Trump administration was actively reaching out to Russia for cooperation on those peace talks. Zalmay Khalilzad, the U.S. special envoy leading the talks, repeatedly met with Russian officials to build consensus around the American endgame.
Aaron Blake of the Washington Post explains, The only people dismissing the Russia bounties intel: The Taliban, Russia and Trump:
For days now, the White House and Republicans have been affirming — either tacitly or explicitly — that there was indeed intelligence that Russia may have placed bounties on U.S. troops in Afghanistan. There is disagreement about how firm and actionable that intel has been, but pretty much everyone agrees it exists and is of concern.
Everyone, it seems, except President Trump — along with the Taliban and Russia.
Despite days of disclosures, Trump cannot get out of hoax mode. He claimed Sunday night that he spoke with "intel" and that the information about Russia's bounties was "not credible." Since then, we have seen overwhelming confirmation that the intel was real and is of concern even to Trump's fellow Republicans. The information was significant enough that it was shared with British intelligence last week.
In a reprisal of his betrayal of the American Intelligence Community at Helsinki, while standing next to Vladimir Putin, Trump took Putin's denial at face value: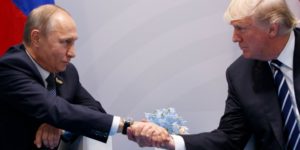 "My people came to me, [Director of National Intelligence] Dan Coats came to me and some others saying they think it's Russia. I have President Putin, he just said it's not Russia," Trump said. "I will say this, I don't see any reason why it would be."
Trump suggests Russia's denials may trump U.S. intelligence — again: When pressed by Fox Business Network in an interview on what he would do if the intelligence was in fact accurate, Trump demurred and suggested Russia's denials — yet again — mattered. "If it did happen, the Russians would hear about it, and anybody else would hear about it that was involved," he said. Trump's comments also suggest that Russia's denials should somehow be taken at face value. He's now suggesting that the Russian government's denials that it was aware of any such arrangement in some way disprove the underlying intelligence.
Earlier on Wednesday, the Twitter-troll-in-chief tweeted Russian propaganda: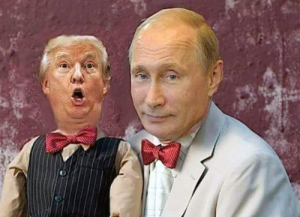 "The Russia Bounty story is just another made up by Fake News tale that is told only to damage me and the Republican Party," Trump said. "The secret source probably does not even exist, just like the story itself."
He added later: "'No corroborating evidence to back reports.' Department of Defense. Do people still not understand that this is all a made up Fake News Media Hoax started to slander me & the Republican Party."
This is Trump's M.O. Stories that are bad for him are never cast in shades of gray; they are always a hoax. The Russia investigation was a hoax, even though special counsel Robert S. Mueller III found significant evidence of obstruction of justice. Impeachment was a hoax, even though the underlying Ukraine allegations were overwhelmingly confirmed. Trump even rather awkwardly tried to cast the coronavirus as his opponents' "new hoax." Trump doesn't quibble with the details. It's just deny, deny, deny — even when it leads to misperceptions like it did with coronavirus.
But using that language suggests Trump is flatly denying the existence of something nearly everyone else agrees exists.
As Aaron Blake concludes, "Pretty much everyone except Trump in the U.S. government regards Russia with suspicion, and yet he has repeatedly suggested its denials warrant consideration in such circumstances. Left conspicuously and repeatedly unsaid in Trump's frequent citations of what Russia denies is the possibility that it's propaganda. Yet again, this has placed Trump on an island in the U.S. government."
Despite reports of the Russian bounty on the heads of American soldiers in Afghanistan being true, White House does not plan any immediate response over intelligence reports on Russian bounties targeting U.S. troops:
The White House is not planning an immediate response to intelligence reports of Russian bounties given to Taliban-linked militants to kill U.S. and coalition forces in Afghanistan because President Trump does not believe the reports are true or "actionable," according to two senior administration officials.
Trump is not convinced he should do anything about the bounty issue, which he decried in a Wednesday morning tweet as "just another made up by Fake News tale that is told only to damage me and the Republican Party." One administration official said there is an internal White House dispute about how much information to declassify to support the president's skepticism of the intelligence.
Some of Trump's own senior intelligence officials viewed the information as credible enough to warn the Pentagon and allies so they could ensure they had measures in place to protect their forces in Afghanistan, and to begin developing options for responding to the Russian operation, national security adviser Robert C. O'Brien said Wednesday.
Russia is once again threatening to become a major factor in a U.S. presidential election as long-standing fears about President Trump's deference to Russian President Vladimir Putin crystallize in a scandal over alleged Russian bounty payments targeting U.S. forces in Afghanistan. Trump remains silent on Putin despite uproar over alleged Russian bounty payments (excerpt):
In the days since the reports became public, Trump has declined to criticize Putin or Russia, and senior administration officials say the White House isn't planning a response. Instead, Trump told Fox News on Wednesday that the entire affair is a "hoax by the newspapers and the Democrats" and insisted he wasn't briefed on the intelligence in the first place because it was inconclusive.
For Trump's critics, the silence on Putin is part of a disconcerting trend.
* * *
The latest scandal has focused attention on that pattern of behavior.
Lawmakers fear Trump possibly wasn't given the intelligence about the bounty payments because his subordinates were worried that negative information about Russia might anger him. Worse, some fear that Trump saw the intelligence but didn't want to confront Putin or simply chose not to believe it.
Former Republican campaign consultant Steve Schmidt, now a Never Trump Republican with The Lincoln Project, in an interview with MSNBC's Lawrence O'Donnell, said Trump's betrayal of U.S. troops is impossible to overstate. It is the "greatest dereliction of duty" in the history of the country.
VoteVets over the weekend aired a new ad saying Donald Trump Is Now 'America's No. 1 Traitor,' Says Veterans Group:
Donald Trump has taken over from Benedict Arnold as "America's number one traitor," according to a group of veterans seeking to vote the president out of office this November.
"No one has betrayed those in uniform like Donald Trump," said the voiceover in the latest ad released by the progressive PAC VoteVets on Friday.
The 65-second spot references Trump's siding with Russia's President Vladimir Putin over U.S. intelligence on Russian meddling in the 2016 presidential election and his dismissal of reports that U.S. officials knew Russia allegedly paid Taliban members to kill American troops.
"This July Fourth, Benedict Arnold can step aside, because Benedict Donald is America's number one traitor," the voiceover concluded.
Donald Trump is the greatest national security threat to the United States. He is a "useful idiot" Russian asset who sides with Vladimir Putin over American interests, even when his pal Putin is paying a bounty on the heads of American soldiers in Afghanistan. Trump is a traitor to his country, who has betrayed American military personnel. I can't imagine any active duty military or veteran supporting Donald Trump after this scandal.