Just as I predicted, the U.S. Senate has rejected all the proposed DACA bills in an epic fail. The New York Times reports, Senate Rejects Trump's Immigration Plan (with additional reporting from The Hill):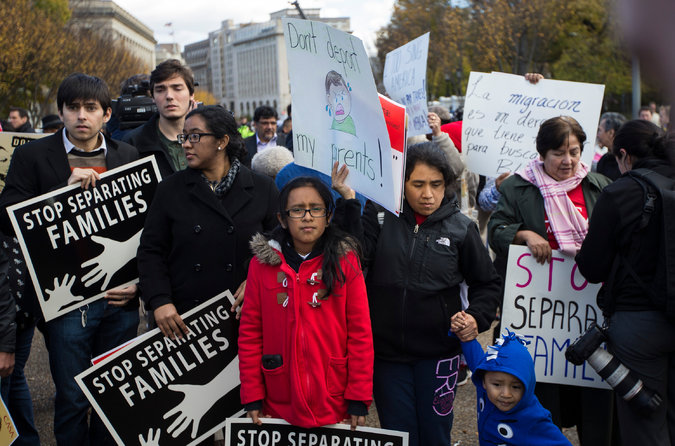 In a stern rebuke to President Trump, the Senate on Thursday decisively rejected a White House rewrite of the nation's immigration laws that would have bolstered border security, placed strict new limits on legal migration and resolved the fate of the so-called Dreamers.
The measure by Senator Charles E. Grassley, Republican of Iowa, was patterned after one that the White House proposed, but the 39-60 vote was 21 votes short of the 60 votes required for the Senate to consider it. Mr. Trump had threatened to veto any other approach.
But the rejection of the president's plan was bipartisan: Democrats refused its get-tough approach to legal immigration, while many conservative Republicans opposed its pathway to citizenship for 1.8 million young immigrants brought to the country illegally as children.
What happens now in the Senate immigration debate is unclear. Before the vote on the White House plan, senators turned away two more modest measures to protect young immigrants known as Dreamers. Neither the plan drafted by a broad group of centrists nor one written by Senators John McCain, Republican of Arizona, and Chris Coons, Democrat of Delaware, secured 60 votes.
The "Common Sense" bipartisan centrist measure, backed by Sens. Susan Collins (ME), Jeff Flake (AZ) and Lindsey Graham (SC) and other Republicans, won 54 votes.
Two other amendments were rejected before the vote. The first, a bipartisan proposal from Sens. John McCain (R-AZ) and Chris Coons (D-DE) , fell in a 52-47 vote. The second measure [from Sen. Pat Toomey (R-PA)], which would have cracked down on sanctuary cities that don't comply with federal immigration laws, also fell in a 55-44 vote.
The Senate's failure leaves Congress with an uncertain path on immigration ahead of a March 5 deadline set by the president.
Note: But for the Senate's 60 vote cloture rule, all three alternative measures won more than 50 votes, and would have passed by a simple majority vote. The Chuck Grassley-Trump administration bill received the fewest votes of support, and failed decisively. [Most Senate Republicans backed the Grassley measure, despite concerns about cuts to legal immigration. And Trump won over three Democrats — Sens. Heidi Heitkamp (N.D.), Joe Donnelly (Ind.) and Joe Manchin (W.Va.) — all of whom face tough reelection races in deep-red states this fall].
An estimated 690,000 young immigrants, known as Dreamers, are protected from deportation by an Obama-era program, Deferred Action for Childhood Arrivals, or DACA, and about 1.1 million more are eligible. But Mr. Trump rescinded the initiative [last September], which is set to expire March 5.
Mr. Trump had said the White House-backed measure was the only one he would sign.
* * *
The White House worked vigorously to bring down every other approach. In a conference call with reporters just before voting began, a senior White House official lashed out at Senator Lindsey Graham, Republican of South Carolina, a key sponsor of an alternative measure. See, White House official slams Graham on immigration. Speaking only on condition of anonymity despite repeated requests to be on the record, the official accused Mr. Graham of attacking Homeland Security officials and standing in the way of needed immigration changes.
"Senator Graham has been an obstacle for those reforms," the official said. He accused Mr. Graham of misleading other senators, including Democrats, about the damage the proposal will do. He said that Democrats should not let "Lindsey Graham dictate what Democrat senators ought to do."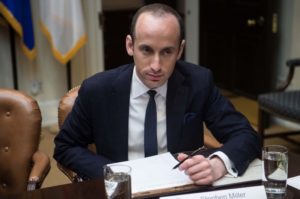 On Capitol Hill, Mr. Graham punched back at Stephen Miller, a top White House aide and immigration hard-liner. Graham said that "as long as Stephen Miller is running the White House and Tom Tancredo's press secretary [is] at DHS" the immigration debate won't be resolved. See also, Graham blasts Homeland Security statement as 'poisonous'.
The comments by the White House official followed a series of extraordinary actions to try to defeat Mr. Graham's bipartisan measure. A fact sheet issued by the Department of Homeland Security assailed the proposal, injecting the enforcement agency into the middle of a partisan legislative fight.
"The White House insisted on anonymity Thursday for the official firing back at Graham, despite criticizing reporters in the past for the use of unnamed sources, saying they cannot be trusted."
You don't have to guess in order to figure out it is white nationalist White House aide Stephen Miller. Speaking of "poisonous," this guy is the poster boy.