The Guardian reports, Brexit in chaos as Tory MPs trigger vote of no confidence in Theresa May: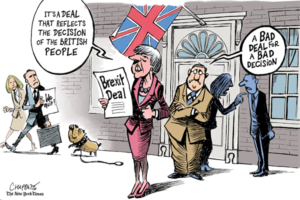 Conservative MPs have triggered a vote of no confidence in Theresa May, plunging the Brexit process into chaos as Tory colleagues indicated they no longer had faith in the prime minister to deliver the deal.
Sir Graham Brady, the chair of the 1922 Committee, has received at least 48 letters from Conservative MPs calling for a vote of no confidence in May. Under party rules, a contest is triggered if 15% of Conservative MPs write to the chair of the committee of Tory backbenchers.
A ballot will be held on Wednesday evening between 6pm and 8pm [11am to 1pm Arizona time], Brady said, with votes counted "immediately afterwards and an announcement will be made as soon as possible". Sources said an announcement could be made by 10pm [3pm Arizona time].
If she is effectively sacked after the ballot, a contest could take up to six weeks to complete.
On Tuesday night, ministers warned that such a successful challenge would mean that article 50 might have to be suspended.
Potential candidates to lead the Tories and become the new prime minister include the former foreign secretary Boris Johnson, the home secretary, Sajid Javid, the foreign secretary, Jeremy Hunt, and the international development secretary, Penny Mordaunt.
Brady refused to say how many letters he had received. "I am only required to say the threshold was reached," he told BBC Radio 4's Today programme.
In a press release, Brady said: "The threshold of 15% of the parliamentary party seeking a vote of confidence in the leader of the Conservative party has been exceeded."
More than 20 other Tory backbenchers have publicly confirmed they have submitted letters calling for May to step down over her Brexit proposal, including Jacob Rees-Mogg, the influential chair of the European Research Group, the former Brexit minister Steve Baker and fellow leavers Nadine Dorries and Andrew Bridgen.
The prime minister will need the backing of at least 158 Tory MPs to see off the Brexiters' challenge; her position would then be safe for 12 months. However, the prime minister could decide to resign if votes against her were below the threshold to topple her, but significant enough in number.
Brexiter MPs had hoped to oust the prime minister some weeks earlier after she presented her withdrawal agreement but progress then appeared to stall ahead of the meaningful vote. It was her decision to cancel that vote, in the face of huge defeat, that appeared to lead to a slew of new letters – though not all writers have gone public with theirs.
Not all the letters have been sparked by the draft withdrawal agreement or the delay to the vote. Several were prompted months earlier by the Chequers agreement that led to the departure of two cabinet ministers, and the disastrous Salzburg summit at which that was rejected.
* * *
Speaking on the Today Programme, the Brexiter Bernard Jenkin said he would vote to sack May because she "cannot command a majority" in the Commons, particularly without the support of the DUP.
"The reason Theresa will probably lose this ballot is that so many people in the parliamentary party cannot see how she can command a majority," he said.
* * *
The justice secretary David Gauke, warned that article 50 would have to be delayed, possibly for six months, if May is toppled on Wednesday.
"If she loses tonight, whoever is prime minister will have to delay article 50 … I think that some of my leave colleagues should bear that in mind when they vote this evening," he said.
This is expected to be a close vote. Stay tuned.
UPDATE: Theresa May won the backing of her party to stay on as prime minister – Tory MPs rejected a no-confidence motion in the embattled prime minister's leadership by 200 votes to 117, after a swift contest that exposed the bitter split in her party over Brexit. Theresa May defeats leadership challenge by 83 votes:
May emerged from 10 Downing Street after the result to say her party had a "renewed mission" of "delivering the Brexit that people voted for, bringing the country back together and building a Britain that truly works for everyone," and to urge MPs from all parties to cooperate to deliver Brexit in the national interest.
But Brexiters hailed the 117 votes cast against her as a clear indication that her Brexit deal is deeply unpopular on her own side of the House of Commons.
A loud cheer erupted among Tory MPs on Wednesday night, as the chair of the backbench 1922 Committee, Sir Graham Brady, announced: "The result of the ballot held this evening is that the parliamentary party does have confidence in Theresa May" – and confirmed that she could not now be challenged for another year.
But May must fly to Brussels on Thursday to appeal to her fellow EU leaders to offer Britain what she told MPs must be a "legally binding" commitment that the Irish backstop will be temporary.
The Labour leader, Jeremy Corbyn, said: "Tonight's vote makes no difference to the lives of our people," urging the prime minister to "bring her dismal deal back to the House of Commons next week so parliament can take back control."
That call was echoed by the European Research Group (ERG) of pro-Brexit Tory MPs, which had demanded the no-confidence vote. An ERG source said the group could not support her deal, and she should "bring it back to parliament without delay."
* * *
MPs present at the tense meeting of the Tory party said May told them that "in my heart, I would like to fight the next general election" – to make up for the Conservatives' poor performance in 2017 – but signalled that she would step down before 2022.
However, the prime minister avoided offering a specific date at which she would resign.
She also offered a sobering message about the challenges the government faces in getting its Brexit deal through parliament, with shifting groups of MPs advocating a series of incompatible options – from a second referendum to no deal.
By promising to step down before 2022, the prime minister hoped to peel off MPs who fear she would be an electoral liability, but she also risked further undermining her already fragile authority.
May still does not have the votes for her bad Brexit deal. So what does she do now?
---
Support volunteer citizen journalism at the Blog for Arizona with a donation today. Your secure contribution keeps the Blog online and sustains a free press in Arizona.
---