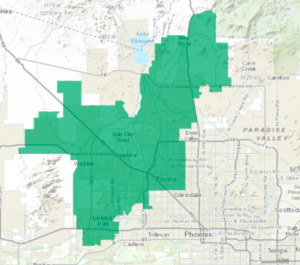 Candidates interested in running for the congressional district 8 seat vacated by Rep. Trent Franks have until 5:00 p.m. on January 10 to file nominating petitions for the congressional district 8 special election.
The special election primary will take place on Tuesday, February 27. The special election general election will take place on Tuesday, April 24.
So with ten days to file, who is currently in the race?
According to the Federal Elections Commission, these are the candidates who are currently filed:
Chad Allen (R), healthcare executive
Travis Angry (R), motivational speaker, author, veteran
Scott Allen Baker (R), computer technician and informaton security analyst
Debbie Lesko (R), State Senate President Pro-Tempore (resigned), former State Representative
David Lien (R), piano teacher, former council member in Willmar, Minnesota
Phil Lovas (R), SBA Regional Official (resigned), former State Representative
Steve Montenegro (R), State Senator, Minister, former House Majority Leader, former Congressional Aide to Rep. Trent Franks
Bob Stump (R), former State Corporation Commissioner, former State Representative
Christoper Sylvester (R), Aerospace Engineer, Retired Navy Officer
Judith McHale (D), Mental Health Counselor
Robert Kyle Schuster (D), High School Coach, Graduate Student, Ex-Store Manager
Hiral Vyas Tipirneni (D), Scientific Review Officer, Physician
Brianna Westbrook (D), LGBT Activist, Sales Manager
Augustine "Augie" Beyer (Ind), Store Manager,  former Tonawanda, NY School Board Member
Candidates reportedly running but who do not have an FEC filing number:
Bill Harbeck (R), Christian Educator, Executive of Holding on to Hope Ministries
Richard Mack (undeclared), former Graham County Sheriff and leader of the far-right extremist constitutional sheriffs movement
Christopher Rippey (R), Auto Dealer Service Advisor
Jon Ritzheimer (R), a former US Marine, one of the Bundy occupiers of the Malheur Wildlife Reserve in Oregon, and prominent anti-Muslim activist
According to this Phoenix New Times post from December 12, Here's Everyone Who's Running To Replace Trent Franks, there may be several more candidates:
• Perennial candidate Clair Van Steenwyck, a retiree in Sun City West who previously attempted to run against Senator John McCain.
• John P. Heffernan III, an investment banker and Ronald Reagan enthusiast.
• Brenden Dilley, a life coach whose website proudly trumpets the words, "Supporting the Trump agenda." For some reason, it also features a number of photos of New York City, despite the fact that he is running for office in Arizona.
• Kevin Engholdt, a self-described "consultant, entrepreneur, and problem solver." He was previously planning on running for State Senate.
• Joseph Wagner, who is…. actually, we have no idea who he is. He's not a known name in Republican politics, and hasn't set up a campaign website yet.
• Robert Olsen is also on the list of declared Democrats. He doesn't have a campaign webpage set up, and there are a number of Robert Olsens in the metro Phoenix area, so we have no clue who this person is.
• Green Party candidate Richard Grayson, who attempted to run for president in 2012 and threatened to bite Jan Brewer's finger off. There's a long backstory to this, but basically you can blame Tucson Weekly.
If you live in Congressional District 8 and want to help any of the candidates above,  you can sign their petitions electronically via the Secretary of State's website.
If you know of any other candidates who have filed to run that I have missed above, please post their information in the comments.