Federal, state and local governments approved eviction moratoriums during the course of the coronavirus pandemic for many renters, but those protections have been expiring rapidly. The Washington Post reports that "As of Tuesday, only 17 states and the District of Columbia still have any such eviction protections for renters in place," including Arizona.
A recent report from one think tank, the Aspen Institute, stated that more than 20 million renters live in households that have suffered COVID-19-related job loss and concluded that millions more are at risk of eviction in the next several months.
The Huffington Post reports, the CDC Halts Certain Renter Evictions Through The End Of The Year invoking federal public health laws:
The Trump administration has issued a directive halting the eviction of certain renters though the end of 2020 to prevent the spread of the novel coronavirus.
The administration's action stems from an executive order that President Donald Trump issued in early August. It instructed federal health officials to consider measures to temporarily halt evictions. The Centers for Disease Control and Prevention followed up Tuesday by declaring that any landlord shall not evict any "covered person" from any residential property for failure to pay rent.
Senior administration officials explained that the director of the CDC has broad authority to take actions deemed reasonably necessary to prevent the spread of a communicable disease.
Renters covered through the executive order must meet four criteria. They must:
— Have an income of $198,000 or less for couples filing jointly, or $99,000 for single filers.
— Demonstrate they have sought government assistance to make their rental payments.
— Affirmatively declare they are unable to pay rent because of COVID-19 hardships.
— Affirm they are likely to become homeless if they are evicted.
Officials said local courts would still resolve disputes between renters and landowners about whether the moratorium applies in a particular case.
Brian Morgenstern, a deputy White House press secretary, said Tuesday's announcement means that people struggling to pay rent due to COVID-19 would not have to worry about being evicted and risking the spread of the disease or exposure to it.
The Washington Post adds:
The new moratorium seeks to cover families experiencing financial hardship as a result of the pandemic, aiming to help as many as 40 million Americans who are already struggling to pay their monthly housing costs in the midst of the worst economic crisis since the Great Depression, according to Treasury Secretary Steven Mnuchin[.]
* * *
But the moratorium, which was issued under the banner of the CDC on Tuesday, stops short of what some Democratic lawmakers and housing experts said is necessary. For one thing, the Trump administration did not set aside any new federal dollars for renters, who eventually will owe what may be sky-high past-due balances, or for landlords, who might face financial struggles of their own.
Diane Yentel, president of the National Low Income Housing Coalition, described the new eviction policy as "long overdue and badly needed." But, she added: "This action delays but does not prevent evictions. Congress and the White House must get back to work on negotiations to enact a covid-19 relief bill with at least $100 billion in emergency rental assistance."
Lawmakers included a 120-day federal eviction moratorium as part of the $2 trillion Cares Act they passed in March. The protections offered an early reprieve for a more limited category of renters in federally financed buildings, as well as some homeowners, as the pandemic upended the job market, leaving millions of Americans unexpectedly out of work.
But the protections did not go as far as what some housing advocates sought by failing to provide more assistance to help with missed payments. The eviction moratorium expired at the end of July, along with other programs including the government's expanded unemployment payments — creating the conditions for what some experts described as a massive housing crisis.
Emily Benfer, a professor at Wake Forest Law who chairs the American Bar Association's work on evictions, said "The eviction crisis is far from over, and in fact, it's picking up speed," pointing to low-income families draining their savings and other resources to ensure they don't lose their homes. "They are paying with their futures. They are using credit cards and taking on financial risk. … They know without it they cannot keep their families safe."
[T]he Trump administration does not waive any debts that families may rack up over that period, and it explicitly leaves open the door for landlords to charge "fees, penalties or interest as a result of the failure to pay rent or other housing payment on a timely basis," according to a draft document posted Tuesday. Landlords could even still pursue evictions in some cases, including if they have public health concerns of their own.
"For low-income renters, all this does is delay the cliff that they'll face when the moratorium is over," said Peggy Bailey, the vice president for housing policy at the Center on Budget and Policy Priorities. "It's good as an initial Band-Aid, but people are still going to be accruing rent-related debt."
Some landlords quickly expressed serious reservations about the Trump administration's actions, fearing they could be left facing financial peril as a result. Opponents could still challenge the directive in court, though no potential legal challenges surfaced immediately Tuesday.
"Not only does an eviction moratorium not address renters' real financial needs, a protracted eviction moratorium does nothing to address the financial pressures and obligations of rental property owners," said Doug Bibby, the president of the National Multifamily Housing Coalition, adding in a statement it meant the "stability of the entire rental housing sector is thrown into question."
Following up on this last point, the AP reports, Critics: Eviction ban may only delay wave of homelessness (excerpt):
Critics call it everything from an empty stall tactic to an outright political ploy.
"My first reaction was, 'Thank God,'" said Matthew Hill, an attorney with the Public Justice Center in Baltimore. But he noted that tenants will be expected to repay their rent when the moratorium expires on Jan. 1, and without some kind of rental assistance, "we are just going to be kicking the can down the road."
Richard Vetstein, the lead attorney representing landlords who are challenging an eviction moratorium in Massachusetts, called the CDC order "convoluted" and poorly drafted.
"It's a pretty blatant political play by Trump in an election year," Vetstein said. "It purports to apply nationwide to every residential situation for nonpayment of rent, so that would be many, many millions of rental properties."
The move is a good first step, said Bill Faith, executive director of the Coalition on Homelessness and Housing in Ohio. But the order just "puts the problem on pause."
"In January, when this would cease to be in place, all of those tenants would still owe all of the rent they owed to start with," Faith said. "If they are covered by the moratorium and don't pay what rent they can pay, their hole is thousands of dollars deep."
Faith also said implementing the order could be "messy," since it would often fall to local judges to determine if a tenant qualifies. In Ohio alone, that would involve hundreds of housing courts.
* * *
Landlords say the order forces them to shoulder a heavy financial burden.
"It's great to say nobody can be evicted," said Mitch Matorin, who is owed $11,400 in back rent on property he owns in Worcester, Massachusetts. "But all that does is push this large societal cost onto the landlords."
Matorin, a lead plaintiff in the case against the state moratorium, said he has had to dip into savings to make monthly mortgage payments.
"If there is a societal interest that requires no evictions, then society needs to step up and fund it," he said. "Otherwise, it is incredibly unfair and untenable to shove the cost on the landlords."
* * *
Vetstein said there were many questions about the order, including whether it applies to eviction cases already filed in the courts. It is also unclear how the order would affect lawsuits like the one in Massachusetts challenging the state moratorium.
"One of our clients is a nurse," he said. "She is owed over $20,000, and now she is going to be stuck. Through the end of the year she will be owed $30,000, and the tenant can just live there for free. It's literally going to cause her financial ruin."
Faith said it's good to see the administration acknowledge the public health threat posed by evictions that could send people into crowded shelters and other housing. But the moratorium is "not the ideal way to proceed."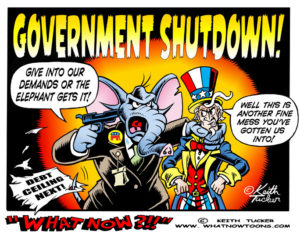 Congress is back in session on September 14 after the Senate pissed away months since the House passed its comprehensive Covid-19 relief bill, the Heroes Act, in mid-May. And Congress  still must approve appropriations bills for FY 2021, before the FY 2020 federal budget expires on September 30.
Politico's Playbook predicts that "government funding and Covid relief — will be paired this month, and it seems almost inevitable that they get wrapped into one package, which should pass by the end of the month. Our confidence level is low that this will happen without major turbulence, and perhaps a government shutdown. In other words, this is real, so brace for impact."
A government shutdown over Covid relief going into early voting in October should be the last thing that any Republican member of Congress wants.  The "skinny" relief bill that Republicans are proposing as an opening bid does not seriously address the scope of the pandemic's economic devastation. This is a "Throw Mitch McConnell and the obstructionist Republicans out of office!" moment.