As we celebrate Christmas 2018, let us reflect upon the wabi-sabi of life. This is a Japanese term about accepting and celebrating the imperfect and temporariness of life.  From Wikipedia:
"In traditional 
Japanese aesthetics
, 
wabi-sabi
 (
侘
寂
) is a 
world view
 centered on the acceptance of 
transience
 and imperfection.
[2]
 The aesthetic is sometimes described as one of beauty that is "imperfect, impermanent, and incomplete".
[3]
 It is a concept derived from the 
Buddhist
 teaching…"
The reason I am urging this concept is that as the years go by, we all age (and physically deteriorate as we become elderly). I feel the impermanence due to the recent deaths of Tucson activists whom I knew along the campaign trail, Claudia Ellquist and Dave Ewoldt, Green Party members who ran (respectively) for Pima County Attorney and  State Senate. It's hard to believe both are gone, as well as strong Democratic educator Georgia Cole Brousseau, formerly on the PCC Governing Board. Their powerful voices for social justice, education, and the environment will be missed.
Wabi- sabi also teaches to enjoy and appreciate the imperfect.  Recently I found a green bowl at my parent's home, which had a small chip on the edge. Instead of throwing it away, I kept it as a shampoo and soap holder. The bowl is beautiful, no longer perfectly intact, but still pleasing (and functional) in its marred state.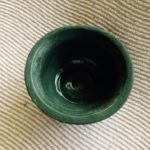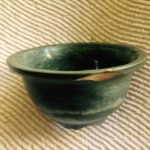 All of our lives are temporary but we don't need to dwell on our mortality, but enjoy our happy times, as we gather with family and friends for Christmas.  Of course Christmas is a Christian holiday, so celebrate (or not) as you choose, religiously (or not).  Every moment is transitory, every moment is indeed fleeting.
Season's greetings and happy holidays from us at Blog for Arizona.
Support volunteer citizen journalism at the Blog for Arizona with a donation today. Your PayPal contribution keeps the Blog online and sustains a free press in Arizona.