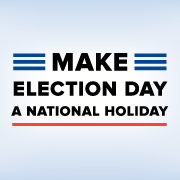 A while back I did a post on 'The Enemy of The People' opposes an election day federal holiday to vote that apparently got lost in the transition to our new blog format, but it still exists in the ether of the internet.
Shorter version: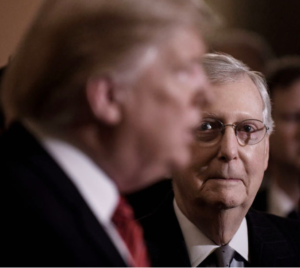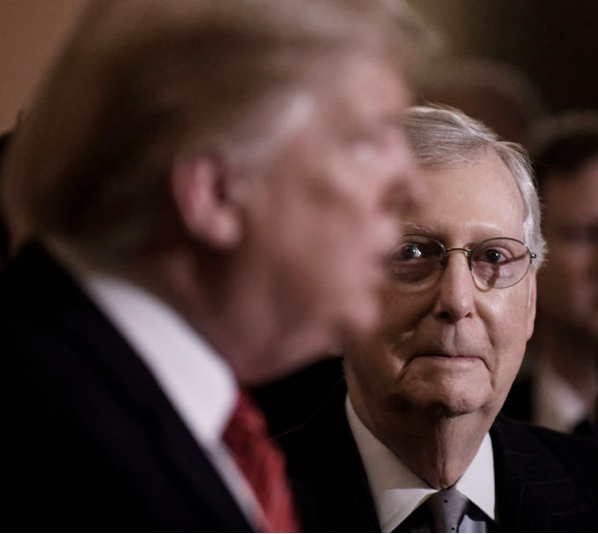 Yesterday "The Enemy of The People" took to the floor of the Senate to condemn H.R.1, the For the People Act, a comprehensive package of election reforms and the first major bill of the 116th Congress.
Specifically, McConnell mocked the idea that election day should be a federal holiday that everyone gets off in order to go exercise their franchise to vote in a democracy. Oh, the horror! Mitch McConnell: making Election Day a federal holiday is a Democratic "power grab".
Our Trump Troll state Sen. John Kavanagh commented, "With 80% of Arizona voters casting mail ballots, exactly why do we need an election day holiday?"
I explained the obvious point that almost half of all eligible voting age adults in Arizona do not vote, for various reasons. That 80 percent is from the half of eligible voting age adults who do vote. Zachary Wolf also made this point at CNN:
The 2018 midterm election saw a higher portion of Americans participate than any midterm election in decades. More than 116.7 million people cast ballots. But that's only about 46% of the voting age population, according to data from Edison Research.
More people will vote in next year's presidential election, but not even close to everyone who can.
A funny thing has happened since then. Because Congress — and states like Arizona — have failed to act, cities are now adopting Election Day as a holiday to encourage greater voter participation. Local governments can lead the way on this issue. Sandusky, Ohio, Swaps Columbus Day Holiday for Election Day: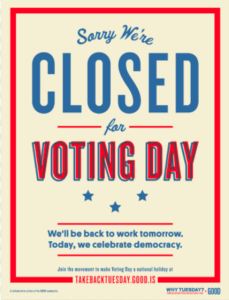 Sandusky, Ohio, on the shores of Lake Erie, has lately been getting [a lot of] attention for its politics.
City officials voted two weeks ago to swap the Columbus Day holiday with one on Election Day in a move that was intended to affirm the city's values, but also inserted it into two contentious national debates.
The vote garnered little immediate attention when it was covered by the local newspaper, The Sandusky Register, but news soon spread.
"We've been very surprised by the national attention," said Sandusky's city manager, Eric Wobser, who has since been interviewed by national news organizations like NPR, CNN and The Washington Post.
"We have a huge history with the Underground Railroad and were very active in the civil rights movement, and so if we can continue to play a role in spurring some type of a national dialogue as it relates to voting rights, I think we'd be really proud of that," he said.
Holidays reflect a nation's values, so both Columbus Day and Election Day have been subjects of sometimes intense debate.
Columbus Day, a commemoration of the explorer Christopher Columbus, who sailed to the Americas centuries ago, has become increasingly controversial in recent decades amid growing criticism that it celebrates a man who ushered in an era of profound oppression and violence for Native Americans and enslaved Africans.
Several cities and some states have either dropped the Columbus Day holiday altogether or renamed it "Indigenous Peoples' Day" in recognition of the communities that were devastated by American colonization.
Arizona's public employees celebrates César Chávez Day in March, and do not celebrate Columbus Day.
The idea of an Election Day holiday, too, has been the subject of some debate. Most states encourage employers to let workers take time to vote on Election Day, but laws vary by state.
The idea of a federal Election Day holiday has been bandied about for years and found its way back into the national discussion this year as part of the first major piece of legislation introduced by the Democratic-controlled House (H.R.1). Senator Mitch McConnell, the majority leader, then stirred controversy when he singled out the idea for criticism, describing it as a Democratic "power grab."
* * *
On Jan. 28, the city commission voted to approve the holiday swap.
The city said on its Facebook page that it was "proud" to have provided an Election Day holiday.
"What better way to celebrate the value of our employees and citizens than by removing barriers for them to participate in the greatest of American innovations, our democracy," it said.
Since voting for the trade two weeks ago, Sandusky officials have heard from individuals and elected officials across the country, including Mendocino County, Calif.; Stamford, Conn.; and Washington, D.C.
* * *
While a few people have griped about the Sandusky swap, the response has been overwhelmingly supportive, Mr. Wobser said.
"The most positive response has come from, both locally and nationally, people who are from underrepresented communities who I think sense that ease of access to the ballot will benefit them, as well as ones who probably have felt more disenfranchised by the celebration of Columbus Day," he said.
Arizona has eighteen charter cities, Phoenix, Tucson and Flagstaff chief among them. Arizona's charter cities have rights that keep state lawmakers from interfering with decisions made by voters and their councils on strictly local matters, which includes elections.
An Election Day holiday is just the kind of thing that Arizona's charter cities are inclined to adopt. Local governments can lead the way on this issue (the vast majority of Arizona's population resides in charter cities).
Local activists know how to get this done. Time to get to work.