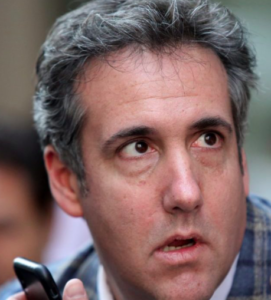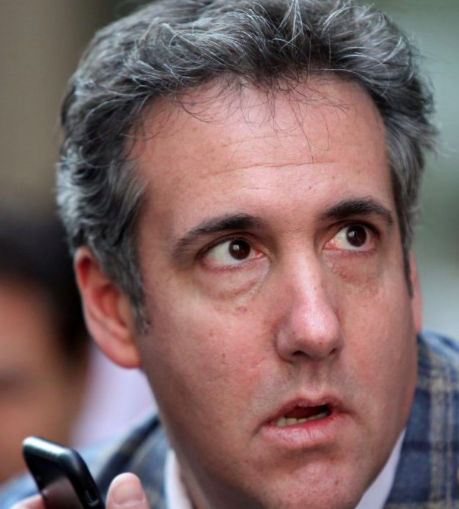 Last week we were left wondering how Michael Avenatti, Stormy Daniels attorney, got his hands on Michael Cohen's financial information, which appeared to come from a Suspicious Activity Report (SAR). Avenatti's memo was quickly confirmed by news media outlets.
We still don't know how Avenatti got his hands on the SAR report, but we now know how the media was able to confirm the financial information in his memo so quickly: a government whistleblower provided the news media with a copy of the SAR report.
The New Yorker reports, Missing Files Motivated the Leak of Michael Cohen's Financial Records:
Last week, several news outlets obtained financial records showing that Michael Cohen, President Trump's personal attorney, had used a shell company to receive payments from various firms with business before the Trump Administration. In the days since, there has been much speculation about who leaked the confidential documents, and the Treasury Department's inspector general has launched a probe to find the source. That source, a law-enforcement official, is speaking publicly for the first time, to The New Yorker, to explain the motivation: the official had grown alarmed after being unable to find two important reports on Cohen's financial activity in a government database. The official, worried that the information was being withheld from law enforcement, released the remaining documents.
The payments to Cohen that have emerged in the past week come primarily from a single document, a "suspicious-activity report" filed by First Republic Bank, where Cohen's shell company, Essential Consultants, L.L.C., maintained an account. The document detailed sums in the hundreds of thousands of dollars paid to Cohen by the pharmaceutical company Novartis, the telecommunications giant A.T. & T., and an investment firm with ties to the Russian oligarch Viktor Vekselberg.
The report also refers to two previous suspicious-activity reports, or SARs, that the bank had filed, which documented even larger flows of questionable money into Cohen's account. Those two reports detail more than three million dollars in additional transactions—triple the amount in the report released last week. Which individuals or corporations were involved remains a mystery. But, according to the official who leaked the report, these SARs were absent from the database maintained by the Treasury Department's Financial Crimes Enforcement Network, or finCEN. The official, who has spent a career in law enforcement, told me, "I have never seen something pulled off the system. . . . That system is a safeguard for the bank. It's a stockpile of information. When something's not there that should be, I immediately became concerned." The official added, "That's why I came forward."
Seven former government officials and other experts familiar with the Treasury Department's finCEN database expressed varying levels of concern about the missing reports. Some speculated that finCEN may have restricted access to the reports due to the sensitivity of their content, which they said would be nearly unprecedented. One called the possibility "explosive." A record-retention policy on finCEN's Web site notes that false documents or those "deemed highly sensitive" and "requiring strict limitations on access" may be transferred out of its master file. Nevertheless, a former prosecutor who spent years working with the finCEN database said that she knew of no mechanism for restricting access to SARs. She speculated that finCEN may have taken the extraordinary step of restricting access "because of the highly sensitive nature of a potential investigation. It may be that someone reached out to finCEN to ask to limit disclosure of certain SARs related to an investigation, whether it was the special counsel or the Southern District of New York." (The special counsel, Robert Mueller, is investigating Russian interference in the 2016 Presidential election. The Southern District is investigating Cohen, and the F.B.I. raided his office and hotel room last month.)
Whatever the explanation for the missing reports, the appearance that some, but not all, had been removed or restricted troubled the official who released the report last week. "Why just those two missing?" the official, who feared that the contents of those two reports might be permanently withheld, said. "That's what alarms me the most."
Today the SARs Removal Stokes Fears About Treasury Secretary Mnuchin's Conflict Of Interest:
For months, good-government groups and some Democratic lawmakers have been calling on Treasury Secretary Steve Mnuchin to recuse himself from matters related to the federal investigation into Russian election meddling. Mnuchin's role as finance chair of Donald Trump's 2016 campaign means he can't impartially oversee a probe that delves into Trump associates' financial affairs, they have argued.
Those calls took on a new urgency this week when The New Yorker revealed that Suspicious Activity Reports (SARs) filed on long-time Trump fixer Michael Cohen were removed from a database kept by the Treasury Department's Financial Crimes Enforcement Network (FinCEN) division.
Their removal, which is highly unusual, so alarmed a longtime law enforcement official that he or she leaked some of the documents to the press out of concern that information was being intentionally withheld from law enforcement.
In multiple letters sent since late 2017, Democratic lawmakers have asked Mnuchin to recuse himself from the Russia probe, and to detail any information Treasury has received about potential illegal activities by Trump and his associates.
"Have you ever directed, or has any other Trump administration official, Trump campaign official, or Trump family member called on you to direct U.S. Treasury officials or staff members to obscure, destroy, or withhold information implicating the president, Trump campaign officials, Trump family members, or his associates?" the Democrats wrote in January.
They received no response from Mnuchin.
* * *
In December, progressive groups noted in their own letter to Treasury's Inspector General that Mnuchin had replaced the director of FinCEN with his own choice, just days after former Trump campaign chair Paul Manafort was indicted for money laundering and a host of other financial crimes.
The groups called the timing "extremely worrisome," and asked the IG's office to look into whether Mnuchin should recuse, a request the IG declined.
On Thursday, Citizens for Responsibility and Ethics in Washington filed a complaint with the Treasury Department Inspector General asking for an investigation into the "possible compromise" of information in the database.
Sources familiar with FinCEN's database told the New Yorker they could have been removed by a request from the special counsel's team or from federal prosecutors who are investigating Cohen for financial crimes.
The Treasury Department did not immediately respond to TPM's request for comment. In a Thursday afternoon statement, a FinCEN spokesperson said that they do sometimes limit access to SARs in ongoing investigations.
So is there an innocent, although highly unusual, explanation that the SARs reports were restricted by the special counsel or the U.S. Attorney for the Southern District of New York (which seems readily easy to confirm). Or did someone pull the SARs reports from the finCEN data base in a cover up?  And if so, why did they fail to pull the third SAR report that was revealed, which referenced the two earlier SARs reports? That doesn't make sense.
In related news, Donald Trump finally admitted in his financial disclosure statement to repaying Michael Cohen for the payment made to Stormy Daniels. Trump Discloses Cohen Payment, Raising Questions About Previous Omission:
President Trump's financial disclosure, released on Wednesday, included for the first time repayment of more than $100,000 to his personal lawyer, Michael D. Cohen, in 2017, raising questions about whether Mr. Trump's sworn filing from a year ago improperly omitted the debt.
In a highly unusual letter, the Office of Government Ethics alerted the Justice Department on Wednesday to the omission, telling Rod J. Rosenstein, the deputy attorney general, that the ethics office had determined "the payment made by Mr. Cohen is required to be reported as a liability."
David J. Apol, the acting director of the Office of Government Ethics, sent Mr. Rosenstein a copy of Mr. Trump's current and previous financial form, noting in his letter that "you may find the disclosure relevant to any inquiry you may be pursuing regarding the president's prior report that was signed on June 14, 2017."
The letter is not an official referral and does not constitute a finding of wrongdoing, according to lawyers.
* * *
Noah Bookbinder, the executive director of Citizens for Responsibility and Ethics in Washington, said in a statement that the inclusion of the payment on this year's form "raises serious questions as to why it was not disclosed in last year's filing." The group, known as CREW, had filed a complaint with the Justice Department and the ethics office asking for an investigation into whether the payment constituted a loan.
Under federal law, an official who "knowingly and willfully falsifies information" on a financial disclosure could face criminal charges.
Marilyn L. Glynn, who served as the general counsel at the Office of Government Ethics from 1997 to 2008, said that the letter to the Justice Department was significant and unusual and that if Mr. Trump intentionally filed an inaccurate disclosure last year, he may have violated the law.
Vox.com is more definitive about the legal consequences, Trump's new Stormy Daniels money disclosure may have gotten him in even more legal trouble:
David Apol, the acting director of the Office of Government Ethics (OGE), is disputing Trump's assertion that he wasn't required to report the debt — and has sent along the matter for Deputy Attorney General Rod Rosenstein to look into.
Apol wrote that an outside group requested he investigate whether Trump was legally required to report his debt to Cohen on last year's financial disclosure form (which Trump did not do). Apol concluded that, yes, Trump was legally required to report it. And he wrote that Rosenstein may find that information "relevant to any inquiry you may be pursuing."
Walter Shaub — Apol's predecessor at the Office of Government Ethics, who resigned last year after clashes with Trump officials and has frequently criticized Trump in the media since — tweeted that this was "tantamount to a criminal referral," reporting Trump "for potentially committing a crime."
It is unclear what the Justice Department will do with this information. But it adds to the lengthening list of legal problems Trump may face related to the Daniels payment and the investigation into Cohen.
The president, like other federal employees, is required to fill out a financial disclosure form each year. Yet Trump's first such form — submitted in June 2017, and covering 2016 and early 2017 — makes no mention of a debt to Cohen.
So the White House remained cagey on what exactly happened here until, in the wake of the FBI raids on Cohen's offices, they put out at least part of their version of events. At some point in 2017, they said, Trump repaid Cohen for the money. He did so through, they claim, monthly payments to keep Cohen on retainer.Trump decided to try to have it both ways.
In the form, his team does not disclose the Cohen debt alongside Trump's other liabilities. Instead, they mention it at the bottom of the relevant page in a note saying it was fully paid back in 2017. They claim that they don't believe Trump was legally required to disclose this, but that "in the interest of transparency," they've decided to do so anyway.
But the OGE didn't buy their argument. Acting Director Apol added his own note stating that the Cohen payment information "is required to be reported" and should have been listed by Trump as a reportable liability.
And Apol didn't stop there. He publicly released a letter to Deputy Attorney General Rosenstein making OGE's position clear — that "the payment made by Mr. Cohen is required to be reported as a liability."
Apol sent both of Trump's disclosure reports to Rosenstein, saying that he might find them "relevant to any inquiry" he "may be pursuing" about Trump's earlier, apparently incomplete, disclosure form that didn't mention the Cohen payment.
So there was already an open investigation into Trump's financial disclosure statement? Who knew?
UPDATE: The Treasury Department's inspector general is expanding a probe into leaks of confidential reports about suspicious banking activity by Michael Cohen, President Trump's former personal attorney to include an uncorroborated allegation that some of those reports were mysteriously absent from a government database. Probe of leaked banking records related to Michael Cohen expands after New Yorker report. The Treasury Department's Inspector General has launched a probe into the leak.
According to Buzzfeed, Sources Say Cohen Financial Records Are Not Missing, Just Restricted:
Records pertaining to the financial activities of President Trump's lawyer Michael Cohen are not missing from a government database; rather, Treasury Department officials have taken the highly unusual step of restricting access to them even from certain law enforcement agencies, according to three sources familiar with the matter.
* * *
But three sources familiar with the matter said that access to Cohen's SARs has merely been limited, not removed. They added that limiting access is rare and must have come from the top of the Treasury Department.
In a statement, a New Yorker spokesperson noted that the story had reported that FinCEN can restrict access to information "deemed highly sensitive" and that the agency may have restricted access to the documents because they relate to ongoing investigations.
In a public statement, FinCEN did not acknowledge Cohen specifically, but did say that FinCEN "will limit access to certain SARs when requested by law enforcement authorities in connection with an ongoing investigation."
It is still is unknown why the SAR report that leaked out was also not restricted. This just makes what is in the SARs reports that are restricted all the more of interest to the media.