For five years – five freakin' years! – Donald Trump has been promising Americans a Republican health care plan that is bigger and better than the Affordable Care Act aka "Obamacare." In October 2016, Trump told campaign supporters it is "going to be so easy" to get a new health care law.
By July 2017, Trump was already complaining that "nobody knew health care could be so complicated." "Who knew?" EVERYBODY!
Republicans instead tried to fulfill their malignant desire to repeal the Affordable Care Act and take health care coverage away from millions of Americans, but failed by one vote in the Senate when Arizona's Sen. John McCain looked Mitch McConnell right in his devil's eye and voted thumbs down.
Donald Trump's and Republicans' ever elusive health care plan is always just "two weeks" away, but never materialized into an actual piece of legislation that they sought to enact. Republicans are a post-truth, post-policy, post-governing party.
What they did instead was have Republican Attorneys General sue to overturn the Affordable Care Act before a hand-picked conservative activist judge in Texas, who was more than happy to oblige. The 5th Circuit Court of Appeals, also stacked with conservative activist judges, mostly backed up this trial judge. The Trump administration joined the Republican Attorneys General in asking the U.S. Supreme Court to strike down the Affordable Care Act in its entirety. This case is now before the U.S. Supreme Court and is set for oral argument on November 10, conveniently one week after election day.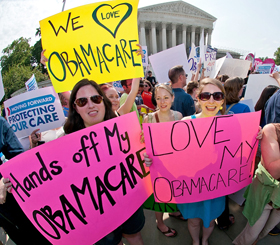 Donald Trump is now trying to rush his nominee to the U.S. Supreme Court so that his nominee can participate in the oral argument, and vote to repeal the Affordable Care Act in its entirety during a pandemic in which more than 200,000 Americans have already died because of Donald Trump's gross incompetence and politicization of the coronavirus pandemic. Repeal of "Obamacare" would end insurance coverage for nearly 23 million Americans, and millions more Americans with pre-existing conditions will lose protections (including the more than 7 million Americans who have contracted covid-19 just this year).
With election day only 39 days away, Trump had to come up with a gimmick that he could spin as a health care plan, with voters already voting in several states.
America's premiere con man, grifter and snake oil salesman came up with … bupkis. After years of promising his own health care plan, Trump settles for rebranding rather than repealing Obamacare:
President Trump capped his fruitless four-year journey to abolish and replace the Affordable Care Act by signing an executive order Thursday that aims to enshrine the law's most popular feature while pivoting away from a broader effort to overhaul the nation's health insurance system.
The order declares it is the policy of the United States for people with preexisting health conditions to be protected, avoiding the thorny details of how to ensure such protections without either leaving the ACA, or Obamacare, in place or crafting new comprehensive legislation.
"The historic action I'm taking today includes the first-ever executive order to affirm it is the official policy of the United States government to protect patients with preexisting conditions," Trump said, despite the fact such protections are already enshrined in law. "We're making that official. We're putting it down in a stamp, because our opponents, the Democrats, like to constantly talk about it."
The speech and executive order stood as a tacit admission that Trump had failed to keep his 2016 promise to replace his predecessor's signature achievement with a conservative alternative. For a president who campaigned in 2016 pledging to "repeal and replace" the ACA, Trump's 2020 signature health-care speech instead expressed a willingness to keep the law largely in place. Unable to repeal the law, Trump appeared open to simply rebranding it.
AND REMEMBER: Trump's lawyers will be arguing to the U.S. Supreme Court one week after election day that the Affordable Care Act should be struck down in its entirety – including its preexisting conditions protections – which would negate the statutory basis for Trump's executive order. This latest con job is just to get him past election day.
The failure to repeal and replace the ACA has not stopped Trump from repeatedly promising a soon-to-come health-care plan in a repetitive cycle of boastful pledges and missed deadlines that intensified in recent weeks ahead of the November election.
[T]he "vision" Trump laid out Thursday was a far cry from the "full and complete" plan he has promised repeatedly in recent months — each time failing to meet his self-imposed deadlines.
Buzzfeed News accurately sums up this latest con job. President Trump Finally Laid Out His Healthcare Plan. It Doesn't Do Anything.:
Thursday's announcement was billed as "President Trump's Healthcare Vision for America" but contained no tangible action. Trump has long promised a "beautiful" and "phenomenal" healthcare plan that provides everyone with better coverage for a lower cost, but his administration never unveiled any comprehensive reform plan, even as it was trying to overturn the Affordable Care Act.
Both key planks of Trump's healthcare "vision" Thursday essentially boil down to directing Congress — which has repeatedly failed to repeal Obamacare or offer a consensus replacement plan — to figure it out.
Asked how people with preexisting conditions will be protected if the ACA is overturned, Health and Human Services Secretary Alex Azar said, "we will work with Congress or otherwise to ensure that they're protected."
The plan also promises to ban surprise medical billing, but only after the election. The executive order directs Congress to pass legislation to end the practice of surprise billing — when a person goes to a hospital inside their insurance network but is nonetheless hit with medical bills because workers in the hospital are out of network — by Jan. 1.
While widely derided as unethical exploitation of vulnerable patients, surprise billing is nonetheless lucrative business for those doing the billing. Doctors and insurance companies have been in a lobbying war over how to fix the problem, and Congress has done nothing to stop it.
Given Congress's past failures to act on surprise medical billing, the proximity of the election, the need to keep the government from shutting down at the end of September, and the coming fight over a Supreme Court nominee in the Senate, a Jan. 1 deadline is, at best, optimistic.
House Speaker Nancy Pelosi Slammed Trump's Executive Order As An 'Insult' To Those With Preexisting Conditions:
House Speaker Nancy Pelosi blasted President Donald Trump's latest executive order on health care, saying his pledge to protect Americans with preexisting conditions was not "worth the paper" it's printed on.
"President Trump's bogus executive order on preexisting conditions isn't worth the paper it's signed on," Pelosi said in a statement Thursday. "It is an insult to every family with someone with a preexisting condition that President Trump thinks he can get away with this farce while he races a justice onto the Supreme Court to strike down the lifesaving protections enshrined into law by the Affordable Care Act."
Pelosi said Thursday that Democrats would continue to "fight to defend and strengthen pre-existing condition protections from Congress to the Courts."
"For his entire Administration, President Trump has used every tool and every chance he gets to weaken or rip away protections for people with pre-existing conditions," she said. "If President Trump cared at all about people with pre-existing conditions, he would drop his lawsuit to overturn the Affordable Care Act in the middle of a pandemic."
The executive order is largely a symbolic effort and ignores the GOP's ongoing effort to repeal the ACA.
Senate Minority Leader Chuck Schumer (D-N.Y.) also lambasted the order, noting "protections for preexisting conditions are [already] the law."
"The threat to these protections is from President Trump and the Republicans suing to end them," Schumer wrote. "We're fighting to stop it."
If you want to keep your health care you are going to have to vote defensively: vote every Republican out of office and elect Democrats. Whatever damage Trump's malignant judges do can be undone by new legislation, for which Republicans are uninterested, unwilling, and incapable of doing. Vote like your life depends on it, because it quite literally does.