"Tony: It's no use, the man is a complete idiot.

Village Idiot: If only. Now my father, he was a complete idiot. I'm still a half-wit."

– TV Mini-Series "The 10th Kingdom" (2000)
This is the only memorable line I ever remember from this TV show, but I am reminded of it every time I hear that village idiot Aqua Buddha, Sen. Rand Paul (R-KY), open his mouth to speak.
Aqua Buddha, like his "complete idiot" father Rand Paul, has burnished his credentials as a non-interventionist if not an isolationist in matters of foreign policy.
That was until Aqua Buddha convinced himself, with the cajoling of Beltway media villagers who share his devotion to Ayn Rand and Libertarianism, that he is somehow a credible candidate for president (actually he is just continuing his father's business of shaking down the rubes for money every four years).
Now this non-interventionist/isolationist wants a declaration of war against ISIS, or ISIL, or IS, or whatever the hell the media is calling them today.
Aqua Buddha has a legitimate point even if he is a bumbling idiot. President Obama has been conducting military operations against this Islamist terrorist group in Iraq and Syria under the War Powers Resolution of 1973, and has exceed the 60 days for committing armed forces to military action, and a further 30 day withdrawal period, without an authorization for use of military force or a declaration of war. This is because Congress left town to campaign for the midterm election without taking up an Authorization for Use of Military Force (AUMF), and since returning to work, has wanted to avoid actually taking a vote on sending American troops back into Iraq and Syria. Newsflash: they are already there.
This plan for avoidance of doing its constitutional duty just hit a snag. The Hill reports, Panel to vote on ISIS authorization next week:
The Senate Foreign Relations Committee will hammer out a measure authorizing the use of military force against the Islamic State in Iraq and Syria (ISIS) next week, the panel decided on Thursday.
Under a compromise worked out between the panel's leaders, Sens. Robert Menendez (D-N.J.) and Bob Corker (R-Tenn.), the committee will hold a hearing next Monday featuring Secretary of State John Kerry or "whatever appropriate administration officials" lawmakers can get to start the process.
Menendez said that session would be followed a closed-door briefing on Tuesday. A full committee markup on an authorization on the use of military force (AUMF) would be held Wednesday.
He said that while the "normal course of events" would be to have the Obama administration send a proposal to lawmakers, the White House has yet to do so, adding that such inaction essentially amounts to a veto of any congressional actions.
Menendez urged administration aides who attended Thursday's committee business meeting "to do whatever it takes to get witnesses here on Monday" and send whatever AUMF language the White House has on hand to lawmakers over the weekend.
The compromise is not sittting well with some panel members.
Sen. Chris Murphy (D-Conn.) labeled Monday's hearing a "red herring" and predicted that any markup would be rife with partisanship.
Corker agreed, suggesting Democrats would seek a measure that prohibits troops on the ground. Menendez retorted that the GOP should expect opposition to authorization that appears "open-ended."
Asked if there would be enough time for the full Senate to vote on an AUMF, Sen. Rand Paul (R-Ky.) replied: "I do what I have control over. I have control over forcing a vote in the committee; I can't force a vote on the floor."
Menendez said he was "doubtful" any eventual measure would get a full Senate vote.
He said he would urge Senate Majority Leader Harry Reid (D-Nev.) to do so, but "whether he can get concurrence" from Minority Leader Mitch McConnell (R-Ky.) is "another question."
The timeline was worked out during an often heated meeting in which Paul planned to offer his proposal to formally declare war against the terror group as an amendment to a water bill. Sen. Tim Kaine (D-Va.), another panel member who has been critical of his colleagues for not voting on an AUMF and has proposed an authorization of his own, was ready to second Paul's amendment.
Paul's measure would have given President Obama authority to go after ISIS but limited his power in terms of deploying ground troops. His amendment said ground forces could only be used to save service members, carry out operations against high-value targets or assist with "advisory and intelligence gathering operations."
Republicans on the committee ripped Paul and Kaine's approach.
Corker said ramming the measure through on the water legislation was "almost a scene in Mayberry" and repeated his arguments that the administration was not prepared to submit an authorization.
Sen. Ron Johnson (R-Wis.) said an AUMF deserves "thoughtful debate. This is not it."
Sen. John McCain (R-Ariz.) said an authorization should come from the administration, rather than lawmakers "inventing it," a subtle dig at Paul, who has clashed with the senior lawmaker on foreign policy and national security issues.
* * *
After the meeting, Paul said he was unsure whether he had the votes to pass his declaration of war out of committee but predicted some authorization "would happen."
"I'm satisfied that we're going to get a vote. That's all I wanted," he told reporters. "I can't ever guarantee victory, but I can guarantee we do our duty and our duty is to debate war and to vote on it."
Meantime, Speaker John Boehner (R-Ohio) on Thursday repeated his calls for the president to send an AUMF to the next Congress, when the Senate will also be under GOP control.
Arizona's angry old man and self-appointed War Lord of the Senate, John McCain rejects ISIS vote during lame duck session: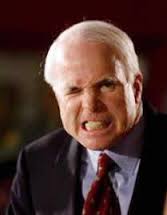 Sen. John McCain (R-Ariz.) on Thursday dismissed the suggestion that a vote for the authorization for use of military force (AUMF) against Islamic militants has any shot in the lame-duck session.
"There's not a snowball's chance in Gila Bend, Ariz., I promise you, to get in AUMF in this session of Congress," he told reporters.
McCain, the next chairman of the Senate Armed Services Committee, said Congress should hold off until the 10 new members of the Senate are sworn in next year.
He also repeated calls for the White House to send lawmakers a draft first of its AUMF proposal against the Islamic State in Iraq and Syria (ISIS).
What "Surge" McCain is really saying is that the Neocon Three Stooges — Sens. McCain, Graham, and Ayotte — want to dictate the terms of engagement in this AUMF.
Roll Call adds, John McCain Knocks Rand Paul's Lame-Duck Push to Declare War on ISIS:
It takes a lot to surprise Sen. John McCain, R-Ariz., who has served in the chamber for nearly 30 years, but Thursday's Foreign Relations Committee water bill debate did just that.
The committee considered a surprise effort by Sen. Rand Paul, R-Ky., to try to attach a Declaration of War against the terror group known as Islamic State, ISIS or ISIL to an unrelated water bill the committee was considering.
"It was the most bizarre meeting of the Foreign Relations Committee that I have ever attended in my life, or ever expected to attend," McCain said.
"It's a living, breathing argument against lame-duck sessions," he said.
* * *
McCain was amazed that such a significant debate took place on "an obscure water bill," he said.
"You can't make that up," McCain said. "Where in that little book [about] how the laws are made does it say that a water bill gets a declaration of war on it? It was ludicrous."
McCain said Thursday's debate and next week's hearing and vote won't amount to much because the full Senate will not take up any proposal the committee clears next week given the more pressing need to pass legislation to fund the government, extend tax breaks and authorize defense programs.
"There's not a snowball's chance in Gila Bend, Ariz., I promise you," McCain said of an AUMF clearing the Senate before the end of the lame duck.
Sooo, Grampy McCrankypants pitches a fit over executive orders on immigration, but the president committing American forces to a war in Iraq without congressional authorization that "Surge" McCain sees as vindication and that he supports? Meh. See ya next year.