Congress and Americans need to hear from "Silent Bob." No, not this guy ….
This "Silent Bob," Robert S. Mueller III, who has only been "heard" through Attorney General William Barr's redacted version of his Mueller Report, and his March 27 letter to Barr objecting to Barr's mischaracterization of "the context, nature, and substance of this Office's work and conclusions."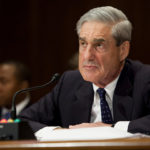 As Eugene Robinson writes, The American people need to hear from Mueller — directly:
It's Mueller time.
We need public, no-holds-barred testimony before Congress by special counsel Robert S. Mueller III, and we need it now. As we saw Wednesday, trying to get the truth out of Attorney General William P. Barr is like squeezing blood from a stone.
* * *
Mueller's letter of quiet outrage, which Barr described as "snitty," suggests that the special counsel's view of the import of his findings differs substantially from Barr's. And that is why the nation needs to hear directly from Mueller.
Mueller and Barr are both experienced bureaucrats. Both knew that by putting his concerns in writing — as opposed to a chummy phone call between old colleagues — Mueller was creating a record that would inevitably become public. I see why Barr considered that a "snitty" thing to do, because he knew it would put him on the spot.
Barr is on record saying he does not object to Mueller testifying before Congress, and Nadler said he is working to pin down a date. That will be must-see TV.
Special Counsel Robert Mueller's team is now in direct talks with the House Judiciary Committee about whether he will testify before Congress, according to multiple reports. House Dems in direct talks with Mueller about his testimony:
NBC News and ABC News reported that the committee is now speaking with Mueller's team when it was previously dealing with the Justice Department. NBC reports that a hearing has not been finalized and a date was not set.
Well, not so fast. Current White House Counsel Emmet Flood is asserting a blanket assertion of executive privilege over all witnesses, which may extend to Robert Mueller. White House lawyer mocks Mueller report as 'law school exam paper':
A top White House lawyer slammed Robert Mueller in a letter made public Thursday, calling out the special counsel for playing politics by submitting findings to Attorney General William Barr that are "part 'truth commission' report and part law school exam paper."
Emmet Flood's blistering rebuke of Mueller's work came in a five-page letter to Barr dated April 19, one day after the public release of a redacted version of the special counsel's report that detailed President Donald Trump's efforts to interfere in the Russia probe but declined to make a determination on whether Trump obstructed justice.
The missive is the latest salvo in a long-running spat between the White House and the special counsel's office over what information Mueller's team should be allowed to release — and what Congress should see. It argues that Trump should be able to stop officials from talking to lawmakers about the report's findings and attempts to justify the White House refusal to comply with congressional subpoenas seeking further information about instances described in the report.
Flood, who has handled Trump's official White House response over the past year on the Russia probe, argued to Barr that Mueller had failed in his "one job" under the Justice Department regulations used to appoint him — to explain in a confidential memo to Barr why he had decided for or against prosecuting the president.
"The SCO instead produced a prosecutorial curiosity," Flood wrote, arguing that the report "suffers from an extraordinary legal defect: It quite deliberately fails to comply with the requirements of governing law."
Flood took issue specifically with the 182-page section of the report that detailed a dozen instances in which Trump might have obstructed justice. He blasted the document for laying "raw evidentiary material combined with its own inclusive observations on the arguable legal significance of the gathered content."
"This species of public report has no basis in the relevant regulation and no precedent in the history of special/independent counsel investigations," Flood wrote.
He is wrong. See the Ken Starr Report and the "Road Map" in Watergate.
He also questioned the notion suggested by "some commentators" that Mueller's work was in effect a guide for congressional investigators with the power to impeach Trump, arguing that the special counsel in his capacity as a temporary DOJ official "should not be in the business of creating 'road maps' for the purpose of transmitting them" to Congress.
Again, he is wrong. See the "Road Map" in Watergate.
Mueller spokesman Peter Carr declined comment on Flood's letter, which was made public by the White House amid a larger legal standoff between House Democrats and the Justice Department over whether Congress should be sent the complete special counsel report without redactions.
* * *
In his letter to Barr, Flood also explained that Trump doesn't consider the release of the Mueller report to be a waiver of executive privilege claims for future testimony from his aides or for the release of underlying special counsel documents such as witness interview transcripts and FBI agent notes. Presidents have historically used the executive privilege principle to shield internal White House conversations.
Trump during the special counsel investigation waived executive privilege, allowing the release of more than 1.4 million pages of documents and voluntary interviews from dozens of staffers. The president also didn't assert the claim during the release of the final report.
Flood signaled House Democrats will be in for a fight if they want to interview former White House aides like McGahn, Hope Hicks or Steve Bannon, as part of an effort tied to impeachment and post-Mueller oversight.
"It is one thing for a President to encourage complete cooperation and transparency in a criminal investigation conducted largely within the Executive Branch; it is something else entirely to allow his advisors to appear before Congress," Flood wrote.
This smart-ass Emmett Flood in his "snitty" letter is absolutely wrong on the waiver of privilege, and he actually makes the case stronger for why Robert Mueller should testify in a public hearing.
Executive Privilege is Waived
It's too late to assert executive privilege, once waived it is forever waived. White House staff were encouraged to cooperate with the Special Counsel's investigation, and Trump did not assert executive privilege. "Attorney General William Barr indicated that White House counsel reviewed the redacted version of the Mueller report and that President Trump elected not to assert executive privilege." On Mueller Report, Barr Says No Executive Privilege Redactions. But Look for Assertion Later. Further, Barr asserted that "no material has been redacted based on executive privilege."
Jessica Marsden and Andy Wright explain at Just Security blog:
What's more, executive privilege can be waived, and it is important to understand how waiver works given some of President Trump's and his associates' statements. Prior disclosure of potentially-privileged White House communications results in a waiver of privilege as to those communications. Thus, to the extent that President Trump has, in his tweets and media interviews, described internal White House conversations — such as those he had with former FBI director James Comey about the investigation into Michael Flynn — his administration can no longer assert executive privilege over those communications. In addition, privileges over testimony and evidence provided to Mueller by White House aides who spoke to law enforcement voluntarily outside the express authorization of the White House — and thus outside the scope of any agreement referenced by Giuliani — would likely be waived. In other words, their information would not be covered by the privilege if they decided to communicate with Mueller beyond what the White House authorized them to do.
Moreover, President Trump's legal team has already conceded they have waived executive privilege over documents provided to Mueller. In a January 29, 2018 memorandum to Mueller, they asserted: "In an effort to provide complete transparency, the president waived the obviously applicable privileges where appropriate in order to allow both the Congress and the Special Counsel to see all relevant documents."
The statement in the Jan. 2018 letter is also consistent with vast reporting by news agencies that the White House elected to waive the privilege already.
There is also United States v. Nixon, 418 U.S. 683 (1974) — the Watergate tapes case — in which a unanimous Supreme Court held that a claim of Presidential privilege as to materials subpoenaed for use in a criminal trial cannot override the needs of the judicial process if that claim is based, not on the ground that military or diplomatic secrets are implicated, but merely on the ground of a generalized interest in confidentiality.
Moreover, there is no attorney-client privilege for White House Counsel Don McGahn (nor for Emmet Flood, I would hasten to add). The United States Court of Appeals for the District of Columbia Circuit, in In re Bruce R. Lindsey, an opinion the Supreme Court declined to review, has definitively held there was no attorney-client privilege between White House Counsel and President Bill Clinton that would protect advice or documents in Ken Starr's criminal investigation, because White House counsel are not personal lawyers to the President. The appeals court ruled that the primary duty of White House lawyers is to uphold the law, not to protect the president. Why President Trump Couldn't Have Stopped the White House Counsel From Talking to the Mueller Investigation.
Emmet Flood's letter is an invitation to Robert Mueller to make a prosecutorial declaration
Emmett Flood's "snitty" letter opens the door for Robert Mueller to make a prosecutorial declaration in his testimony to Congress. Flood may live to regret this "snitty" letter.
Ryan Goodman at Just Security blog explains, Barr to Senate: President is Not Immune from Prosecutor Declaration of Indictable Offense:
Attorney General William Barr's prepared statement to the Senate Judiciary Committee appears to mark out a framework that basically says a sitting President is not immune from federal prosecutors making a determination that the President committed an indictable offense.
Whether or not Barr articulated this legal framework to justify his decision in the Mueller investigation, it has two significant implications. First, it would mean that Special Counsel Robert Mueller may now be able to say on the record whether he believes President Donald Trump committed the crime of obstruction. Mueller should have the opportunity to do so in congressional testimony soon. Second, it would mean that the U.S. Attorney's Office for the Southern District of New York may make that formal determination as well if federal prosecutors conclude Trump engaged in a criminal conspiracy to make hush money payments in violation of federal campaign finance laws or committed tax and other financial crimes.
Barr's Clarification on Indictability of a Sitting President
In a nutshell, Barr's clarification of the Justice Department's position appears to work in the following way. Before a prosecutor decides to submit a possible indictment to a grand jury, she must take a prior step: decide for herself whether the case involves a prosecutable crime. The Office of Legal Counsel opinions close off the option of prosecution and indictment of a sitting President, but not this prior step. Barr appears to be saying in his prepared remarks that a federal prosecutor (here a special counsel) can and should take that prior step. Decide yes or no on the question whether the President committed a crime.
* * *
The statement is consistent with Barr's testimony before Congress in April. Barr stated in response to a question from Rep. Charlie Crist (R-Fl), "It was important for people to know the bottom line conclusions of the report," and "from a prosecutor's standpoint the bottom line is binary, which is charges or no charges." The one oddity here is that Barr also refers to bringing a charge, or commencing a prosecution, which appears foreclosed by the Office of Legal Counsel opinions. A more radical reading of Barr's statement would be that it erases the line drawn by the Office of Legal Counsel.
Mueller's Opening
In his report, Mueller took the view that he did not have authority under the Justice Department's standing legal opinions to make a "federal criminal accusation against a sitting President." Mueller essentially concluded that he only had a one way ratchet: He could make a formal assessment that the President did not commit a crime (see Volume 1 of the Report on Russian interference) but he could not make a formal accusation that a sitting President did commit a crime (Volume 2 on obstruction). Barr's statement to the Senate may reset that framework. Indeed, Barr's clarification of the rules appears to state that Mueller has a duty to make the call.
In that case, bring it on! Schedule Robert Mueller to testify for an open-ended period of time, and let's go through his report paragraph by paragraph and have him make a prosecutorial declaration to charge or not to charge on each instance he outlined, free from the legally defective OLC policy that a sitting president cannot be charged with a crime.