There is a move afoot in Congress by a handful of Republicans worried about losing in November to use a discharge petition to force a vote on DACA and the DREAMers that GOP Congressional leadership pushed aside during the continuing resolution (CR) budget battles earlier this year. House Republicans, Defying Leaders, Move to Force Immigration Votes: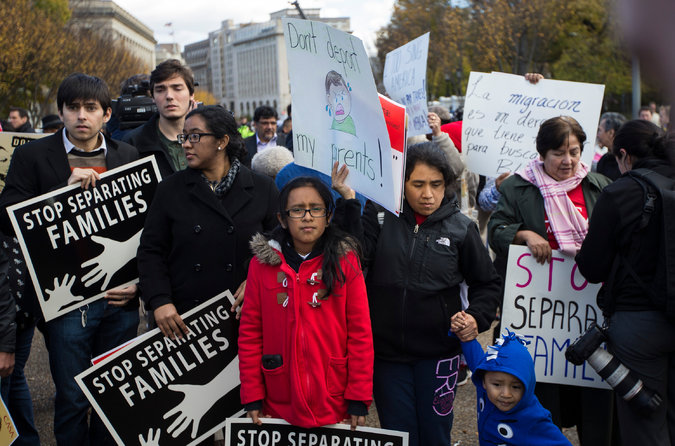 More than a dozen House Republicans defied Speaker Paul D. Ryan on Wednesday and moved to force a vote on immigration in the House, aiming to settle the uncertain futures of so-called Dreamers, young immigrants who were brought to this country illegally as children.
The group is gathering signatures for a so-called discharge petition, a parliamentary maneuver that could be used to circumvent Mr. Ryan by bringing legislation to the House floor with the support of a majority of members. The party out of power often uses such petitions, but they rarely succeed because a signature from a member of the party in power is seen as a betrayal of leadership.
This time around, 17 Republicans had signed as of Wednesday afternoon.
"We are well aware that the speaker's preference was not to have this process," said Representative Carlos Curbelo, Republican of Florida, who introduced the petition Wednesday morning. "I've made the argument to the speaker personally that this process actually empowers him."
If nine more Republicans sign on, along with all House Democrats, the group will be able to revive an immigration debate that had appeared all but dead. Its goal is to force debate on four immigration-related measures, including one of the speaker's choosing.
Under a little-used rule known as Queen of the Hill, the measure that received the most votes would be adopted, and advance to the Senate, so long as a majority of the House voted in favor. Representative Jeff Denham, Republican of California and the architect of the strategy, said such a rule could be brought up on the first and third Monday of every month. The next opportunity to do so, he said, would be June 11.
Mr. Ryan has repeatedly said that he is opposed to the strategy, contending that it might produce legislation that President Trump would not sign. Ryan aims to quash GOP-led rebellion trying to force votes on immigration:
House Speaker Paul D. Ryan moved Thursday to put down a brewing rebellion in the Republican ranks, saying he wants to put immigration legislation up for a vote later this year [total B.S.] as centrist lawmakers threatened to take that decision out of his hands.

Ryan (R-Wis.) told reporters he would "like to" take up an immigration bill, one day after 17 Republicans signed a petition that would force votes on a number of immigration bills. A discharge petition is a rarely successful legislative maneuver that overrides the speaker's power to determine what legislation comes to the House floor.

"Going down a path and having some kind of a spectacle on the floor that just results in a veto doesn't solve the problem," Ryan said, suggesting that President Trump would reject the bills that the petition would discharge. "We actually would like to solve this problem, and that is why I think it's important for us to come up with a solution that the president can support."

* * *

GOP leaders appeared to have slowed the rebellion. Only one additional Republican — Rep. Steve Knight of California — signed the petition Thursday, leaving it still at least seven GOP signatures short of success. All 193 Democrats are expected to join it once enough Republicans sign to put the required 218 signatures within reach.

But several Republicans who had not signed the petition said Thursday that they were considering it. They said they were waiting for Ryan and other House leaders to present a plan that would allow some sort of immigration legislation to come to the floor.

Several other Republicans who are supporting bipartisan compromise legislation said they were not willing to sidestep the GOP leadership to force a vote.
But Representative Mia Love, Republican of Utah and a backer of the petition, argued that the White House should not govern how Congress acts. "This is about doing our job," she said. "This is about making sure that we are not consolidating power in the White House."
Mr. Curbelo, Ms. Love and the other supporters of the discharge petition belong to a group of moderate Republicans working to create a path to citizenship for young immigrants protected from deportation by an Obama-era initiative, Deferred Action for Childhood Arrivals, that Mr. Trump moved to rescind last year.
About 700,000 young immigrants are covered by the program, known as DACA, and another 1.1 million are eligible, but did not apply. When Mr. Trump suspended the program in September, he gave Congress six months — until March — to come up with a replacement. But that deadline came and went; the Senate spent a week debating immigration, but failed to pass a bill. Meantime, successive court decisions have kept the program operating.
* * *
For now, DACA continues. A federal judge ruled last month that the protections must stay in place and the government must start taking new applications. On Capitol Hill, some lawmakers say that has lessened the urgency to act. And some are reluctant to take up such a thorny issue so close to election time.
Whether the discharge petition will change that calculus is unclear.
What is clear is that Southern Arizona's Rep. Martha McSally will not be putting this discharge petition over the top. In fact, she just rescinded her support for the DREAMers. Facing Challenge From The Right, GOP Lawmaker Pulls Support For Immigration Bill: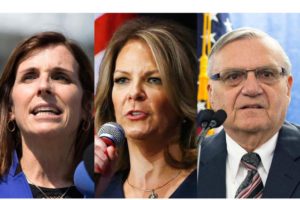 Rep. Martha McSally (R-Ariz.) withdrew her cosponsorship of immigration legislation that would help young undocumented immigrants, as she fends off challenges from the right in her bid for her party's Senate nomination.
McSally has been a cosponsor of the Recognizing America's Children Act (RAC) since April of 2017. On Thursday, she asked to be removed as a cosponsor. The GOP-sponsored bill ― which has one Democratic supporter [Rep. Kyrsten Sinema] ― would give legal status to certain young undocumented immigrants who came to the U.S. as children and are often called Dreamers.
McSally is in a tight race for her party's Senate nomination for the open seat being vacated by GOP Sen. Jeff Flake. The congresswoman has the backing of party leaders, but her opponents in the primary include conservative favorite Kelli Ward, who has the support of Sen. Rand Paul (R-Ky.), former White House aide Steve Bannon and right-wing pundits Sean Hannity and Laura Ingraham.
Former Maricopa County Sheriff Joe Arpaio, another right-wing darling for his harsh opposition to undocumented immigration, is also in the race.
McSally spokeswoman Kelly Schibi said the congresswoman "wanted to clarify which legislative solution she backs wholeheartedly" ― a bill she co-authored that does not include a path to citizenship for Dreamers and would dramatically overhaul the immigration system.
The bill, Securing America's Future Act, would cut legal immigration, criminalize being in the U.S. without authorization and dramatically increase spending for border security and enforcement of immigration laws throughout the country. It would create a non-immigrant status for Dreamers that could be renewed indefinitely but wouldn't provide a way for them to become citizens.
Referring to McSally as the "lead author and champion" of the legislation, Schibi noted that the White House backs the bill.
McSally's abandonment of the RAC Act seems an indication that she is responding to Ward's attacks from the right.
Ward has been criticizing McSally for supporting "amnesty." In an interview last month on Fox News, Ward said McSally has flip-flopped on immigration and is only lately acting like a conservative."
Her record is clear: she voted to grant amnesty to illegal immigrants, said a border wall will not work, 'proudly' voted for wasteful government spending, and refuses to say if she voted for President Trump. As a result, she has lost the trust of conservatives in Arizona," Ward said in response to the news that former Gov. Jan Brewer (R) was endorsing McSally.
Ward and her backers point to McSally's votes against amendments that would have helped end programs that provide protections for young undocumented immigrants, among other examples. McSally's campaign, in response, has pointed to the lawmaker's support to crack down on so-called sanctuary cities and increase border security.
The RAC Act was introduced by Rep. Carlos Curbelo (R-Fla.) as a GOP  alternative to the Dream Act. It would allow certain undocumented young people who came to the U.S. before they turned 16 to gain conditional permanent residency, as long as they stayed in school or had a job and met other requirements. It has 34 Republican backers, most of whom are moderates or represent Latino-heavy districts.
Curbelo on Wednesday filed a discharge petition, which allows members to bring a bill to the floor without leadership's consent, that could force a vote on four immigration bills, including two that would offer a path to citizenship for Dreamers. The petition needs 218 signatures ― a majority of the House ― and already has 18 Republican signatories, along with one Democrat. It's expected to win support from most, if not all, of the 193-member Democratic caucus.
McSally has not signed the discharge petition.
Shifting to the right may have its benefits in the primary campaign, but it could be difficult for McSally to sprint back to the center if she emerges as the GOP Senate nominee. Part of that problem involves timing ― Arizona's Aug. 28 is one of the latest in the nation.
The Republican nominee is expected to face Rep. Kyrsten Sinema, the only Democrat signed on as a cosponsor of the GOP alternative RAC Act.
The Trump administration made its cruel immigration policy clear this week with Attorney General Jeff Sessions' new policy of tearing apart families as a disincentive to immigration. Bloomberg editorializes, Jeff Sessions's Border Plan Is Cruel and Unnecessary:
Defending the border by pulling children from the arms of their parents is brutal, immoral and un-American. That will be the upshot of U.S. Attorney General Jeff Sessions's plan to immediately detain and prosecute everyone — including asylum-seekers and parents with children — caught trying to cross illegally into the U.S.
Illegal immigration is wrong, and the government is right to seek to curb it. But this proposal, both cruel and unnecessary, is not the way.
Its rationale strike many as reasonable. After all, if illegal immigration is wrong, why not detain and prosecute the violators? Leave nobody in any doubt about the policy, including the regrettable fact that families will be broken up, and you'll deter people from trying in the first place. And by the way, enforcing the law often breaks up families: Rob a bank, and you should expect to be separated from your children.
Yet Sessions's policy is both disproportionate and self-defeating. There's no sudden illegal-immigration crisis: Apprehensions at the southwestern border are near historic lows. And there are much more effective ways of addressing the issue.
It's true that many of those released with pending immigration cases never show up for their court dates, vanishing into the underground economy. But the right response is to make the system work faster, so that those caught entering illegally can be promptly turned away — rather than detained for lengthy stays or released pending a trial date.
A blanket prosecution strategy, on the other hand, will swamp courts and detention centers with criminal cases, making it harder to remove people quickly. Far better to rely on civil proceedings, bolstered with resources to make them work more efficiently. Hire more judges and clerks for the Executive Office for Immigration Review, bring the Board of Immigration Appeals up to its full complement, and drag the system's paper filing system into the 21st century. Such measures would speed cases, expediting removals of unqualified families while granting certainty more quickly to those who can stay.
* * *
To be sure, such measures are no substitute for comprehensive immigration reform. The U.S. economy needs a visa system that addresses its demand for skilled labor. The 11 million living here illegally cannot all be deported and need some path to permanent status. That goes double for those brought here as minors who know no other home. The U.S. also needs better, smarter border controls, including biometric identification cards for workers.
That's all very complicated, but the main thing is simple: Enforcing the laws on immigration need not and should not extend to separating children from their parents.
Curious that Rep. Martha McSally does not appear to have commented on AG Jeff Sessions' new separation policy this week.