If you spent your New Year's weekend binge watching football games like I did, you may have missed some important reporting in the New York Times regarding the Russia investigation that blew away Dear Leader's false narrative (fake news) and conspiracy theory that the Russia investigation is a "phony democratic excuse for losing the election" that began with the Steele dossier "funded by some combination of Russia, the Democratic Party and the FBI."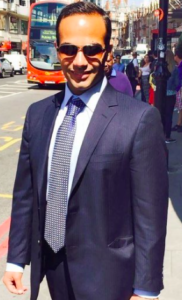 It turns out that the Russia investigation actually began with Trump campaign foreign policy advisor George Papadopoulos — now a cooperating witness in the Special Counsel's investigation — getting drunk one night and telling the Australian ambassador to Britain that the Russians "have dirt on Hillary Clinton" before the DNC knew that it had been hacked by the Russians. After the DNC learned of the leaks and Wikileaks began publishing the emails from the DNC, the Australians contacted the FBI about the earlier statement of George Papadopoulos, which triggered the FBI investigation.
The opposition research into Donald Trump by Fusion GPS was originally funded by the Washington Free Beacon before Christopher Steele was hired, and later was funded by the DNC and Clinton campaign after Christopher Steele was brought on. Based upon what Christopher Steele, a well-respected former British MI-6 agent specializing in Russia, was learning from his contacts it was Steele who alerted the FBI to the Russian attack on the election. The Steele "dossier" confirmed much of what the already opened FBI investigation into the Trump campaign was finding.
Fusion GPS provided all of its information to the Senate Judiciary Committee in more than 10 hours of testimony months ago, but the committee has failed to release the transcript of testimony, despite assurances from committee chairman Senator Chuck Grassley that the transcript will be released. This is where things stand today.
The New York Times reports, How the Russia Inquiry Began: A Campaign Aide, Drinks and Talk of Political Dirt:
During a night of heavy drinking at an upscale London bar in May 2016, George Papadopoulos, a young foreign policy adviser to the Trump campaign, made a startling revelation to Australia's top diplomat in Britain: Russia had political dirt on Hillary Clinton.
About three weeks earlier, Mr. Papadopoulos had been told that Moscow had thousands of emails that would embarrass Mrs. Clinton, apparently stolen in an effort to try to damage her campaign.
Exactly how much Mr. Papadopoulos said that night at the Kensington Wine Rooms with the Australian, Alexander Downer, is unclear. But two months later, when leaked Democratic emails began appearing online, Australian officials passed the information about Mr. Papadopoulos to their American counterparts, according to four current and former American and foreign officials with direct knowledge of the Australians' role.
The hacking and the revelation that a member of the Trump campaign may have had inside information about it were driving factors that led the F.B.I. to open an investigation in July 2016 into Russia's attempts to disrupt the election and whether any of President Trump's associates conspired.
* * *
The information that Mr. Papadopoulos gave to the Australians answers one of the lingering mysteries of the past year: What so alarmed American officials to provoke the F.B.I. to open a counterintelligence investigationinto the Trump campaign months before the presidential election?
It was not, as Mr. Trump and other politicians have alleged, a dossier compiled by a former British spy hired by a rival campaign. Instead, it was firsthand information from one of America's closest intelligence allies.
* * *
F.B.I. officials disagreed in 2016 about how aggressively and publicly to pursue the Russia inquiry before the election. But there was little debate about what seemed to be afoot. John O. Brennan, who retired this year after four years as C.I.A. director, told Congress in May that he had been concerned about multiple contacts between Russian officials and Trump advisers.
Russia, he said, had tried to "suborn" members of the Trump campaign.
'The Signal to Meet'
Mr. Papadopoulos had no experience on Russia issues. But during his job interview with Sam Clovis, a top early campaign aide, he saw an opening. He was told that improving relations with Russia was one of Mr. Trump's top foreign policy goals, according to court papers, an account Mr. Clovis has denied.
Traveling in Italy that March, Mr. Papadopoulos met Joseph Mifsud, a Maltese professor at a now-defunct London academy who had valuable contacts with the Russian Ministry of Foreign Affairs. Mr. Mifsud showed little interest in Mr. Papadopoulos at first.
But when he found out he was a Trump campaign adviser, he latched onto him, according to court records and emails obtained by The New York Times. Their joint goal was to arrange a meeting between Mr. Trump and President Vladimir V. Putin of Russia in Moscow, or between their respective aides.
Before the end of the month, Mr. Mifsud had arranged a meeting at a London cafe between Mr. Papadopoulos and Olga Polonskaya, a young woman from St. Petersburg whom he falsely described as Mr. Putin's niece. Although Ms. Polonskaya told The Times in a text message that her English skills are poor, her emails to Mr. Papadopoulos were largely fluent. "We are all very excited by the possibility of a good relationship with Mr. Trump," Ms. Polonskaya wrote in one message.
More important, Mr. Mifsud connected Mr. Papadopoulos to Ivan Timofeev, a program director for the prestigious Valdai Discussion Club, a gathering of academics that meets annually with Mr. Putin. The two men corresponded for months about how to connect the Russian government and the campaign. Records suggest that Mr. Timofeev, who has been described by Mr. Mueller's team as an intermediary for the Russian Foreign Ministry, discussed the matter with the ministry's former leader, Igor S. Ivanov, who is widely viewed in the United States as one of Russia's elder statesmen.
When Mr. Trump's foreign policy team gathered for the first time at the end of March in Washington, Mr. Papadopoulos said he had the contacts to set up a meeting between Mr. Trump and Mr. Putin. Mr. Trump listened intently but apparently deferred to Jeff Sessions, then a senator from Alabama and head of the campaign's foreign policy team, according to participants in the meeting.
Mr. Sessions, now the attorney general, initially did not reveal that discussion to Congress, because, he has said, he did not recall it. More recently, he said he pushed back against Mr. Papadopoulos's proposal, at least partly because he did not want someone so unqualified to represent the campaign on such a sensitive matter.
If the campaign wanted Mr. Papadopoulos to stand down, previously undisclosed emails obtained by The Times show that he either did not get the message or failed to heed it. He continued for months to try to arrange some kind of meeting with Russian representatives, keeping senior campaign advisers abreast of his efforts. Mr. Clovis ultimately encouraged him and another foreign policy adviser to travel to Moscow, but neither went because the campaign would not cover the cost.
Mr. Papadopoulos was trusted enough to edit the outline of Mr. Trump's first major foreign policy speech on April 27, an address in which the candidate said it was possible to improve relations with Russia. Mr. Papadopoulos flagged the speech to his newfound Russia contacts, telling Mr. Timofeev that it should be taken as "the signal to meet."
* * *
Mr. Mifsud proposed to Mr. Papadopoulos that he, too, serve as a campaign surrogate. He could write op-eds under the guise of a "neutral" observer, he wrote in a previously undisclosed email, and follow Mr. Trump to his rallies as an accredited journalist while receiving briefings from the inside the campaign.
In late April, at a London hotel, Mr. Mifsud told Mr. Papadopoulos that he had just learned from high-level Russian officials in Moscow that the Russians had "dirt" on Mrs. Clinton in the form of "thousands of emails," according to court documents. Although Russian hackers had been mining data from the Democratic National Committee's computers for months, that information was not yet public. Even the committee itself did not know.
Whether Mr. Papadopoulos shared that information with anyone else in the campaign is one of many unanswered questions. He was mostly in contact with the campaign over emails. The day after Mr. Mifsud's revelation about the hacked emails, he told Mr. Miller in an email only that he had "interesting messages coming in from Moscow" about a possible trip. The emails obtained by The Times show no evidence that Mr. Papadopoulos discussed the stolen messages with the campaign.
Note: Only Special Counsel Robert Mueller knows the answer to these questions because George Papadopoulos is a cooperating witness.
Not long after, however, he opened up to Mr. Downer, the Australian diplomat, about his contacts with the Russians. It is unclear whether Mr. Downer was fishing for that information that night in May 2016. The meeting at the bar came about because of a series of connections, beginning with an Israeli Embassy official who introduced Mr. Papadopoulos to another Australian diplomat in London.
It is also not clear why, after getting the information in May, the Australian government waited two months to pass it to the F.B.I. In a statement, the Australian Embassy in Washington declined to provide details about the meeting or confirm that it occurred.
A Secretive Investigation
Once the information Mr. Papadopoulos had disclosed to the Australian diplomat reached the F.B.I., the bureau opened an investigation that became one of its most closely guarded secrets. Senior agents did not discuss it at the daily morning briefing, a classified setting where officials normally speak freely about highly sensitive operations.
Besides the information from the Australians, the investigation was also propelled by intelligence from other friendly governments, including the British and Dutch. A trip to Moscow by another adviser, Carter Page, also raised concerns at the F.B.I.
With so many strands coming in — about Mr. Papadopoulos, Mr. Page, the hackers and more — F.B.I. agents debated how aggressively to investigate the campaign's Russia ties, according to current and former officials familiar with the debate. Issuing subpoenas or questioning people, for example, could cause the investigation to burst into public view in the final months of a presidential campaign.
It could also tip off the Russian government, which might try to cover its tracks. Some officials argued against taking such disruptive steps, especially since the F.B.I. would not be able to unravel the case before the election.
Others believed that the possibility of a compromised presidential campaign was so serious that it warranted the most thorough, aggressive tactics. Even if the odds against a Trump presidency were long, these agents argued, it was prudent to take every precaution.
That included questioning Christopher Steele, the former British spy who was compiling the dossier alleging a far-ranging Russian conspiracy to elect Mr. Trump. A team of F.B.I. agents traveled to Europe to interview Mr. Steele in early October 2016. Mr. Steele had shown some of his findings to an F.B.I. agent in Rome three months earlier, but that information was not part of the justification to start an counterintelligence inquiry, American officials said.
Ultimately, the F.B.I. and Justice Department decided to keep the investigation quiet, a decision that Democrats in particular have criticized.
Glenn Simpson and Peter Finch, founders of the research firm Fusion GPS, in an op-ed at the New York Times write The Republicans' Fake Investigations (excerpt):
In the year since the publication of the so-called Steele dossier — the collection of intelligence reports we commissioned about Donald Trump's ties to Russia — the president has repeatedly attacked us on Twitter. His allies in Congress have dug through our bank records and sought to tarnish our firm to punish us for highlighting his links to Russia. Conservative news outlets and even our former employer, The Wall Street Journal, have spun a succession of mendacious conspiracy theories about our motives and backers.
We are happy to correct the record. In fact, we already have.
Three congressional committees have heard over 21 hours of testimony from our firm, Fusion GPS. In those sessions, we toppled the far right's conspiracy theories and explained how The Washington Free Beacon and the Clinton campaign — the Republican and Democratic funders of our Trump research — separately came to hire us in the first place.
We walked investigators through our yearlong effort to decipher Mr. Trump's complex business past, of which the Steele dossier is but one chapter. And we handed over our relevant bank records — while drawing the line at a fishing expedition for the records of companies we work for that have nothing to do with the Trump case.
Republicans have refused to release full transcripts of our firm's testimony, even as they selectively leak details to media outlets on the far right. It's time to share what our company told investigators.
We don't believe the Steele dossier was the trigger for the F.B.I.'s investigation into Russian meddling. As we told the Senate Judiciary Committee in August, our sources said the dossier was taken so seriously because it corroborated reports the bureau had received from other sources, including one inside the Trump camp.
The Times reporting above confirms this.
The intelligence committees have known for months that credible allegations of collusion between the Trump camp and Russia were pouring in from independent sources during the campaign. Yet lawmakers in the thrall of the president continue to wage a cynical campaign to portray us as the unwitting victims of Kremlin disinformation.
We suggested investigators look into the bank records of Deutsche Bank and others that were funding Mr. Trump's businesses. Congress appears uninterested in that tip: Reportedly, ours are the only bank records the House Intelligence Committee has subpoenaed [by the  supposedly recused chairman, Rep. Devin Nunes].
Note: In early December, Deutsche Bank Records Said to Be Subpoenaed by Mueller.
We told Congress that from Manhattan to Sunny Isles Beach, Fla., and from Toronto to Panama, we found widespread evidence that Mr. Trump and his organization had worked with a wide array of dubious Russians in arrangements that often raised questions about money laundering. Likewise, those deals don't seem to interest Congress.
We explained how, from our past journalistic work in Europe, we were deeply familiar with the political operative Paul Manafort's coziness with Moscow and his financial ties to Russian oligarchs close to Vladimir Putin.
Finally, we debunked the biggest canard being pushed by the president's men — the notion that we somehow knew of the June 9, 2016, meeting in Trump Tower between some Russians and the Trump brain trust. We first learned of that meeting from news reports last year — and the committees know it. They also know that these Russians were unaware of the former British intelligence officer Christopher Steele's work for us and were not sources for his reports.
Yes, we hired Mr. Steele, a highly respected Russia expert. But we did so without informing him whom we were working for and gave him no specific marching orders beyond this basic question: Why did Mr. Trump repeatedly seek to do deals in a notoriously corrupt police state that most serious investors shun?
What came back shocked us. Mr. Steele's sources in Russia (who were not paid) reported on an extensive — and now confirmed — effort by the Kremlin to help elect Mr. Trump president. Mr. Steele saw this as a crime in progress and decided he needed to report it to the F.B.I.
We did not discuss that decision with our clients, or anyone else. Instead, we deferred to Mr. Steele, a trusted friend and intelligence professional with a long history of working with law enforcement. We did not speak to the F.B.I. and haven't since.
After the election, Mr. Steele decided to share his intelligence with Senator John McCain via an emissary. We helped him do that. The goal was to alert the United States national security community to an attack on our country by a hostile foreign power. We did not, however, share the dossier with BuzzFeed, which to our dismay published it last January.
We're extremely proud of our work to highlight Mr. Trump's Russia ties. To have done so is our right under the First Amendment.
It is time to stop chasing rabbits. The public still has much to learn about a man with the most troubling business past of any United States president. Congress should release transcripts of our firm's testimony, so that the American people can learn the truth about our work and most important, what happened to our democracy.
Contact Senator Chuck Grassley's office at (202) 204-3744 and demand that the Senate Judiciary Committee vote to release the redacted transcripts of testimony  by Fusion GPS as he has promised. The American people have the right to know.
Congressional Republicans running interference on the Russia investigation makes them accessories to a cover-up and obstruction of justice. They are putting party politics ahead of loyalty to their country and their alleged devotion to the rule of law.