Arizona Congressman Matt Salmon, co-founder of the radical far-right House Freedom Caucus, announced to The Arizona Republican that he will not seek reelection, creating the second open congressional seat in Arizona up for grabs in November. Matt Salmon kisses politics goodbye:
U.S. Rep. Matt Salmon, a conservative firebrand whose political career has spanned 25 years, announced Thursday he will retire from Congress.
The Mesa Republican, in an exclusive interview with The Arizona Republic, delivered a second bombshell: He will endorse Arizona Senate President Andy Biggs to replace him and chair Biggs' campaign for the 5th District.
Well, that's no improvement. Andy Biggs is even more of a radical extremist than Salmon. With both the Speaker of the House and the Senate President now running for Congress — God save us — I have to assume that the state budget and the legislative session are about to be done in short order.
"Now more than ever, it seems the biggest hypocrisy to abandon my family in a quest to protect them," Salmon wrote in a Republic op-ed announcing his retirement. "After much soul-searching, that's just not a trade I can justify making any longer."
Whatever. Good riddance.
Salmon's departure comes as a surprise. He disappointed national "tea party" groups just months ago by deciding not to challenge U.S. Sen. John McCain, R-Ariz., for the higher chamber.
An immigration hardliner, Salmon was part of the House opposition that derailed comprehensive immigration reform legislation McCain worked on and helped usher through the Senate in 2013.
* * *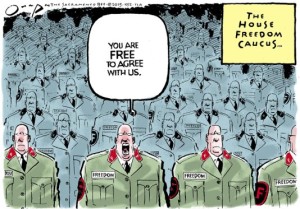 Since returning to Washington, Salmon has gained a reputation for chastising leadership for not pushing back hard enough against Democrats. He helped form the rebellious Freedom Caucus and likes to recall his part in a failed 1997 coup against Gingrich, whom he and others at the time believed had retreated too far on conservative issues.
But Salmon has also crossed the aisle, promoting bipartisan meetings of Arizona's delegation and partnering on legislation with Rep. Kyrsten Sinema, D-Ariz.
Don't get me started . . .
In recent years, Salmon's top priorities were reforming Social Security and promoting a hawkish foreign policy, as a Foreign Affairs Committee member.
* * *
Salmon praised Biggs as a fellow conservative.
"I couldn't be more pleased that Andy has decided to run for my seat and continue the fight to return our nation to the values that made it great," Salmon said in a written statement to The Republic. "I've known Andy and his family for more than two decades, and his character is one of integrity and devotion."
Biggs said he would focus his campaign on smaller government, securing the border and veterans issues.
Even with Salmon's support, Biggs could face ample competition as other hopefuls see a rare open House seat that is safely Republican. The district covers parts of Mesa, Chandler, Gilbert, Queen Creek and Apache Junction.
Biggs plans to serve the remainder of his term at the Legislature, which could strengthen his appeal to voters on experience but will cut into time on the campaign trail.
Expect to see a clusterfuck of Tea-Publicans running for this open Congressional seat in CD 5, just as there is for the open Congressional seat in CD 1 after Ann Kirkpatrick decided to run for John McCain's Senate seat.
Maybe we can find a Democrat to run to give the people a real choice in November.