Arizona's queen of conspiracy theories, Arizona Republican Party Chair Kelli "Chemtrails" Ward, has recklessly and irresponsibly been leading the so-called "Stop the Steal" rallies in Phoenix, falsely alleging that the vote was "stolen" in Arizona because Donald Trump received fewer votes than Joe Biden.
Which begs the question, does Ward want to invalidate the election for all the Republican state legislative candidates and Corporation Commission candidates who won their races as well? How about county office races in the fifteen counties? Or is the theory simply that if a Democrat wins a race, well then it must be fraud?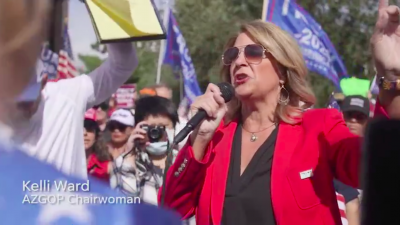 To Trump cultists who live in the fever swamps of his conspiracy theories amplified by QAnon message boards and Alex Jones' Infowars, among a plethora of other right-wing conspiracy mongers, it was inconceivable to them that "Dear Leader" could lose an election. In a cult, Dear Leader is omnipotent and never to be questioned, and can never be wrong.
I guess it is a good thing that Donald Trump hasn't gone all Jonestown or Heavens Gate, ordering his cult followers to commit suicide (yet) in the wake of losing his thin veneer of omnipotence. "If I lose, we must all lose."
The fever swamp has been producing some of the craziest conspiracy theories yet in Arizona. The so-called "Sharpiegate" last week takes the cake for sheer stupidity.  Attorney General Mark Brnovich unnecessarily breathed some life into this crackpot conspiracy theory, briefly, by agreeing to investigate it.
But even the shamelessly partisan Brnovich could not maintain this fiction for long. On Thursday, AG Brnovich convinced no problems with Sharpies, steps away from lawsuit.
That led the plaintiffs who brought this frivolous lawsuit to drop the lawsuit on Saturday, no doubt in an agreement to avoid having to pay attorneys fees for a frivolous claim, and potentially being subject to sanctions from the court. Sharpie lawsuit officially dropped by plaintiffs hours after Biden win announced:
The lawsuit claiming the use of Sharpies on Maricopa County ballots could have invalidated Election Day ballots was dropped Saturday just hours after news of Biden's win.
The allegation had quickly gained attention both locally and nationally. However, Arizona election officials said the claim was unfounded.
Elections departments across Arizona said this week there was no controversy over Sharpies and that they have processes in place to ensure ballots are counted regardless of what kind of utensil is used to fill them out.
Arizona Attorney General Mark Brnovich had stated Thursday after an investigation there was nothing to the claims.
The plaintiffs in the case voluntarily dropped the lawsuit without prejudice, meaning a similar claim could be refiled.
On Thursday, Maricopa County elections officials were in court in the case explaining to a judge that the use of the markers on Election Day did not cause votes to go uncounted.
Judge Margaret Mahoney, in a scheduling hearing, asked attorneys representing the voter and poll worker concerned about the use of Sharpies and attorneys representing county officials to discuss how quickly they could move forward with the case, considering the county was nearly finished processing ballots and counting votes.
The judge did not make any decisions in the case but told both sides that she would need more information if the case proceeded.
Having failed with this frivolous lawsuit, the Trump campaign is resorting to what some would call the "kitchen sink" approach, and others would call the "throwing shit at the wall to see what sticks" approach. This is a clear sign of desperation that you've got nothing, and the sole purpose is for delaying the inevitable.
The latest gambit is the Trump campaign files lawsuit claiming Maricopa County 'incorrectly rejected' some votes, which is really rich given that Republicans in the Arizona legislature enacted legislation in recent years to make "curing" one's ballot more difficult.
President Donald Trump's campaign is suing Arizona elections officials, alleging Maricopa County poll workers "incorrectly rejected" votes cast in person on Election Day.
The lawsuit — filed by the campaign, along with the Republican National Committee and the Arizona Republican Party — contends poll workers deviated from procedures meant to ensure voters who make mistakes on their ballots aren't disenfranchised, possibly affecting final vote counts in the battleground state.
It names Secretary of State Katie Hobbs, Maricopa County Recorder Adrian Fontes and the Maricopa County Board of Supervisors as defendants, and calls for officials to identify and reinspect Election Day ballots from Maricopa County that contain apparent "irregularities in connection with the voter's selection of a candidate."
Maricopa County tabulation machines are programmed to alert voters when their ballots contain such irregularities — stray markings, for instance, or an "overvote," which involves marking more options than is allowed in a particular race. When these issues arise, a screen pops up detailing the problem and the machine's green "Cast" and red "Return" buttons light up.
The voter then has a choice: "Spoil" the ballot and fill out a new one, or cast the existing ballot after seeing a warning that indicated contests containing problems such as overvotes won't be counted.
If a voter chooses to spoil a ballot, elections officials are required to keep it on file but will not count it. If the voter chooses to proceed with a potentially problematic ballot, all clearly and correctly marked votes will still be counted.
A training video for Arizona poll workers emphasizes: "Only voters will press these 'Cast' and 'Return' buttons."
The lawsuit alleges that Maricopa County poll workers disregarded those instructions on Election Day by "pressing, or inducing voters to press, the so-called 'green button' on tabulation devices when confronted with alerts signaling apparent defects or irregularities."
It includes a signed affidavit from a Mesa woman identifying herself as a credentialed poll observer who said she had seen poll workers "regularly and consistently" advising voters who received an error screen to "simply press the green button on the tabulator without explaining why the ballot had been rejected or the consequences of overriding the tabulator's determination."
A handful of voters also signed affidavits.
"Poll workers struggled to operate the new voting machines in Maricopa County," Trump campaign attorney Matt Morgan said Saturday. "The result is that the voting machines disregarded votes cast by voters in person on Election Day in Maricopa County."
You should properly be skeptical.
Three days earlier, though, the Maricopa County Attorney's Office — headed by Republican Allister Adel — had repeatedly disputed the idea any votes were scrapped without voters having a say.
"No ballots were rejected at voting centers, for overvotes or any other reason," the office wrote in a letter addressing election concerns raised by the Arizona Attorney General's Office.
In cases of irregularities, it said, voters were provided the opportunity to spoil damaged ballots and cast new ones, and "whether voters do so or not" was "entirely up to them."
The letter also noted the Maricopa County Elections Department performs a post-election analysis that identifies the number of spoiled ballots for each voting location.
By way of comparison, before the new voting machines which give voters notice and an opportunity to spoil their ballot, in the 2018 midterm election the Maricopa County report detailing the official results noted 2,005 overvotes in the U.S. Senate race between Martha McSally and Kyrsten Sinema.
With the new voting machines, I would anticipate that such overvotes would actually be reduced. We'll have to wait to see the post-election analysis.
So what is the Trump campaign's legal theory here? If there was an overvote, we are to assume that the voter must have intended to vote for Donald Trump, even though they made a mark for Joe Biden (or the third candidate) as well?
If two "bubbles" are marked, one cannot reasonably determine the intent of the voter, and one is not permitted to assume the intent of the voter. Because it is a secret ballot, there is no way to know who the voter was in order to determine the voter's intent. As a result, an overvote is no vote.
In any event, there will be far too few questioned ballots to change the outcome of this election. The court is not going to invalidate the entire election. There will be no do-over.
So the only purpose of this lawsuit is for delay, and to feed Trump's conspiracy theories that our elections must be fraudulent because he did not win.