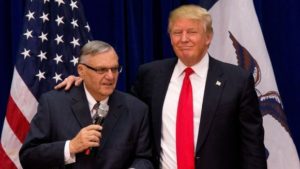 Oh sweet Jesus! Are we really going to do this? Alabamians are relieved today that an Arizona exists to make them look not so bad by comparison.
Crazy Uncle Joe Arpaio is just a grifter, like his buddy Donald Trump, and is only interested in picking the pockets of the racist and white nationalist rubes who see him as a hero (sic). He doesn't want to be a senator. Former Sheriff Joe Arpaio announces run for U.S. Senate:
Former Maricopa County Sheriff Joe Arpaio, who for years has teased potential runs for higher office, announced Tuesday that he is running for the U.S. Senate in Arizona.
"I am running for the U.S. Senate from the Great State of Arizona, for one unwavering reason: to support the agenda and policies of President Donald Trump in his mission to Make America Great Again," Arpaio said in a tweet posted to Twitter at 9:06 a.m.
"You know I'm a hard worker and I don't run to lose, so I'll do whatever it takes to win," Arpaio told The Arizona Republic later. "I'm out here to win."
Arpaio mocked the media, saying outlets thought he was "just joking around" and didn't take seriously his talk of a potential Senate run. Over the years, Arpaio toyed multiple times with running for either governor or Senate without entering those races.
"So I'm going to burst your bubble," he said.
Arpaio's Senate announcement comes less than five months after Trump pardoned him for criminal contempt. That conviction stemmed from a civil case alleging the Maricopa County Sheriff's Office racially profiled Latinos while Arpaio was sheriff.
Voters ousted Arpaio from his sheriff's post in 2016.
Democrats respond
Tom Perez, the Democratic National Committee chairman, called Arpaio's Senate candidacy a symptom of "moral decay in the modern Republican Party" and vowed that Democrats "will fight tooth-and-nail" to make sure he never holds public office again.
"Joe Arpaio is one of our nation's most notorious agents of racism and bigotry," Perez said in a written statement. "He has spent his career tearing apart immigrant families and devastating Latino communities, and he has no place in the U.S. Senate. That's why Arizona voters kicked him out of office in November, and that's why I sued him when I led the Justice Department's Civil Rights Division. Joe Arpaio's prejudice didn't deserve a pardon from President Trump, and it certainly doesn't deserve a U.S. Senate seat."
The announcement also prompted a swift rebuke from civil-rights advocates such as Cecillia Wang, deputy legal director of the national ACLU and a lead planitiffs' attorney in the long-running racial-profiling case against Arpaio's office.
In a tweet, Wang wrote: "Arpaio couldn't even win re-election to the sheriff's office he held for decades. The people had enough of his racism and the high costs of his refusal to obey the Constitution and the courts. I don't know whether to laugh or shake my head in disgust."
* * *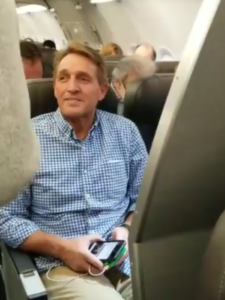 Senator Jeff Flake, the retiring incumbent, was dismissive and suggested Arpaio's candidacy wouldn't last.
"You can argue that it splits up the vote, the more Trumpy-vote, and makes it easier for Martha McSally," Flake told reporters in Washington. "That assumes that Kelli Ward stays in the race — too little is known. But I will be supremely surprised if Joe Arpaio was in the race a month from now."
There is no love lost between Flake and Arpaio, who recently prevailed in a lawsuit that alleged Arpaio maliciously prosecuted Flake's son, Austin, for political reasons.
Austin Flake had been indicted on 21 counts of animal cruelty in connection with a June 2014 tragedy in which 21 dogs died of heat exhaustion at a kennel near Gilbert. The charges eventually were dropped.
* * *
Kelli Ward, a former state senator from Lake Havasu City, has been in the GOP race for more than a year. She also has been aggressively courting pro-Trump Republican voters and has sought Trump's endorsement.
U.S. Rep. Martha McSally, R-Ariz., a Tucson-area congresswoman, is expected to soon enter the race. [Rumors are this Friday.]
Ed Rollins, Ward's campaign chairman, welcomed Arpaio to the race, saying Ward "has great respect" for him.
"His candidacy shows that conservatives in Arizona are fed up with the status quo and know that we need senators who support President Trump and the America First agenda," Rollins said in a written statement.
Rollins used the opportunity to instead take a swing at McSally, whom he described as "just another version of Jeff Flake" and "weak on immigration, supports amnesty, and opposes the border wall."
* * *
Chad Willems, who served as Arpaio's campaign manager throughout his runs for sheriff, will serve in the same role in his run for Senate.
In an interview with The Republic, Willems said Arpaio would not be using money donated to him in previous years for his Senate campaign.
Arpaio has for years asked supporters for donations to his campaigns, for his legal defense fund, and for a political-action committee that promises to support conservative causes.
Willems said Arpaio's paperwork will be filed Tuesday with the secretary of the Senate, who will in turn file with the Federal Election Commission.
"He just wants to support President Trump and his agenda and his policies," Willems said.
What we saw happen in Alabama last year could easily replay here in Arizona. Democratic Rep. Kyrsten Sinema just improved her chances of becoming Arizona's next senator.