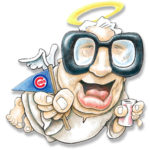 I have waited my entire life for this moment. So close, so many times, only to have the "lovable losers" break their fans hearts.
But last night the Chicago Cubs finally broke the curse of the goat and won the National League Pennant. On to the World Series!
This one's for you, Harry. Cubs win! Cubs win! Cubs win!