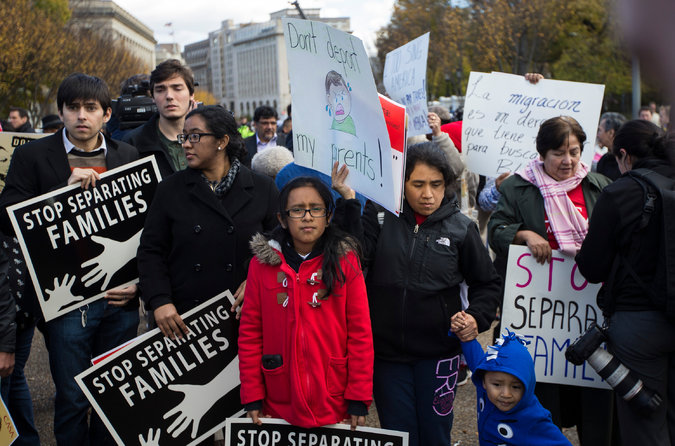 The Deferred Action for Childhood Arrivals, or DACA, program granted permission to stay and work to about 800,000 immigrants who were brought illegally into the United States as children by their parents or other adults. (Another 200,000 young people have sought DACA status since Trump became president in January.)
Because of their young age, these children have no legal culpability for illegal immigration. Many of them have been raised as U.S. citizens, this is the only country they have known, and they have no memories of nor connections to their place of origin.
Since attacking DACA on the campaign trail, Donald Trump has pledged to keep the DACA program alive, calling recipients, also known as Dreamers, "absolutely incredible kids" who deserve compassion. In late April, he told the Associated Press that young people covered by the program could "rest easy" because his priority was deporting criminals. "This is a case of heart," he said.
That was then, this is now. DACA children can't vote, so now they are expendable to GOP anti-immigration politics.
NBC News reports that President Donald Trump appears likely to pull the plug on DACA. Trump Likely to End DACA Immigrant Program:
Administration officials said Friday that the Homeland Security secretary, Elaine Duke, and Attorney General Jeff Sessions discussed the program with senior officials Thursday during a meeting at the White House. Sessions has been a consistent opponent of the program.
Trump is said to be weighing whether to let DACA gradually expire or end it immediately, but the officials said it is not yet clear which option Trump may choose.
The program "continues to be under review," Sarah Huckabee Sanders, the White House press secretary, told reporters Friday.
Civil rights groups warned that canceling DACA would play into the hands of white supremacists.
"It would be a grave moral and legal error," said Vanita Gupta, director of the Leadership Conference on Human Rights and former head of the Justice Department's civil rights division under President Barack Obama.
"Killing the DACA program as the Trump administration's first post-Charlottesville move would be absolutely shameful," Gupta added. "We must not allow the hate violence that we saw on the streets of Charlottesville to become the guiding force for policy making."
Obama urged then president-elect Trump to think "long and hard" before halting DACA. Obama also said he would speak out against any attempt to end the program because he would see that as an assault on American values.
"The notion that we would just arbitrarily or because of politics punish those kids, when they didn't do something themselves…would merit my speaking out," Obama said.
Republican attorneys general from 10 states, plus the governor of Idaho, urged the White House in late June to let the program lapse by Sept. 5. Otherwise, they said, they will urge a federal court to strike it down.
More on this threatened lawsuit today from the New York Times. 'Dreamer' Plan That Aided 800,000 Immigrants Is Threatened:
[I]n recent days, key players in his administration have advised Mr. Trump to wind down the program, and his attorney general, Jeff Sessions, has informed him he considers it unconstitutional and cannot defend it in court, according to people familiar with the discussions who insisted on anonymity to describe private deliberations.
While the White House has declined to comment on the fate of DACA, several officials and people briefed on the discussions now say the president is on the brink of ending it, although they note that Mr. Trump often changes his mind.
Mr. Trump has been pondering what to do about the program since he took office. But discussions about it inside the White House took on new urgency after a group of conservative state attorneys general threatened to sue the Trump administration in federal court unless it begins to dismantle the program by Sept. 5.
John F. Kelly, the president's chief of staff, expressed skepticism in July, when he was homeland security secretary, that the program would survive legal scrutiny.
The Justice Department would be responsible for defending DACA, but Attorney General Jeff Sessions, a fierce opponent of the program, has not said whether he would, and the president has not said whether he would order Mr. Sessions to do so.
Even if he did, it is not clear that the program would survive a court challenge; Republican attorneys general have had success blocking other Obama-era immigration policies.
But a decision by the administration not to defend it "would almost certainly spell a death knell for the program," said Paul Virtue, a partner in the law firm of Mayer Brown who in the 1980s and '90s was a senior official at the Immigration and Naturalization Service, as the agency was then known.
DACA has changed the lives of many beneficiaries, enabling them to qualify for financial aid for college, secure better jobs and open bank accounts. These milestones on the road to self-sufficiency would be jeopardized if DACA is wiped out.
Most crucially, if DACA ends, those who benefit from the program would again be eligible for deportation. And they would not be hard to find — the Department of Homeland Security has DACA and tax documents showing their addresses, which may also be the addresses of their undocumented parents.
* * *
"DACA gave a group of undocumented people the ability to get in line, and we did, 800,000 of us," said Gaby Pacheco, 32, one of the leaders of the movement. "The economy didn't collapse. People didn't lose their jobs. Quite the contrary: We bought cars, homes, and were able to make better wages."
To qualify, applicants must have entered the United States before age 16, lived in the country continuously since June 2007 and have committed no serious crimes. The protection lasts for two years and can be renewed. The administration has approved tens of thousands of new and renewal requests for DACA deferrals since Mr. Trump took office.
Polls show that DACA enjoys overwhelming support among the public. But eliminating it would please many Trump supporters who favor a hard-line stance on illegal immigration and who regard the program as nothing short of an amnesty that the president has no power to grant.
"It's not about the policy; it's about the Constitution," said Ken Paxton, the Texas attorney general, who accused Mr. Obama of abusing his power by circumventing Congress to create law. "The fact is, there is no statute authorizing this."
Mr. Paxton was joined by the attorneys general of Arkansas, Alabama, Idaho, Kansas, Louisiana, Nebraska, South Carolina, Tennessee and West Virginia, as well as Idaho Gov. C. L. Otter, in a June 29 letter to Mr. Sessions urging the White House to start phasing out DACA by Sept. 5 or face a lawsuit.
In 2015, Texas and 25 other states won a federal court ruling blocking the Obama administration from extending deferred action to an estimated five million undocumented parents of children who were citizens or legal residents [DAPA], as well as to young immigrants who arrived between 2007 and 2010. The ruling was upheld on appeal, and last year, the Supreme Court split 4 to 4, leaving the lower court's decision in place.
If the attorneys general have the same success challenging DACA, it would be up to Congress to give the Dreamers a way to stay in the country legally. Four bills with bipartisan sponsors have been filed that would provide relief to the Dreamers. Those do not appear likely to gain traction in the near future. Nevertheless, there has been talk of a possible large-scale deal in which the Dreamers would be granted protection in exchange for something else, such as more restrictions on legal immigration or tougher measures for illegal immigrants.
"These young people grew up in this country and came out of the shadows voluntarily after our government promised not to deport them," said Senator Richard J. Durbin, Democrat of Illinois, who has introduced legislation with Senator Lindsey Graham, Republican of South Carolina, to make DACA permanent. "We've since witnessed Dreamers graduate college, start businesses and give back to their communities in myriad ways," Mr. Durbin said.
With the program's future in the balance, more than 100 immigration law professors recently signed a letter available here (.pdf) to President Trump arguing that DACA is legal because the president has the power to decide whom to deport, given that the government does not have the resources to target all undocumented immigrants.
"The legality of the program is crystal clear," said Shoba Wadhia, a law professor at Penn State who helped write the letter.
Support has also come from a group of Democratic attorneys general led by Xavier Becerra of California, who may try to intervene to defend DACA, as well as from some business leaders.
John Rowe, a former chief executive of the energy giant Exelon, who has mentored Ms. Rojas, the DACA recipient, at the Illinois Institute of Technology, said, "The program has been instrumental to advance talented people like Jessica."
Now a co-chairman of the Illinois Business Immigration Coalition, Mr. Rowe organized a letter to Mr. Trump supporting the program that was signed by 132 chief executives from across the country. "To cancel this program is bad economics, bad politics and un-American," he said in an email.
A decision is due by September 5. The decision will not bring an end to this legal dispute.