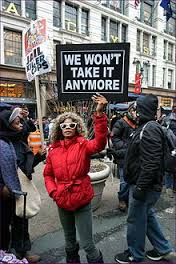 We can condemn the killing of police in Dallas and Baton Rouge. The assailants were deranged, perhaps psychopathic. Their actions were beyond horrific. Demonize them, and nobody will argue with you.
That's the easy part.
Then there's the stupid part, where white people connect those violent acts to the Black Lives Matter movement, or even Black America at large. I had it whitesplained to me a few times today: "They're really not helping their cause by killing police officers, you know?" No, morons, I didn't know that, and for you to think that is f'ing racist. You can't attribute the acts of two lone wolf assailants to an entire movement or an entire race. The BLM activists I converse with on Facebook did not have a hand in the killing of police in Dallas or Baton Rouge. How dare you suggest they did.
Last, there's the tough part.
It's tempting to treat the killing of police in Dallas and Baton Rouge as one-off events, since the assailants here were unbalanced and likely psychopathic.
Tempting, but wrong. Yes, the assailants were unbalanced, but there are thousands of unbalanced people out there, and thousands more who could lose their balance given the wrong stimulus.
We're not witnessing one-off events. We're seeing the chickens coming home to roost. For decades Black America has seen cop after cop after cop commit murder and not be brought to justice, with the last several years of such murders caught on video. For decades, mass incarceration in America has devastated Black communities, destroying the lives of hundreds of thousands of Black men. For decades now, Black communities have been impoverished by over-enforcement against petty crimes and traffic violations and ghastly civil forfeiture programs, all so wealthy white Americans can be spared the tax dollars needed to pay for government services.
At some point, sooner or later, the explosions would start. It was bound to happen. A group only can be oppressed for so long before some of its members snap.
The world has seen this play out before, countless times.
It's as predictable as Winter following Autumn, yet sets the stage for frightening demagoguery. Consider two historical examples: Israel for the past several decades, and Germany circa 1938. In Israel, Palestinians are subjected to brutal oppression, day after day, year after year. Periodically, the explosions occur. We call those explosions terrorism and Palestinians writ large are demonized, first by Israelis, then by their U.S. supporters. Only recently have efforts to expose the demagoguery for what it is begun to succeed (and only in a limited way).
In Germany, the phenomenon, and the evil associated with it, are easier to see. The Nazis took power in 1933. The persecution of Jews began immediately, with a steady ratcheting up of the pressure. But it wasn't until 1938 that the Holocaust began with what's known as Kristallnacht, or "Night of Broken Glass." Did the Nazis plan Kristallnacht? Of course. But did they just set a date? No, they needed a triggering event. They couldn't have planned the triggering event, but they likely knew one would come along. And sure enough, a young, desperate Jewish man killed a German official in cold blood. A day later, Kristallnacht.
Don't get me wrong. I'm not suggesting here that the killing of police in Dallas and Baton Rouge will be invoked to justify state-sponsored terrorism against Black Americans. At least not yet.
But I am deeply concerned that the explosions we all knew or should have known would happen will be demagogued in a fashion designed to derail the Black Lives Matter movement and allow the oppression of Black America to go unaddressed. Which will also mean more white police officers losing their lives.
The bottom line on Dallas and Baton Rouge? America waited too long. We let too many violent cops walk. We incarcerated too many Black Americans unnecessarily. We inflicted too much financial misery on poor Black Americans. And now we've paid a terrible price.