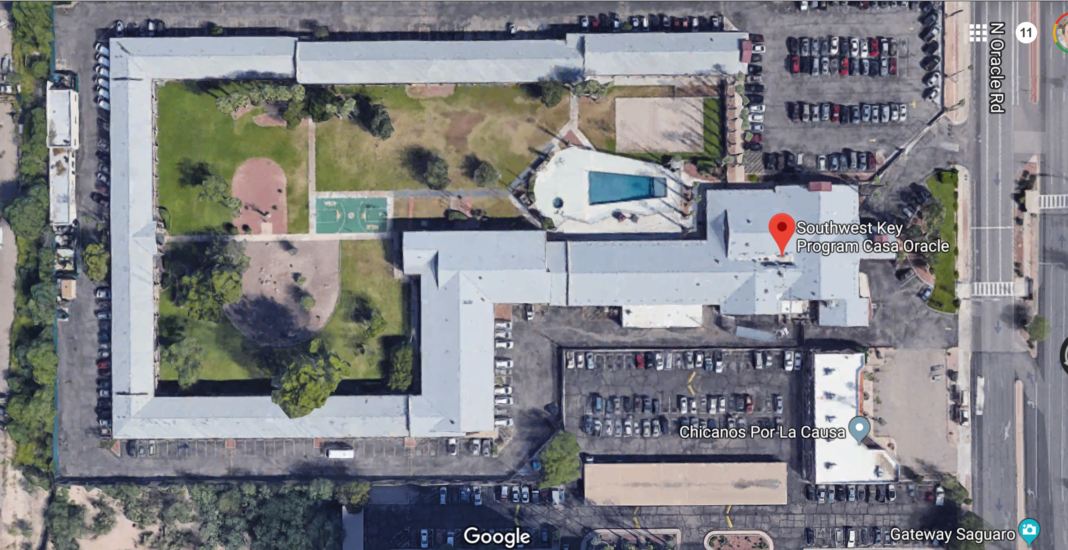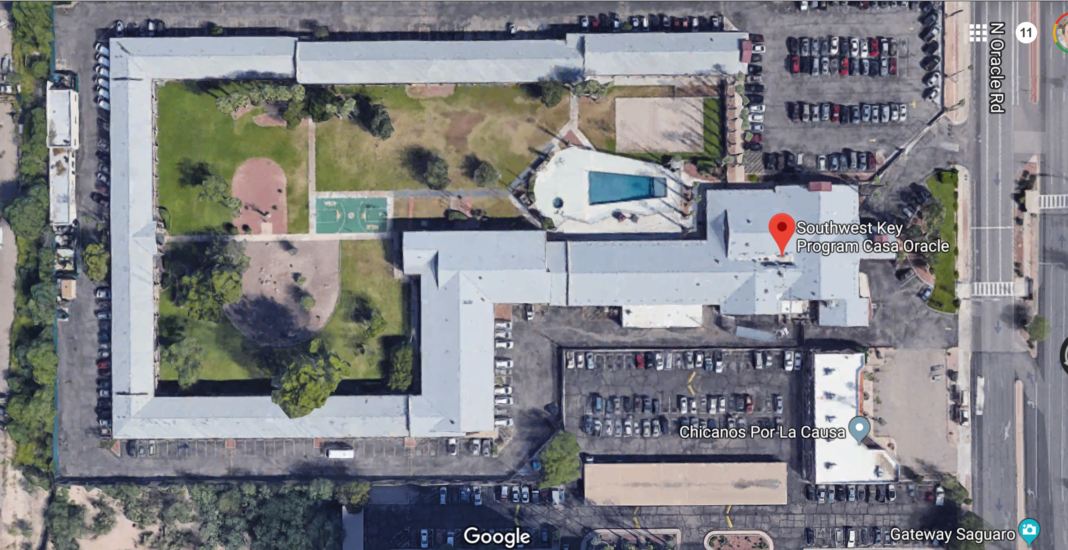 9-19-18 UPDATE: Arizona moves to revoke licenses from all Southwest Key migrant-children shelters https://goo.gl/qVxUA9 The government contractor failed to provide proof its workers had the required background checks.
Up to 300 migrant children ages 5 to 17 are warehoused at a dangerous facility run by Southwest Key Programs in Tucson.  "There seem to be some real problems here," said state Representative Kirsten Engel, speaking at a recent meeting of the Democrats of Greater Tucson.
The Arizona Department of Health Services (DHS) made an inspection and found "numerous violations that employees have fingerprint cards, and space and privacy for kids." DHS negotiated an agreement with Southwest Key giving DHS the power to make unannounced inspections.
"It's a black box," she said of the compound, which is closed to the public. "When we were at Southwest Key there was a representative from the Denver regional office of the HHS (the U.S. Department of Health and Human Services), but we didn't get a lot of information from him."
Southwest Key is a massive private contractor that is paid $485 million by the federal government to warehouse 5,200 children in 26 facilities in Arizona, California, and Texas. In Arizona, it houses 1,500 children in 13 different shelters.
The children are technically not incarcerated. "They are in a 'mandatory temporary child shelter situation,'" Engel said. "They are in the hands of a private entity. One of the issues is that it is all being done by private contract and is not being adequately overseen by a state agency."
Danger of child abuse
For example, Southwest Key has no duty to notify the state DHS when a crime is committed at the compound. "Incidents of child abuse have taken place at Southwest Key facilities" in Tucson and Glendale, Engel said. "There were three arrests of Southwest Key employees and a conviction for sexual abuse of some of the children."
A 15-year-old boy alleged in 2015 that Oscar Trujillo, a Southwest Key employee in Tucson, touched him in his genital area over his clothing and tried to pull down his pants, court documents show. Trujillo was convicted of class 5 sexual abuse.
A girl at the Glendale Southwest Key facility accused a staff member in May 2017 of making sexually suggestive comments to her and dancing inappropriately in front of other children there.
Three female employees at the Tucson facility said in 2015 that a maintenance staff member harassed them repeatedly. One of the women told police that her complaint to managers wasn't taken seriously, and she feared retaliation for coming forward.
The Florence Immigrant & Refugee Rights Project visits the Tucson location two times a week, offering "know your rights" presentations to the children. "These kids are as young as 5 years old and they are told that if they are abused or harmed, here is where you report it," Engel said. "Unless a child makes a report himself, or another employee reports an incident they witnessed, it seems that it is not going to be reported. This is a very concerning situation. You cannot expect these kids who don't speak English to report on a staff member who is abusing them."
No textbooks, no certified teachers
Hundreds of children are captured at the border when they cross over by themselves, or when they are separated from their parents.
After lobbying for weeks, a team of state legislators including Rep. Pamela Power Hannley got permission to visit the secret complex which has been operated since 2014 by Southwest Key Programs, a federal government contractor. It was a tightly-controlled North-Korea style tour, where few questions were answered and legislators were told repeatedly that the "employees are doing the very best job they can."
The legislators were shown one classroom where 25 children ages 14 to 17 were given a whiteboard to write on. There are no textbooks and no certified teachers. "We were told that it is just an issue of how quickly the staff can work out the arrangments and assurances that it is safe to reunify these kids with a family member," Engel said.
"The rooms didn't look like classrooms. It was a modified hotel room in which you put a lot of kids. That is not education," Engel said.
The children, many of whom don't speak English are detained from 7 weeks up to more than 8 months. They are allowed to make two phone calls a week, presuming a 5-year-old can make a phone call or that any of the children know how to reach their parents.
Southwest Key is licensed by DHS as a 'behavioral health facility,' however, "DHS just basically ignores the situation. It has no jurisdiction over any abuse at the facilities. Unless there some kind of problem violating their licensing involving fire extinguishers or the staff-to-child ratio, there is no licensing violation." 
"It seems very inadequate when you compare it to how we otherwise would take care of kids in this kind of situation," Engel said. "The closest analogy would be to consider it a group home run by the Arizona Department of Child Services, which does not have a great history of taking care of kids. We need to have a much more comprehensive background checks on who works at the facility. There should be a criminal background check to keep out anyone who's been accused of abusing a child, but where the case has not risen to the level of a criminal conviction."