A lawsuit has been filed to void a new Arizona law expanding the ability of some organizations to make anonymous "dark money" contributions to political campaigns. Howard Fischer reports, Lawsuit challenges dark money growth: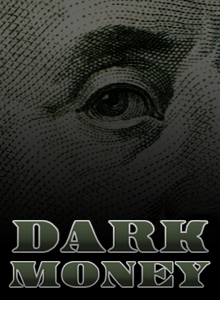 A voter advocacy group, a union and Democrat lawmakers are asking a judge to void a new Arizona law expanding the ability of some groups to make anonymous "dark money" contributions to political campaigns.
The lawsuit filed Wednesday in Maricopa County Superior Court charges the Republican-controlled Legislature acted illegally earlier this year in exempting some organizations from laws that require them to register before they can spend money to influence who is elected. More to the point, it also allows them to avoid disclosing to voters who provided that cash in the first place.
But attorney Jim Barton said there are other legal flaws in the measure.
One, he said, is that the exemption lawmakers provided to certain nonprofit organizations applies only to those that also are registered with the Arizona Corporation Commission. But Barton said the legislation denies the same privilege to unions which, while organized as nonprofits, do not register with the commission.
Potentially the most sweeping, Barton said lawmakers violated a constitutional provision that requires the legislature to have laws that tell the public about all of the contributions to and expenditures by campaign committees and candidates for public office.
He said SB 1516 allows nonprofits and similar entities to make unlimited contributions to political parties. Then the parties can spend unlimited amounts of money on behalf of their nominees.
"Since the reporting of these particular contributions are not required, then built-in disclosure safeguards (required by the Arizona Constitution) are broken," Barton wrote.
A spokesman for the Secretary of State's Office, which enforces the campaign finance laws, said the lawsuit is being studied.
The new law, pushed through largely along party line votes earlier this year, was a major overhaul of campaign finance laws.
It allows individuals to spend unlimited amounts of money to help raise funds for candidates they support without having to disclose it to the public.
Another provision scraps the $100 cap on what people can spend in tickets, food and liquor for fundraisers for candidates without having to disclose the source of those dollars.
What makes that important is someone with resources can put on a $5,000-a-plate fundraiser for legislators and absorb all the costs. So the pricetag for the affair — and even who paid for it – could remain a secret.
Most significant, it eliminates laws that require groups spending money to influence elections to register first with the state. And these same groups also can refuse to disclose donors to the public if they are registered with the Internal Revenue Service as a "social welfare" organization.
The prime architect of this "dark money on steroids" bill was Rep. J.D. Mesnard, R-Chandler, who is now the Speaker of the House. Well isn't that special.
Barton, in filing suit for the Arizona Advocacy Network, the Brickworkers and Allied Crafterworkers Union Local 3 and more than two dozen Democrat lawmakers, avoids the philosophical question in favor of the legal one.
Most significant is that some of the financial disclosure requirements were enacted initially not by legislators but by voters in approving the Citizens Clean Elections Act in 1998.
That law set up a voluntary system for candidates for statewide and legislative office to get public funds if they do not take private dollars. And it also sets out rules for who has to disclose donations.
More to the point, because the law was enacted by voters, it cannot be amended or repealed by the Legislature without a three-fourths vote — and only if the change "furthers the purpose" of the underlying law. Barton said it did not get that margin and does not meet the second test.
What that means, he said, is that any provisions in SB 1516 that conflict with the 1998 law are legally void and unenforceable.
One of these, he said, was the decision of lawmakers to say that candidates who do not accept public dollars are not subject to scrutiny — and punishment — by the Citizens Clean Elections Commission. Barton said that clearly runs contrary to what voters approved and illegally undermines the power of the commission to enact campaign finance rules.
Mesnard, however, argued that the commission was overstepping its bounds.
The bid to exempt social welfare groups from financial disclosure got a fight from Tom Collins, the commission's executive director.
On paper, a group cannot be a social welfare organization if it spends more than half of its money on political spending. But Collins said the IRS does not police these groups to ensure they are not violating the legal limits on political spending.
With the new law putting these groups' records off limits to state officials, Collins said that pretty much gives them permission to do what they want in secret.
This lawsuit follows news that former Attorney General Terry Goddard is again pursuing a citizens initiative to reign in dark money. His last effort was derailed after Goddard made the mistake of joining forces with Paul Johnson and his Top Two Primary initiative because he needed money, undermining the credibility of his own initiative. Both initiative efforts collapsed when Johnson's financial backers pulled out.
Howard Fischer also reports, Initiative would ban 'dirty money' — anonymous donations — in Arizona politics:
Terry Goddard is crafting a "right to know" initiative. It would guarantee in the state constitution that voters are entitled to know who is trying to sway their votes on who to elect for everything from statewide offices to school boards. The measure, which Goddard hopes to put to voters a year from now, would also impose the same requirements on those pushing future ballot measures.
Campaign consultant Bob Grossfeld said the effort starts with redefining for voters what he and Goddard are trying to curb, by using new terminology.
"We're done with this whole 'dark money' nonsense," Grossfeld said, referring to the term that has become synonymous in political rhetoric with dollars coming from unknown sources. He said that's technically neither a legal term nor one with a formal definition.
"We look at this as 'dirty money,'" he said.
"This is no different than criminal syndicates who are laundering money," Grossfeld said. "It's for the same purposes: to hide the people behind it."
Goddard, a Democrat who was elected as attorney general in 2002 and won a second term four years later, formed a campaign committee this past week. That allows him to begin raising money for the task of getting the measure on the 2018 ballot.
Grossfeld said the final language is still being tweaked. But he said the bottom line is designed to expose anyone who puts at least $10,000 into any campaign, whether for public office or a ballot measure.
Arizona law already requires anyone who spends money to influence a campaign to file reports.
But there's an exception: Groups that are organized under the Internal Revenue Code as "social welfare" organizations contend they are not required to disclose their donors. So the only thing the public knows is that some group, often with a name that may have no link to the sponsors, has dumped cash into a campaign. That has become an increasing problem for voters interested in finding out who is behind commercials, mailers and other campaign materials.
In the 2014 gubernatorial race, for example, the $5 million spent on the general election directly by Republican Doug Ducey and Democrat Fred DuVal was eclipsed by the $9 million others spent trying to influence the race. Most of that cash flowed to Ducey's benefit.
And two Republicans got elected to the Arizona Corporation Commission with more than $3 million spent by outside groups.
Arizona Public Service, the state's largest utility, which is regulated by the commission, has refused to confirm or deny whether it was the source of any of that cash.
A related issue goes to what might be called "chain" donations, where Individual A gives money to Organization B which then funnels it to a third organization that does the ultimate spending on the race.
Grossfeld said the language of the initiative would force disclosure of all major sources of funding. He said it is worded in a way to pierce the multistep donations, requiring that the ultimate sources of the dollars be disclosed, not only in reports filed with the Secretary of State's Office but also in advertising, mailers and other campaign materials.
* * *
Grossfeld said several things are different this time [from the 2016 initiative].
The first is that the campaign spending measure against what he calls "dirty money" will stand on its own and not be linked to other ballot issues. [Good idea.]
He and Goddard said they believe they can gather the 225,963 valid signatures needed by July 5 to qualify for the ballot solely with volunteers, minimizing the need for up-front cash.
He said they have the backing of members of Save Our Schools Arizona, the group that managed to gather enough signatures to force a referendum on legislation to vastly expand the system of vouchers that allows parents to use public dollars to send their children to private and parochial schools.
Save Our Schools Arizona spokeswoman Dawn Penich-Thacker said her organization has not taken an official position. But she confirmed that key members of the group are working on the issue because they have common interests.
More to the point, they have a common foe, if you will: the Koch brothers.
Americans for Prosperity, a group financed by the billionaires, already is involved in a lawsuit designed to keep the voucher referendum from making the ballot.
Separately, the brothers are financing the Libre Initiative, which is targeting Hispanic households nationwide in an effort to get support for vouchers — and to oppose ballot proposals like Save Our Schools — with what Penich-Thacker contends is misinformation about who benefits from funneling state dollars into private schools.
Under current laws, the only information that voters would get if and when the voucher referendum is on the ballot next year is that the Libre Initiative put a certain number of dollars into defeating it, with no requirement to tell voters which individuals and groups provided financing, and in what amounts.
Laurie Roberts of The Republic adds, Arizona voters have a chance to demand dark money disclosure:
In all, more than $15 million was spent by secret interests to sway Arizona voters during our last statewide elections in 2014.
Ducey was elected that year with nearly $3.5 million in support from six dark-money groups set up as non-profit corporations.  We would later find out from IRS records that five of those dark-money non-profits in turn got funds that year from the sixth – American Encore, which has ties to the Charles and David Koch network of conservative/libertarian billionaires.
And you wonder why Ducey has pushed for private prisons, universal vouchers and annual corporate tax cuts even as our roads crumble and schools struggle? And oh yeah, a new state law that will actually allow more dark money spending in next year's elections?
Meanwhile, a $3.2 million dark-money campaign that same year catapulted a pair of utility friendly candidates onto the Arizona Corporation Commission. It's widely believed that Arizona Public Service was behind the dark-money campaign. But, of course, voters aren't entitled to know that.
And you wonder why the Corporation Commission just raised your utility rates, allowing APS to scoop up another $95 million a year?
It might have useful to voters to know where all that secret money was coming from before they cast their ballots, don't you think?
* * *
Grossfeld says it'll be an all-volunteer effort, something that a year ago I would have said would doom their campaign.
That was then, when conventional wisdom said you had to pay petition circulators in order collect enough signatures to qualify for the ballot. When conventional wisdom said that average citizens just won't do the work it takes to make their voices heard.
This is now, when we've seen the impact that committed volunteers can have on their state. Exhibit A: This year's successful referendum by Save Our Schools Arizona, giving voters the last word on our leaders'  expanded voucher law.
A group of citizens stood up and said, not so fast to the powers that be in this state (and the powers behind them.)
It seems only natural then, that it should be citizens who stand up and say we want to know who is spending millions to buy our elections.
And once we know who, it should be pretty easy to find out why.
Only if this "dirty money" initiative qualifies for the ballot. Goddard had better be quicker about getting it drafted and out on the streets than his last effort. Tick tock.