David Cay Johnston is an investigative journalist and author who is a specialist in economics and tax issues, and the winner of the 2001 Pulitzer Prize for Beat Reporting.  Johnston also wrote the book on Donald Trump, literally: The Making of Donald Trump (August 2016).
Johnston's latest scoop on "The Donald" is his 2005 Form 1040 tax summary that an unidentified individual mailed to him unsolicited. DCREPORT EXCLUSIVE: Trump Earned $153 Million In 2005; He Paid $36.6 Million In Taxes: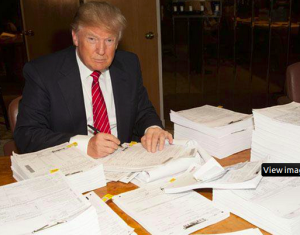 DCReport has obtained Donald Trump's Form 1040 federal tax return for 2005. There's no smoking gun there, no obvious evasion, but clearly some bending of the tax laws almost to the breaking point. The document offers a rare glimpse at how a super wealthy couple can manipulate and manage our complex tax laws to reduce their obligations far below rates paid by typical salaried professionals or even blue-collar wage earners.
The White House [preemptively] confirmed the authenticity of the tax returns [before this story was reported]. "Despite this substantial income figure and tax paid," the White House said in a statement, "the dishonest media can continue to make this part of their agenda, while the President will focus on his, which includes tax reform that will benefit all Americans."
The report was hyped as an exclusive by The Rachel Maddow Show on MSNBC, and was way oversold, in my opinion, as well as the opinion of the Washington Post's media columnist, Margaret Sullivan. Rachel Maddow had a decent scoop. Here's what she did wrong with it: In journalism, it's called "burying the lede." Late-night comedian Stephen Colbert was even more brutal with a segment titled "Stephen Pulls A 'Rachel Maddow".
Our Twitter-troll-in-chief nevertheless felt compelled to respond to Johnston's report. President Trump and a Pulitzer winner engage in Twitter war over tax returns:
"Does anybody really believe that a reporter, who nobody ever heard of, 'went to his mailbox' and found my tax returns?" Trump tweeted the morning after MSNBC disclosed two pages of the 2005 return. "@NBCNews FAKE NEWS!"
David Cay Johnston has been reporting on Donald Trump for over 30 years. He wrote a biography of Donald Trump, The Making of Donald Trump (August 2016). The always insecure egomaniacal Twitter troll Trump is known to have saved every article or book ever written about him. He is intimately familiar with David Cay Johnston.
Johnston told Rachel Maddow that "it's entirely possible that Donald Trump sent this to me; Donald Trump has, over the years, leaked all sorts of things" — responded in kind on Twitter: "Gee, Donald, your White House confirmed my story. POTUS fake Tweet. Sad!"
Johnston's suggestion that Trump may have leaked his own tax records to him reminded me of the reporting last year that Trump has used an alter ego "John Miller" or "John Bannon" claiming to be Trump's publicist to promote stories about himself in the media to satisfy his yuuuge ego. Donald Trump and his alter egos.
In fact Trump's son, Donny Jr. was just a little too eager to resort to Twitter, just like dear old dad, to spin the story according to the White House's preemptive press release. It appears a little too contrived.
This only lends credence to the suspicion that Trump leaked his 2005 Form 1040 — perhaps the one good year he had in which he paid substantial taxes — to the media to divert attention from his sources of income and to whom he owes money, which could be revealed in the schedules to his 2005 tax return that were not provided to Johnston by an unidentified individual.
As Johnston explains in his report:
What's Not There
The 1040 shows how Trump obtained money—salary, business profits, dividends and the like. But there is still far more that it doesn't say. It does not name the sources of his vast income, whether rich golfers playing on his various courses or Russian oligarchs visiting his various hotels. The identities of companies and individuals who paid Trump would be disclosed in the hundreds of pages of schedules, statements and other attachments which a 1040 only summarizes.
Nor does the 1040 distinguish between Trump's business and personal expenses—money spent traveling in his personal jet between homes and offices in New York and Florida or between hotels and golf courses around the world. There are no specifics on how much he wrote off for business dinners or gifts or even the vast sums he depreciates each year from his buildings.
There is one clear expense, however, that can be discerned because portions of Trump's 1995 state tax returns became public last fall. Trump got out of repaying nearly $1 billion he borrowed for his failed casino business. When you don't repay a loan Congress says that money is income and you owe taxes on it immediately.
Instead, Trump made use of an abusive tax shelter that Congress soon closed to newcomers. Like magic, the tax shelter converted what should have been a tax bill of about $360 million into future tax breaks. Ten years later, on his 2005 return, Trump was still saving tax dollars thanks to that tax shelter. Trump has refused to release his tax returns.
A Dual-Tax System
To understand the Trump tax returns it's important to realize that America has two income tax systems. The regular income tax was supplemented by a parallel tax system, signed into law by President Ronald Reagan in 1986, called the Alternative Minimum Tax or AMT.
How these two systems interact is central to understanding the Trumps' taxes.
Viewed in terms of the regular federal income tax system, here is what Trump did:
Trump reported $152.7 million of income. He also reported $103.2 million of negative income, the remainder of the roughly $918 million tax shelter he bought in 1995. That deal was disclosed earlier in three summary pages of his 1995 Connecticut, New York and New Jersey state income-tax returns.
That Trump had only $103 million of his $918 million tax shelter left in 2005 also tells us something about his past income. Using up the other $815 million of negative income in the tax shelter indicates that he earned an average of $81.5 million annually during the 10 years from 1995 through 2004.
Deducting the negative income lowered Trump's adjusted gross income or AGI to $48.6 million. AGI is the last figure on the bottom of the front page of a federal tax return.
From that, the Trumps took $17 million in itemized deductions, which are not specified. That left $31.6 million of taxable income.
The Trumps paid just $5.3 million of regular federal income tax. Measured against their cash income of almost $153 million their federal income tax rate was 3.48%.
That figure is slightly lower than the tax rate paid by the poorest half of Americans. The half of taxpayers whose income was less than $33,485 that year paid 3.51% of their money in federal income taxes.
Caught by the AMT
Trump's total federal tax bill was larger, though, because of the Alternative Minimum Tax or AMT.
The President, in writing, has called for eliminating the Alternative Minimum Tax. Now we know one reason why—he lives like a king, but wants to pay taxes like a Walmart cashier.
All high-income Americans must calculate both their regular income tax and their AMT income tax and pay whichever is larger.
Most of that $103 million of negative income was ignored under the AMT, which meant that for tax purposes Trump's income was larger than under the regular system.
The Trump income subject to AMT was $111.7 million, according to Daniel Shaviro, a New York University law professor who as a Congressional staffer helped draft the AMT three decades ago.
The Trumps paid $31.3 million in AMT which, together with the regular tax, made their total federal income tax $36.6 million.
Viewed in terms of their positive income of almost $153 million the total Trump tax bill came to 24%. That's in the range paid by two-income career couples who both work all year to earn about $400,000. The Trumps income was $418,460 per day.
Johnston said on Wednesday that he and his family have received death threats since the tax story broke.
Trump has routinely stated that he cannot reveal his tax returns because they are "under audit," and that he will release his tax returns when the audit is completed. There is no evidence that his tax returns are under audit. Trump has never produced any letter from the IRS indicating that his taxes are under audit, for any year, despite repeated requests from the media. Moreover, there is no law or IRS regulation that prevents him from disclosing his tax returns even if under an IRS audit. President Richard Nixon disclosed his tax returns while he was under an IRS audit. Trump is simply full of shit about his taxes.
There is one tax return that is not subject to any IRS audit: Trump's 2016 tax return which is due on April 18. It is a tradition since Richard Nixon for presidents to release their tax return ahead of the tax filing deadline in April. We're about to find out if Trump ever really intends to disclose his tax returns to the American people, as he promised he would.
Trump is still being protected by Tea-Publicns in Congress from disclosing his tax returns. House Republicans block Democrats' pursuit of Trump's tax returns:
Republicans [have] blocked Democrats' attempt to obtain President Trump's tax returns.
House Republicans won a procedural [party-line] vote, 229-185, that called for his IRS returns. The Wall Street Journal reported that all Democrats were in favor of the release. [Two Tea-Publicans voted "present."]
"If there's nothing there, then what are Republicans afraid of?" Rep. Nancy Pelosi, D-Calif., said. She reportedly said Republicans "made themselves accomplices" to Trump in hiding his financial affairs.
Trump's refusal to disclose his tax returns is a break with presidential tradition. He has said he would be happy to release them after the completion of an IRS audit.
Two weeks ago, House Republicans blocked an attempt by Democrats to use an obscure law to obtain the tax returns from the IRS. Democrats on the House Ways and Means Committee tried to frame the issue as a matter of national security, questioning whether Trump has any investments in Russia.
U.S. Sen. Susan Collins, a Republican, said last week that she is open to using a subpoena to investigate President Donald Trump's tax returns for potential connections to Russia.
Collins, a Republican who has served as a U.S. senator from Maine since 1997, sits on the Senate Intelligence Committee, which is investigating Russian interference in the 2016 election.
Collins was asked if the committee would subpoena Trump, who's also a Republican. She said she hopes for "voluntary cooperation" but is open to using a subpoena if necessary.
"This is a counter-intelligence operation in many ways. That's what our committee specializes in," she said during the radio appearance. "We are used to probing in depth in this area."
If you are waiting on Sen. Susan Collins to follow through on a threat, you will have a long wait.