Please allow me to introduce myself
I'm a man of wealth and taste
I've been around for a long, long year
Stole many a man's soul and faith
* * *
Pleased to meet you
Hope you guess my name
But what's puzzling you
Is the nature of my game
Sympathy For The Devil – The Rolling Stones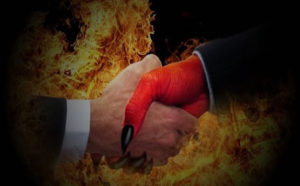 I warned you about making deals with the devil. A DACA deal with 'Amnesty Don'? Don't believe it until it actually happens. One cannot trust anything that a pathological liar says. President Trump has made 1,318 false or misleading claims over 263 days.
This week the Trump administration announced its hostage demands for a DACA deal. Trump administration releases hard-line immigration principles, threatening deal on 'dreamers':
The Trump administration released a list of hard-line immigration principles late Sunday that threaten to derail a deal in Congress to allow hundreds of thousands of younger undocumented immigrants to remain in the country legally.
The administration's wish list includes the funding of a wall along the U.S.-Mexico border, a crackdown on the influx of Central American minors and curbs on federal grants to "sanctuary cities," according to a document distributed to Congress and obtained by The Washington Post.
The demands were quickly denounced by Democratic leaders in Congress who had hoped to forge a deal with President Trump to protect younger immigrants, known as "dreamers," who were brought to the United States illegally as children.
About 690,000 immigrants are enrolled in DACA, but their work permits are set to begin expiring in March. Trump had met last month with Senate Minority Leader Charles E. Schumer (D-N.Y.) and House Minority Leader Nancy Pelosi (D-Calif.) and agreed to try to strike a deal, worrying immigration hawks who feared that Trump would support a bill that would allow dreamers to gain full legal status without asking for significant border security measures in return.
The list released by the administration, however, would represent a major tightening of immigration laws. Cuts to legal immigration also are included. And, while Democrats have called for a path to citizenship for all dreamers, a group estimated at more than 1.5 million, a White House aide said Sunday night the administration is "not interested in granting a path to citizenship" in a deal to preserve the DACA program.
"The administration can't be serious about compromise or helping the Dreamers if they begin with a list that is anathema to the Dreamers, to the immigrant community and to the vast majority of Americans," Schumer and Pelosi said in a joint statement Sunday evening. "We told the President at our meeting that we were open to reasonable border security measures … but this list goes so far beyond what is reasonable. This proposal fails to represent any attempt at compromise."
* * *
Democrats had hoped that Trump, who had equivocated over the DACA program before deciding to terminate it in the face of a legal challenge from Texas, would be open to crafting a narrow legislative deal to protect the dreamers. But White House aides emphasized that they expect Congress to include the principles released Sunday in any package deal, a nonstarter for Democrats and some moderate Republicans.
"These findings outline reforms that must be included as part of any legislation addressing the status of Deferred Action for Childhood Arrivals (DACA) recipients," Trump wrote in a letter to Congress. "Without these reforms, illegal immigration and chain migration, which severely and unfairly burden American workers and taxpayers, will continue without end."
Immigration hard-liners expressed support for the administration's immigration proposals.
* * *
Trump had said several times over the past month that he did not expect a DACA deal to include funding for a border wall, emphasizing that the money could be included in separate legislation. But ensuring funding for the wall, which is projected to cost more than $25 billion, is the top priority on the list. White House aides declined to specify during the call how much money the president would expect from Congress.
Despite the White House's calls for the complete construction of a southern border wall and the support of some ardent conservatives in Congress, several GOP lawmakers from border states have expressed skepticism about such projects in the past.
* * *
Sen. Jeff Flake (R-Ariz.), a frequent sparring partner of Trump's, has also cast doubt on building a wall, saying that such barriers would require accounting for the flow of rivers that run north and south across the two countries.
* * *
In its principles, the Trump administration also is proposing changes aimed at reducing the flow of unaccompanied minors from Central America, tens of thousands of whom have entered the United States illegally in recent years. Immigrant rights groups have said the minors, as well as women and families, have fled gang violence and other dangers in El Salvador, Guatemala and Honduras.
Under current law, minors who arrive from noncontiguous nations are afforded greater protections than those from Mexico and Canada, but the Trump administration is proposing to treat them all the same in a bid to be able to deport the minors more quickly. Such proposals will probably face fierce resistance from Democrats and human rights groups.
The administration also has sought to increase pressure on sanctuary cities, which refuse, in some cases, to cooperate with federal immigration agents seeking personal information about undocumented immigrants who've committed other crimes in their jurisdictions. Under the immigration priorities released Sunday, the administration is proposing that Congress withhold federal grants to such jurisdictions and that it clarify the authority of state and local jurisdictions to honor detainers issued by Immigration and Customs Enforcement.
* * *
Rep. Joaquin Castro (D-Tex.), vice chairman of the Congressional Hispanic Caucus, said that "Congress should reject this warped, anti-immigrant policy wish list. The White House wants to use dreamers as bargaining chips to achieve the administration's deportation and detention goals."
Rep. Luis Gutierrez (D-Ill.), a longtime advocate for comprehensive immigration reform, in an interview called Trump's proposals "an extension of the white supremacist agenda." He said it is "fanciful thinking that you can sit down with a man who has based his presidential aspirations and has never wavered from his xenophobic positions. I never understood — I just never got it, how you go from Charlottesville and white supremacists to reaching an agreement with him."
Gutierrez renewed calls for Democrats to withhold support for an upcoming bill that would raise the debt limit or extend government spending, saying that "if you want a budget with Democratic votes, then it's got to have some Democratic priorities."
As a matter of fact, If Trump doesn't deal on DACA, some Democrats threaten a government shutdown:
Some House Democrats are raising the specter of withholding support for must-pass spending legislation later this year in response to President Trump's hard-line immigration proposals — meaning the fate of roughly 690,000 younger undocumented immigrants could become a major factor in negotiations to keep the government open after December.
Democrats on Monday dismissed Trump's calls to construct a wall along the entire length of the U.S.-Mexico border, crack down on "sanctuary cities" and seek ways to curb Central American migrants from illegally crossing into the country. But conservative Republicans insisted that such issues must be addressed before Congress considers offering legal status to immigrants brought to the country illegally as children, a group known as "dreamers."
The prospective standoff is the latest hurdle in the years-long struggle on Capitol Hill to reach an accord on reforming the nation's immigration policy. The administration's lengthy list of demands dampened growing optimism among lawmakers from both parties that they could strike a deal to protect recipients of Deferred Action for Childhood Arrivals (DACA), the Obama-era work program for "dreamers" that Trump announced last month he would terminate.
"What the White House put forward is a complete non-starter," House Minority Leader Nancy Pelosi (D-Calif.) said in an interview, blaming Trump's senior policy aides for advancing "un-American" ideas on how to deal with immigration.
"There's nothing in it to negotiate because it does not have shared values of who we are as Americans," she added.
Facing a tight deadline — work permits for DACA recipients will begin expiring in March — Pelosi said her conference remains unified in opposition to Trump's ideas.
Some members of the Congressional Hispanic Caucus signaled they would consider withholding support for must-pass spending bills in December unless the DACA recipients are granted legal status with a path to citizenship. In recent years, near-unanimous support from Democrats has been needed to pass government spending bills and legislation to raise the government's borrowing limit amid opposition from dozens of fiscal conservatives who are against increased spending without subsequent budget cuts.
Rep. Luis Gutierrez (D-Ill.) called the spending bill debate a defining moment for Democrats.
"I'm not saying we should shut down the government, but if you want a budget with Democratic votes, then it's got to have some Democratic priorities," he said.
Rep. Michelle Lujan Grisham (D-N.M.), who chairs the Hispanic Caucus, said withholding votes for spending legislation "is definitely on the table," but she added that Democrats will continue to try to build consensus with moderate Republicans on an immigration plan.
Immediately threatening to vote against spending legislation "doesn't open the door for moderate Republicans" who support immigration reform bills, she told reporters.
Pelosi also cautioned it was too early for such threats, and she noted that Republicans, who control both chambers of Congress, could pass a spending bill on their own if necessary.
"I fully intend to use every possibility, but we're not at that place yet," she added. "Right now, we're trying to get Republicans to vote on what we believe."
Democrats were not the only ones trying to figure out their next move. GOP leaders also were deliberating over how to proceed, fretting the White House's hard-line position would complicate talks and reduce the chances for a relatively quick deal — which Trump has said he wants.
"It's safe to say that many Hill Republicans do not think the WH immigration principles were helpful," one senior House GOP aide said in an email. "The principles are clearly non-starters with Democrats and divide Republicans."
As the New York Times editorializes, On Immigration, Mr. Trump Shows Congress It's on Its Own:
It took Senator Bob Corker of Tennessee to admit what most Republicans know is their biggest obstacle to getting anything done — a president they can't depend on or trust.
* * *
Mr. Corker and his colleagues are quickly learning that if the middle of the road is going to be their route, then Congress will have to drive.
On Sunday, the White House announced a list of hard-line demands that it said Congress must include in any legislation to help the roughly 800,000 undocumented immigrants, known as Dreamers, who were brought to this country as children.
It was the latest flip-flop for the administration and a demoralizing turn for what seemed like a possible bipartisan deal on an emotional issue.
* * *
President Trump and Democratic leaders in Congress appeared to have struck a deal to protect the Dreamers in exchange for enhanced border security, but no wall, which would "come later," Mr. Trump said.
The president seemed to have seen the light. He's called the Dreamers "good, educated and accomplished young people." And he said, "I have a love for these people, and hopefully now Congress will be able to help them and do it properly."
Then came the litany of measures he now wants in exchange for a deal — no doubt pushed by Stephen Miller, a nakedly ambitious, anti-immigrant hard-liner who has parlayed his gig as a warm-up act at Trump campaign rallies into a top policy job. These demands include tougher border policies for children fleeing violence in Central America; reimposition of a "merit based" immigration system that limits admittance of green-card holders' relatives; funding for as many as 10,000 more immigration agents; and, of course, the "complete construction" of that long-promised yet never-quite-paid-for wall along the southern border.
That's not what Mr. Trump agreed to during his late-summer dalliance with those Democrats, Chuck Schumer and Nancy Pelosi, the minority leaders in the Senate and the House. "The administration can't be serious about compromise" with a list like this, Mr. Schumer and Ms. Pelosi said in a written statement.
A White House official said in a call with reporters Sunday night that the list of draconian proposals would be a fulfillment of Mr. Trump's campaign promises, implying that this is what Americans want. Let's stop right there. The president, in case he forgot, lost the popular vote by millions, and his approval ratings are sputtering in the mid- to high-30s. In contrast, Americans overwhelmingly support letting Dreamers stay in this country.
AP-NORC Poll: Most don't want young immigrants deported:
So what can Republicans do? Start by working across the aisle on sensible immigration legislation. That would begin with what got this entire discussion started: a deal to protect the Dreamers. It would not include Mr. Trump's border wall, a nonstarter for Democrats that Republican budget hawks also oppose.
No matter what the final package looks like, it needs to get to the floor and be put to a vote — which depends on the House speaker, Paul Ryan, and the Senate majority leader, Mitch McConnell, embracing higher principles than fear of their Tea Party rebels. This doesn't need to be so hard: There's a sympathetic population that needs immediate help, there are blueprints on the table that might find bipartisan consensus, and there is a ticking clock.
Do the right thing? Not going to happen. The odds of a government shutdown in early December over Trump's xenophobic anti-immigrant policies and idiotic border wall just increased dramatically.