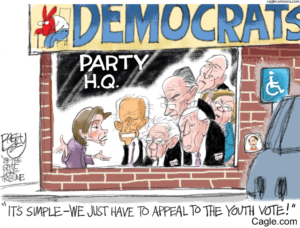 The top three Democratic leaders in the House are in their late 70s. Minority leader Nancy Pelosi is 77 years old, Democratic whip Steny Hoyer is 78 and assistant minority leader Jim Clyburn is 77 years old. The Democratic Party has an age problem. On the Senate side, Senate Minority Leader Chuck Schumer is 66.
The current Democratic top contenders for 2020 are Vice President Joe Biden, 75, Bernie Sanders, 76, and Elizabeth Warren, 69.
Miles Mogulescu snarkily, but accurately noted at the Huffington Post, Democratic Leadership Looks Like Old Soviet Politburo:
What does a professional sports team do after 6 straight losing seasons? Among other things, it usually fires the coach and looks for new blood, new leadership, and new strategies.
But not if you're the minority House and Senate democratic leadership… Or the Politburo of the Soviet Communist Party shortly before the collapse of communism.
Instead, the failed, and increasingly geriatric leadership holds onto its fading power with increasing tenacity.
I'm sorry, but NO. It's time to thank them for their years of dedicated service to their country and give them their gold watch and retirement party. To paraphrase President John F. Kennedy, it is "time to pass the torch to a new generation" of Democratic leadership in the Congress.
Once again, the GOP campaign this fall will focus on demonizing Nancy Pelosi, exposing the GOP as a sexist and misogynist political party hostile to women, Pelosi is the star of GOP attack ads, worrying Democrats upbeat about midterms, but then we already knew this. It is an old and tired attack, but it works with the simpletons in the GOP base.
If Nancy Pelosi wants Democrats to take back the House and to keep the Senate closely divided, the single most effective move she can make is to neutralize the GOP's tired old sexist and misogynist demonizing attacks on her by announcing that she will not seek the speakership in January if Democrats take back the House.
The next most effective move she can make is to not anoint her successor, but to leave the leadership race wide open and to simply state that it is "time to pass the torch to a new generation" of Democratic leadership in the Congress. Don't give the GOP a new target to demonize.
Take away the GOP's favorite toy. Neutralize their campaign.
If the GOP doesn't have Nancy Pelosi to demonize anymore, what do they have? Nothing.
The Democratic voter base, which is much younger and more diverse than its aging white leadership will  then be energized to turn out to vote in even greater numbers this November for younger, more diverse leadership.
Dear Nancy Pelosi: For the good of your party, and for the love of your country, you know in your heart this is the right thing to do. Your sacrifice is your ultimate act of patriotism. Make us proud. Please do the right thing. On to victory!
---
Support volunteer citizen journalism at the Blog for Arizona with a donation today. Your PayPal contribution keeps the Blog online and sustains a free press in Arizona.
---