If you were hoping to see the U.S. job market end 2017 on an encouraging note you were disappointed today. And no, it was not due to extreme winter weather (that is going to be noted in January's jobs report).
Steve Benen has the December jobs report. Job growth slows to a six-year low in Trump's first year:
The Bureau of Labor Statistics reported today that the economy added 148,000 jobs in December, which is down a fair amount from the previous two months, and falls short of expectations. That said, the unemployment rate held steady at 4.1%, which is very low.
The revisions from the previous two months were mixed, with October's totals revised down and November's totals revised up. Combined, they pointed to a net loss of 9,000 jobs, which adds to the discouraging nature of today's report.
Providing some additional context, now that we have data for all of the previous calendar year, we can note that the U.S. added 1.84 million jobs in 2011, 2.19 million jobs in 2012, 2.33 million in 2013, 3.11 million in 2014, 2.74 million in 2015, 2.24 million in 2016, and 2.05 million in 2017.
Or put another way, while Donald Trump's first year as president has been pretty good overall for job creation, Americans nevertheless saw the slowest job growth in six years. (Note, the Bureau of Labor Statistics will revise the 2017 data once more, making the available figures preliminary.)
Here's another chart, this one showing monthly job losses/gains in just the private sector since the start of the Great Recession.
Axios.com reports today, Americans owe more, save less, and are poorer than in decades:
A greater share of Americans have more debt than money in the bank than at any point since 1962, according to Deutsche Bank economist Torsten Slok. And, in a note to clients yesterday, Slok said that, despite record stock market wealth and home price levels just shy of housing-bubble highs, Americans are poorer than at any point in nearly a quarter century.
Why it matters: The data suggest that the third-longest economic expansion in history, and the lowest jobless rate in 17 years, has benefitted an exceedingly thin slice of the American public.
So how's that "trickle up" to the one percent economy working out for you? And our Tea-Publican Congress just exacerbated the wealth inequality problem even more with its "tax cuts for corporations and plutocrats" bill.
The Washington Post reported back in October, Trump is proud of the booming stock market. He may not realize how few Americans that really helps.
A little less than half of the country — 46 percent — owns stock, either through retirement accounts and other funds or directly. And most of those people are white.
The Washington Post's Tracy Jan wrote about this earlier this month in a piece about the wealth gap between white and minority families:
White families are twice as likely as black and Hispanic families to own stocks or mutual funds. Sixty percent of white families invest in the stock market, while less than one-third of black and Hispanic families have any exposure to the stock market, according to Fed data.

Among American households invested in the market, the median value of white-owned investments rose to $50,000 in 2016, indicating a recovery from the Great Recession. The median value of black-owned and Hispanic-owned investments also rose but remained below 2007 values, at about $12,000. All numbers have been adjusted for inflation.
Even among those who own stocks, regardless of race, there's great inequality preventing most Americans from experiencing the prosperity Trump described.
When it comes to  the value of those stocks, the top 10 percent of Americans hold four times as much as the bottom 90 percent. The top 1 percent alone holds twice as much value as the bottom 90 percent. That's where most of the benefit to an increase in stock values goes.
And what about the irrational exuberance of the investor class aka the predator class who have inflated stock prices to overvalued levels? This cannot continue forever, as the laws of a market economy hold that there will be a correction. After Dow 25,000, the Party Has to End. But When?
A measure of market performance, the MSCI All Country World Index, gained 22.7 percent last year, closing at a record high. And so far this year, stocks have continued their advance. On Thursday, the Dow broke the 25,000 barrier for the first time, and technology stocks are soaring to new highs. Cryptocurrencies like Bitcoin are adding a whiff of bubblelike mania.
And that may not be such good news for investors.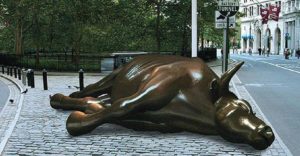 "If there are any certainties, one will be that this party will eventually come to an end," Mr. Stack said. "A correction would be healthy. The longer we go without one, the greater the risk this will end badly. A lot of people will get hurt. And when it ends, it will end badly, and with high volatility."
That doesn't mean the end is imminent, according to Mr. Stack and other investment managers and market experts I interviewed this week.
"Everybody thinks the market is overvalued," said Jerome L. Dodson, the founder and president of Parnassus Investments. "So do I. I'm expecting a correction, but I was expecting one after Trump was elected. I was wrong. The market can keep going up even when it's overvalued."
* * *
"Most seasoned investors realize this market is overvalued and overbought and it's been a long time since a normal correction," Mr. Stack said. "They're nervous."
* * *
Mr. Stack said that in examining bull markets over the past 50 years, he had found that both the technology and energy sectors outperformed in the late stages of a bull market. He said investors "should have some portion of their portfolio in the materials sector, notably energy, which had been so out of favor" until mid-2017.
* * *
Like Mr. Stack, Mr. Courvalin noted that commodities and energy typically do well in the late stages of an economic expansion. Non-energy commodities may do even better, since they have no equivalent to shale and mining companies can't increase production quickly in response to rising prices. In the mining sector, "margins are improving, orders are picking up, and we're seeing new investment," he said.
It may seem a paradox that investors' worries about the coming year are mounting even as the economic outlook seems so bright. "Investors are struggling with this market because the skies are blue," Mr. Stack said. "It's rare when you have an investing climate like this one, where it's all but impossible to find something to worry about, either domestically or globally."
But that's true in the late stages of most bull markets, he said, meaning investors need to be alert. And while virtually no one can foresee the next catalyst for a correction or bear market, even a hint that the Federal Reserve might raise interest rates more than expected would most likely set off seismic tremors.
"Most bull markets die by the sword of the Fed," Mr. Stack said.
A market correction is coming, it's only a question of when and how steep it is going to be.
I'm sure Donald Trump and Tea-Publicans will find some insane way to blame it on the black guy, Barack Obama.