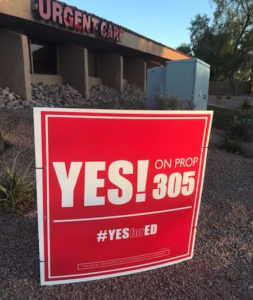 From the Save Our Schools Arizona PAC:
Since we alerted you to the deceptive "Yes for Ed" road signs going up all across Maricopa County, donations have been flooding in! Thanks to your generosity, we've been able to order another shipment of #NoProp305 yard signs.
Starting Saturday, stop by a yard sign depot to grab yours. Or, if you're in Maricopa County, swing by our office between 10 and 2 on Saturday to pick up signs, grab some pizza, and make some calls at our phonebank to help us reach EVEN MORE voters.
Our opposition's dirty tricks have also attracted some media attention. Click to watch our very own Dawn Penich-Thacker explain how these signs "take people who support teachers and schools and trick them into voting against the things they believe in":

Oh, one more thing — we've learned our opposition is now spreading their deceptive signs all over Pima County too. A suggestion: we think every shady, misleading red sign out there should get paired with a yellow buddy (or three).
---
Support volunteer citizen journalism at the Blog for Arizona with a donation today. Your secure contribution keeps the Blog online and sustains a free press in Arizona.
---