Deedra Abboud, a Phoenix attorney and community activist, on Monday announced that she will seek the 2018 Democratic nomination for U.S. Senate. The Arizona Republic reports, Democrat Deedra Abboud announces U.S. Senate bid: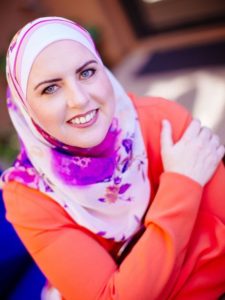 Abboud, 45, formally launched her candidacy at a brief event with supporters at the Japanese Friendship Garden in downtown Phoenix.
"The journey that I have decided to take on today is not just for the people who look like me or sound like me, but for all Arizonans," Abboud told onlookers. "Because we cannot continue to go backwards on this path that weakens our children's education, strips health care from people who need it the most, locking up and breaking up families, and, once again, empowering big banks that caused the worst housing crisis in Arizona.
"I am with the growing majority of Arizonans who know that anger and resistance can only take us so far," she added. "We need to unite to move our families forward. We need to unite to move Arizona forward. We need to unite to move America forward."
* * *
Abboud has been registered to vote as an independent, but a campaign spokesman said she re-registered as a Democrat Monday in advance of filing official candidacy papers.
"This isn't about left and right. It's about today and a tomorrow that unites us, gets the work done," Abboud said in her announcement. "I'm ready to have the tough and candid conversations that we need in Arizona so that we can progress. I'm ready to hold our president and his administration accountable and to challenge elected officials who are more interested in keeping their job than in doing their job."
Asked about Trump's decision Thursday to launch a cruise missile attack on Syria in response to the suspected use of chemical weapons by Bashar Assad's regime, Abboud zeroed in on Trump's attempts to temporarily block refugees from Syria and certain other countries.
"We have a president who wants to ban refugees," Abboud said. "Ban refugees who are experiencing atrocities that, thank God, America has really never experienced. And we never want to experience those. But at the same time, we have a president that is singularly partnershiping with Russia to bomb the very people who are already dying on the ground and we are denying refuge to."
An attorney and an advocate
Abboud is the founder of an organization called the Global Institute of Solution Oriented Leadership and the recipient of the Martin Luther King Award in Tempe and Phoenix, according to the short bio that accompanied the news advisory about her Senate candidacy. As a lawyer, she focuses on immigration and estate planning.
In 2003, Abboud helped open the first Arizona office of the Council on American-Islamic Relations. She was the group's local executive director at the time.
"When 9/11 shook our country to the core, I became an advocate," Abboud said Monday. "Not just because Muslims were facing anger and fearmongering, but because I am an American. Because I have always believed in our compassion and our strength in our country that can come together."
As an advocate, Abboud said she witnessed other problems such as employment discrimination, schools failing to stop bullying and "elected leaders determined to undermine our most vulnerable communities."
"In the face of such challenges, I spent more than 15 years fighting alongside our diverse communities to make Arizona accommodating and loving to all people," she said.
Abboud said she also is "ready to fight for equal pay for women."
"Because I am a woman and I have experienced getting paid less than my male colleagues," she said. "I'm ready to make sure that working families have paid sick leave so they can take care of themselves and those they love."
If Abboud were to win, she would become the first U.S. Senator who is a practicing Muslim.
The Phoenix New Times published a profile of Deedra Abboud back in March 2006. The Chosen One.