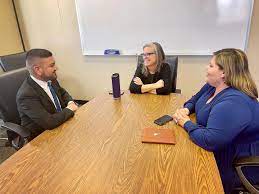 Raquel Teran, the new Democratic Senate Leader, and current State Party Chair sees opportunity with Katie Hobbs presiding as Arizona's Governor on the ninth floor of the State Capitol.
An opportunity to finally get more of the Legislative Democrats' agenda, called the Blueprint for a Better Arizona, passed and sent to the Governor's office for her signature.
With an agenda focused on strong schools, rebuilding the state economy to benefit everyone, addressing the housing and water crisis, promoting equity, ensuring reproductive freedom, maintaining public safety, and protecting Democracy, Senator Teran feels that Democrats, with Katie Hobbs at the helm, finally gives her members "a seat at the table to get things done" to move the state forward for all Grand Canyon state residents and lift everyone up.
It's simple: "Democrats are committed to the future – a future that ensures a safe, healthy, and stable reality for every Arizonan. We're ready to work!" Senate Democratic Leader @RaquelTeran pic.twitter.com/d6YMxY3rhu

— Arizona Senate Democrats (@AZSenateDems) January 9, 2023
Senator Teran graciously took the time to answer questions about her hopes for the legislative session. The questions and her responses are below.
1) To what extent is the atmosphere among the Democratic Senate members more opportunistic knowing there will be a Democratic Governor at the helm in January? Please explain.  
"Our Democratic Caucus is overjoyed that Arizonans elected a Democratic Governor. We know that we have a partner now who can protect Arizonans from the very worst of the extreme Republican bills we see go through the state legislature."
2) To what extent will it be a different legislative strategy for the caucus working with a Democratic Governor in the next session? Please explain. 
"Considering that our state legislature is still controlled by a Republican majority, having a Democratic governor gives us a true seat at the table. For so long, nearly half of the state's representation was kept out of the governor process – thankfully, that time has passed."
3) To what extent will it be easier to work out legislative compromises on major issues with the incoming Republican caucus now that there will be a Democratic Governor? Please explain.  
"The conversation of compromises or bipartisanship falls squarely on the Republican majority's shoulders. We are and have always been willing to meet with them – it is time they extend that same invitation."
4) With regards to the Aggregate Expenditure Limit (AEL,) will Democrats try to push legislation to suspend that in the first weeks of the legislative session? Please explain. 
"It has been and continues to be our position that the AEL must be fixed immediately."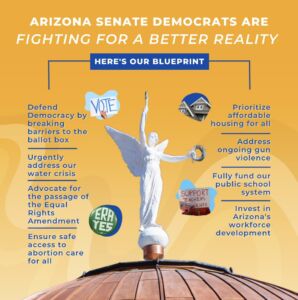 5) With regards to the 2023/24 state budget, what will be at least three high-priority items the Democratic Senate Caucus will be pursuing this new legislative session? Will it include expanded KidsCare, full-day kindergarten, universal pre-k, reducing ESA's, lowering college tuition, and further addressing the water crisis and sustainability? Please explain.  
" Our entire "Blueprint for a Better Arizona" covers four major themes: our economy, our education system, our environment, and equal opportunity for all. We want to ensure every Arizonan has access to water for the next 100 years, fully funded public education for their children to attend, and a safe roof over their heads."
6) Is there anything not covered in the first five questions that you would like the readers to know about the Democratic Senate Caucus and the new Legislative Session? Please explain.  
"We know this session will not be easy, but we are hopeful that we can uplift everyday Arizonans and offer policy solutions to address the difficult reality so many are facing today."
With the release of Governor Hobbs's budget, Senator Teran posted the below statement on social media:
For Immediate Release: Arizona State Senate Democratic Leader Raquel Terán Responds to Governor Hobbs' Budget Proposal pic.twitter.com/fbedy3nfss

— Arizona Senate Democrats (@AZSenateDems) January 14, 2023