The Democratic-controlled House in the previous Congress passed H.R.1, the For The People Act of 2019.
Quick summary:
This bill addresses voter access, election integrity, election security, political spending, and ethics for the three branches of government.
Specifically, the bill expands voter registration and voting access and limits removing voters from voter rolls.
The bill provides for states to establish independent, nonpartisan redistricting commissions.
The bill also sets forth provisions related to election security, including sharing intelligence information with state election officials, protecting the security of the voter rolls, supporting states in securing their election systems, developing a national strategy to protect the security and integrity of U.S. democratic institutions, establishing in the legislative branch the National Commission to Protect United States Democratic Institutions, and other provisions to improve the cybersecurity of election systems.
This bill addresses campaign spending, including by expanding the ban on foreign nationals contributing to or spending on elections; expanding disclosure rules pertaining to organizations spending money during elections, campaign advertisements, and online platforms; and revising disclaimer requirements for political advertising.
This bill establishes an alternative campaign funding system for certain federal offices. The system involves federal matching of small contributions for qualified candidates.
This bill sets forth provisions related to ethics in all three branches of government. Specifically, the bill requires a code of ethics for federal judges and justices, prohibits Members of the House from serving on the board of a for-profit entity, expands enforcement of regulations governing foreign agents, and establishes additional conflict-of-interest and ethics provisions for federal employees and the White House.
The bill also requires candidates for President and Vice President to submit 10 years of tax returns.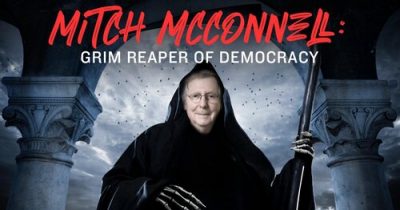 You guessed it — the bill died in "The Grim Reaper" of the Senate's legislative graveyard where no action was taken.
When Republicans say they are concerned about election integrity, they are lying. What they mean is their long-running "election fraud" fraud in order to enact voter suppression measures.
The For The People Act of 2021 is again H.R.1. The Democratic-controlled House can quickly pass this bill again.
The good news is that, as of today, Democrats now control the Senate as well. The Huffington Post reports, Senate Democrats Announce First Order Of Business For New Majority: Fixing Democracy:
After Democrats won control of the House of Representatives in the 2018 midterm elections, they introduced and passed the For the People Act as H.R. 1 — the first bill of their majority. It aimed to restore voting rights, reform campaign finance laws and enhance ethics enforcement. Senate Democrats have now done the same after reclaiming the chamber majority with the introduction of S. 1, their version of the For the People Act of 2021.
These nearly identical bills contain a suite of policies to protect, enhance and expand democracy, according to supporters. These policies would institute national standards for expanded voting rights, create a system for publicly financed congressional elections, ban undisclosed "dark money" and forbid partisan gerrymandering.
But there's more urgency now. American democracy is imperiled like at no other time in modern history; the country is coming off an election in which President Donald Trump refused to accept his loss. With the help of national and local Republicans, he launched legal efforts to overturn or nullify the voting results. These lies culminated in the violent sacking of the U.S. Capitol on Jan. 6 that left five people dead.
"We have all been reminded in the starkest terms that government of the people, by the people, and for the people is not guaranteed," Sen. Jeff Merkley (D-Ore.)," Sen. Jeff Merkley (D-Ore.), the lead Senate sponsor of the For the People Act with Sen. Amy Klobuchar (D-Minn.), said in a statement introducing the bill. "A violent assault on the Capitol is not the only way to attack democracy. Everyone who believes in our Constitutional vision should support reforms that make sure the American people are able to vote and that their government reflects their preferences and works for them."
Democrats prioritized these reforms in 2019 in response to the ever-growing influence of money in politics; greater Republican Party efforts to make voting more difficult, particularly for racial minority groups; and the rising threat of minority rule. These issues remain as well.
Democrats do not intend to waste time. The House bill, introduced by Rep. John Sarbanes (D-Md.) on Jan. 4, could get a floor vote as early as Jan. 28, according to a congressional aide. But it may take longer for the bill to move on the Senate side.
Sen. Mitch McConnell (R-Ky.), the outgoing majority leader, attacked the 2019 bill as "socialist" [McConnell has long supported unlimited anonymous campaign contributions from wealthy plutocrats] as he blocked consideration in the Senate. But with a new majority soon to be in place, the legislation can get full consideration, although Senate Democrats will need to hold hearings first in the relevant committees and then the Rules Committee before advancing the bill to the floor. But it may need to wait until after Congress passes another round of COVID-19 relief.
The bill would need to receive 60 votes to prevent it from being blocked by a Republican filibuster on the Senate floor. That is unless Democrats decide to end the use of the filibuster entirely or on a case-by-case basis. Though such considerations have been discussed, there remains no consensus on how Democrats will approach the filibuster in the coming months.
There is a lot at stake in whether Democrats can pass the For the People Act quickly. State-level Republicans are already gearing up to pass a raft of new voting restrictions in states including Georgia and Texas, [and Arizona] inspired by Trump's lies about widespread voter fraud in the November election. The states will also begin a new round of redistricting this year, which could cement Republican Party gerrymanders in dozens of states for another 10 years.
Here in Arizona, GOP lawmaker introduces bill to eliminate early voting list in Arizona following Democrats' wins:
Arizona legislators proposed on Tuesday to abolish the permanent early voting list (PEVL) — which 3.2 million of the state's voters use to get their ballots in the mail for each election — and to require anyone voting by mail get their ballot notarized.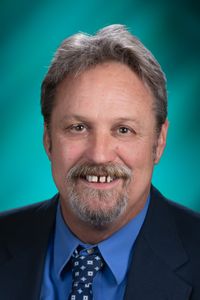 Rep. Kevin Payne, a Republican from Peoria sponsoring both bills, said he wants changes to state election laws this year and argued the latter proposal in particular is meant to improve election security. Bullshit!
Critics countered the legislation is meant to deter suppress voter turnout after high turnout last year put Democrats over the top to win the presidential race in Arizona as well as a second U.S. Senate seat.
The bills are just the latest that lawmakers have introduced to change how Arizonans vote and how their votes are counted as some Republican leaders continue to dispute the state's election results and as a changing Southwest upends the state's politics.
The permanent early voting list has proved increasingly popular since its creation with bipartisan support in 2007, after lobbying by county recorders who were deluged with requests from voters to receive ballots in the mail before each election.
Now, voters can sign up for the permanent early voting list once and receive ballots in the mail for each election they are eligible to participate in without sending a new request each time.
More than two-thirds — 68% to be exact —of Arizona voters were on the permanent early voting list, or PEVL, as of Jan. 5, according to the Secretary of State's Office.
But Payne said he does not actually intend to scrap the permanent early voting list, despite sponsoring legislation to do so.
"It can't pass and I don't want to waste my time with it," he said hours after filing House Bill 2370, which is co-sponsored by Rep. Walt Blackman, R-Snowflake.
Instead, Payne said he intends to change the entire text later with what is known as a "striker" or "strike everything" amendment, a procedural move that allows new legislation to get introduced after statutory deadlines.
If we are going to outlaw something, the "strike everything" amendment should be outlawed. If a bill does not go through regular order in committee hearings with public input and a vote, that is where a bill should die permanently. The "strike everything" amendment is an abuse of process, it allows legislators to bypass regular order and committee hearings and public input. It leads to those eleventh hour abuses that occur during the legislative rush to sine die when legislators vote on bills not heard in committee and without any public input. It is frequently a power grab.
Note: What exactly does Rep. Payne intend to substitute into his shell bill? The reporter does not ask, and he does not say.
Payne said he is serious, though, about legislation that would require voters to sign the envelope containing their ballots in front of a notary public, who would have to notarize it as well.
Voters are already required to sign the envelope and election officials match the signatures against voter registration records.
Payne said it would be even better to require a notary witness the signing.
"People don't feel confident about the signature verification," he said.
What people? Trump/QAnon cult members who believe the long-running GOP "voter fraud" fraud. There is no evidence to support their claims of voter fraud. Republicans have failed to present any credible evidence in dozens of lawsuits. The notary public requirement is an unnecessary step and expense used by some red states to create impediments to voting, i.e., voter suppression.
Or, under House Bill 2369, a voter who received a ballot by mail could still deliver it to a polling place and drop it there, after showing poll workers proper identification.
This is extending voter I.D., a classic GOP voter suppression tactic, well beyond current Arizona law. Why should I have to show I.D. to simply drop off my mail-in ballot? Especially if I am on the PEVL list? This guy is just a giant Payne in the ass.
But getting a notary may be much easier for some voters than others, particularly voters who have limited mobility or live in very rural areas.
And the bill would scrap a provision of current law that allows family members and household members to deliver ballots to polling places on behalf of voters.
This is the so-called "ballot harvesting" fraud that Republicans have also failed to present any credible evidence to support.
Rep. Athena Salman, a Democrat from Tempe who sits on the House Government and Elections Committee, argued both bills would only make it harder to vote.
"They're trying to stop eligible voters from voting because they don't like the decisions voters are making," she said.
Salman said she expects to see more legislation this year that would make it harder to vote but raised concerns about voters' ability to comment on this legislation at a time when access to the Capitol is restricted due to security and health precautions. House committee chairs are granted broad discretion in deciding if and how to accommodate members of the public who want to participate remotely. [You can get an activated account on the Request to Speak system.]
"It's a power grab," she said.
Voting by mail has proven popular in Arizona. About 993,000 Maricopa County voters returned ballots by mail in the general election last year and about 714,000 voted using drop boxes.
The Huffington Post Continues:
The first section of the bill would institute national standards for voting in every state to expand access to the ballot. These include mandating automatic voter registration, same-day voter registration, at least 15 days of early in-person voting, "no excuse" mail-in voting with postage prepaid, online voter registration and the restoration of voting rights to felons upon release from custody.
The bill would also block states from making it harder to vote by banning certain voter purge practices while imposing new penalties for deceptive electioneering. And it would require every state election system to maintain a paper ballot trail, among many other election security provisions. [Last year Arizona Republicans sought to purge inactive voters from the PEVL list.]
This section was largely written by the late Rep. John Lewis (D-Ga.), a civil rights hero. It was Lewis who first introduced these reforms as the Voter Empowerment Act in each Congress beginning in 2012 until his death in 2020. He incorporated them into the For the People Act in 2019 as a co-author along with the bill's lead sponsor Sarbanes and many other Democratic lawmakers.
In addition to the voting rights reforms first proposed by Lewis, the bill also includes a requirement that every state appoint an independent and nonpartisan redistricting board to draw new congressional districts after each decennial census. [Arizona already has an Independent Redistricting Commission.]
The For the People Act also provides a list of congressional findings in support of the passage of the John Lewis Voting Rights Advancement Act of 2021, which will be introduced in the House separately. [The John Lewis Voting Rights Advancement Act would restore the original 1965 Voting Rights Act that was gutted by the U.S. Supreme Court's Shelby County decision in 2013. H.R. 4 passed the Democratic-controlled House in the previous Congress, and Mitch McConnell made certain that it was not heard in the Senate.]
The section of the bill contains a litany of campaign finance reforms built on the work of Sarbanes and others over the past decade.
It would create the first public financing for congressional elections in which candidates would receive $6 for every $1 in funds raised from donations up to $200. Participants in this voluntary public financing system would also be prevented from raising money from large donors. The bill creates a similar small-donor matching system for presidential elections.
Previously introduced election transparency proposals are also in the bill, including the Disclose Act, which would ban undisclosed dark money spent by political nonprofits on elections, and the Honest Ads Act, which mandates the disclosure of the buyers of digital and social media advertising.
The Federal Election Commission would be reconfigured from six members to five to prevent deadlocks on important issues. Coordination between super PACs and candidates would be defined in the legislation and banned. Presidential inauguration committees would be required to disclose expenditures and be banned from spending money on anything not related to the actual inauguration.
Beyond voting rights and campaign finance reforms, the bill expands ethics and lobbying laws to take on both long-standing abuses and those made evident by the pervasive corruption of the Trump administration.
Every presidential candidate would be required to disclose 10 years' worth of tax returns under the bill. The president and the vice president would be required to conduct themselves as though the executive branch's conflict-of-interest regulations apply to them. And neither the president nor the vice president would be allowed to hold a contract with the U.S. government, as Trump did for his hotel in Washington, D.C.
The Office of Government Ethics would get new enforcement powers, and ethics waivers issued by OGE would have to be publicly disclosed. The bill also closes lobbying disclosure loopholes by requiring all people engaged in lobbying to register whether they contact government officials or not.
And for the first time, the Supreme Court would be required to institute a code of ethics to govern conflicts of interest and recusals.
You have two assignments: (1) kill the voter suppression bills in the Arizona legislature from the Trump/QAnon cult members peddling "voter fraud" fraud, and (2) contact your member of Congress and Senators and demand that they support passage of the For The People Act of 2021, H.R.1 and the John Lewis Voting Rights Advancement Act of 2021 to restore the Voting Rights Act of 1965.