The first planks of the Democratic Party's "A Better Deal" platform, released last year, focused on the party's economic agenda.
Now with daily revelations about scandals of pay-to-play politics swirling around President Trump and his current and former aides, Democrats introduced new anti-corruption proposals last week billed as "A Better Deal for Our Democracy." Democrats' newest midterm pitch: A crackdown on corruption: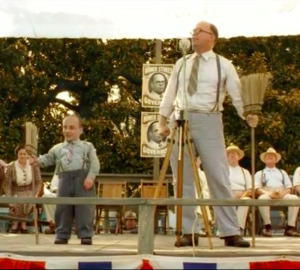 "Instead of delivering on his promise to drain the swamp, President Trump has become the swamp," said House Minority Leader Nancy Pelosi (D-Calif.) during a rollout event on the Capitol steps.
While the new agenda was only sketched out in broad terms [last week], it includes proposals that would eliminate loopholes that allow lobbyists and lawmakers to buy and sell influence without the public's knowledge, allow big donors to influence the political process through unreported donations and to improve elections by eliminating partisan gerrymandering and implementing automatic voter registration.
The message, the Democrats said: Elect us in November to "clean up the chaos and corruption in Washington."
Democrats are going to need to hire the dwarf from O Brother Where Art Thou? who depicted the "little man," with a "broom of reform" with which Homer Stokes promised to "sweep this state clean." A broom is the perfect symbolism for the man who keeps crying "witch hunt!"
One proposal — which would tighten the federal laws governing lobbying disclosures and foreign-agent registration — responds to the apparent sale of influence by Michael Cohen, Trump's former personal lawyer. According to recently disclosed financial records, Cohen earned millions of dollars from companies that wanted to secure access to Trump's inner circle in the early days after his 2016 win.
But Cohen never registered as a lobbyist or otherwise disclosed the payments — possibly because, under federal law, only those who spend more than 20 percent of their time on lobbying on behalf of a client must register as a lobbyist.
Senate Minority Leader Charles E. Schumer (D-N.Y.) said Democrats would "close the Cohen loophole" to ensure any type of paid influence would have to be publicly reported. "Michael Cohen's pay-to-play schemes are a stark reminder of the glaring need to take real action," he said.
Another proposal could rewrite federal statutes that might have allowed lawmakers of both parties to skirt convictions on bribery and pay-to-play allegations — including former Virginia governor Robert F. McDonnell (R), former senator Ted Stevens (R-Alaska) and  Sen. Robert Menendez (D-N.J.). All were charged with fraud violations but then escaped conviction (due to a hung jury, in Menedez's case) or had their convictions overturned after courts found that their actions were not criminal under the current letter of federal law.
The new Democratic focus on corruption as a campaign message marks a return to a formula that helped put Democrats into the House majority in the 2006 midterm elections — after numerous scandals including the Jack Abramoff and Duke Cunningham revelations put pay-to-play politics on the public's political radar in a big way. Polling done after the election showed that the tide of corruption helped swing votes to Democrats, and the party's official now sees signs of similar concerns among voters.
Several of the Democrats who spoke Monday attempted to connect the corruption allegations to a Republican governing agenda that has delivered outsize tax cuts to the wealthiest Americans and dismantled financial and environmental regulations that aimed to protect average taxpayers.
Democrats are also preparing to highlight an apparent atmosphere of rule-bending, if not rule-breaking, in the Trump administration. Several Trump Cabinet members — including Environmental Protection Agency Administrator Scott Pruitt, Interior Secretary Ryan Zinke, Housing and Urban Development Secretary Ben Carson, as well as former Health and Human Services secretary Tom Price and former Veterans Affairs secretary David Shulkin — have been subject to official investigations of questionable spending on travel and other expenses.
Democrats are focused on targeting old-fashioned self-dealing, influence-peddling, and graft. You know, the Trump family business.
The GOP's culture of corruption has long existed in Arizona, and goes on trial this Wednesday. Ex-Arizona regulator charged with bribery heads to trial Wednesday:
About six years ago, an elected Arizona utility regulator who is now accused of accepting bribes had $31,000 funneled to him from a water company owner and tried to get the owner to buy him a $350,000 piece of land, authorities said.
In exchange, then-Corporation Commissioner Gary Pierce voted for a rate increase that benefited the water company and approved a measure that lets the firm's owner use ratepayer money to pay his personal income tax bill, prosecutors said.
Pierce and three other people are scheduled to go on trial Wednesday in an influence-peddling case filed more than two years after Pierce left the commission due to term limits.
Pierce, his wife, Sherry, water company owner George Johnson and lobbyist Jim Norton dispute the allegations and have pleaded not guilty to bribery and other charges.
An indictment said Johnson arranged to have $31,000 in payments funneled to Pierce and his wife through a consulting firm. The money was paid to Sherry Pierce, who worked for the consulting firm, and deposited into a bank account held by her and her husband, prosecutors said.
Prosecutors said the firm was run by an "unindicted coconspirator" who will testify at trial on behalf of the government, but they haven't publicly revealed that person's identity.
Norton's attorney has said in court records that Norton's ex-wife, Kelly Norton, is the unindicted coconspirator.
Jim Norton, who lobbied on Johnson's behalf, is accused of acting as a go-between for Gary Pierce and Johnson and aiding in the real estate transaction. Authorities say money for the purchase of property in Mesa was to be provided by Johnson.
Prosecutors said in court papers that in an above-board business relationship, Jim Norton would have hired Sherry Pierce directly and Gary Pierce would have disclosed his wife's employment.
Instead, prosecutors said the consulting business's sole purpose "was to conceal defendant Johnson's payment to defendant Gary Pierce's bank accounts."
The Arizona Capitol Times points out there is an Array of Arizona politicians, lobbyists connected to bribery case:
The bribery trial of a former regulator, a utility owner and a lobbyist has tentacles that stretch to many others in Arizona's political universe – some more than others.
Take for example Corporation Commissioner Bob Burns, who has been interviewed by federal investigators on the case. He's been described by defense attorneys as a "rogue commissioner" determined to "burn down the house at the Arizona Corporation Commission."
His wife, Gayle Burns, is portrayed in defense motions as a "mother figure" to Kelly Norton, the government's star witness and ex-wife of Jim Norton, a lobbyist who has been indicted.
And then there is former Secretary of State and former Senate President Ken "Birther" Bennett [who is running for governor against Governor Doug Ducey].
Bennett told the Arizona Capitol Times he was asked to be a character witness for Sherry Pierce, who was also indicted alongside her husband, former Corporation Commissioner Gary Pierce.
The Burnses and Bennett are among 82 prospective witnesses who may be called to testify at the trial scheduled to begin May 30.
* * *
The witness list, jury questions and written motions signal a narrative that includes a wealthy businessman who throws his weight around, an extra-marital affair and the subsequent bitter end of a partnership – both in love and allegedly illegal business dealings.
Barry Aarons, who has lobbied at the Legislature for 40 years, said the public is in for a bad impression of Arizona politics no matter the outcome of the trial.
"It reinforces that sense people have that the whole thing is corrupt," said Aarons, who is not on the witness list.
"It's kind of like when you pull a string on a woven garment – it just starts to fall apart."
About damn time!
According to the Arizona Republic:
Since 2007, the Justice Department has kept records of how many public officials are charged or convicted of violating federal corruption laws nationwide.
The most recent report, released in 2017, showed that in 2015 and 2016 — the two years covered by the report when Ducey was in office — 26 people in Arizona were convicted on public corruption charges. The national average is just over 33.
And then there was Rep. Don Shooter (R-Yuma) who was expelled by his House colleagues earlier this year for sexual harassment. Despite being publicly disgraced by a rare expulsion, this shameless individual is actually being drafted to run for his old Senate seat. Don Shooter supporters work to get him on ballot for Senate. "Shooter said he told them, 'If you get the petitions, I guess I'll run… If people want me to work and serve, I'll go.'" "If he qualifies, Shooter would be a candidate for the district's state Senate seat, which he held from 2013 to 2017 before serving in the House."
Sure, why not? Given the shocking quality of candidates that Republicans have been running for office across the nation in recent years, color me not surprised. Donald Trump has given license to the most despicable bottom-feeding sewer dwellers to run for office on the Republican ticket.