The New York Times reports, Devin Nunes to Step Aside From House Russia Investigation: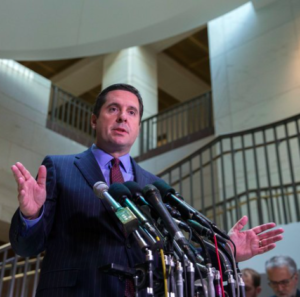 Representative Devin Nunes, chairman of the House Intelligence Committee, announced on Thursday he would step aside from leading his committee's investigation into Russia's efforts to disrupt last year's presidential election.
His announcement was made on the same morning that the House Committee on Ethics said Mr. Nunes was under investigation because of public reports that he "may have made unauthorized disclosures of classified information."
Read the House Ethics Committee's statement on Devin Nunes.
The congressman has been under growing criticism for his handling of the Russian inquiry. Many on Capitol Hill have said he is too eager to do the White House's bidding and cannot be an impartial investigator into questions about any role President Trump's associates may have had in last year's Russian campaign to disrupt the election.
Representative Adam B. Schiff of California, the panel's ranking member Democrat, praised Mr. Nunes's decision, saying it was made in the "best interests of the investigation."
"It will allow us to have a fresh start moving forward," he told reporters.
Mr. Nunes came under fire last month after he announced that he believed Mr. Trump or members of his transition team may have been "incidentally" caught up in foreign surveillance by American spy agencies. He cited "dozens" of intelligence reports he described as classified, which The New York Times later revealed had been provided to him by White House officials.
In a statement Thursday, Nunes said Rep. Mike Conaway will take control of the probe, with "assistance" from fellow Republicans Reps. Trey Gowdy and Tom Rooney.
UPDATE: Nunes tried to claim that the ethics complaint was motivated by ""Several left-wing activist groups have filed accusations against me with the Office of Congressional Ethics."
Tim Mak at The Daily Beast explains:
The Ethics Committee is truly bipartisan, with an equal number of Democrats and Republicans. The 18(a) investigation, as it's known, has subpoena power and may also look into what Nunes told Speaker Paul Ryan and President Donald Trump when he briefed them following his March 22 press conference.
"The committee notes that the mere fact that it is investigating these allegations, and publicly disclosing its review, does not itself indicate that any violation has occurred, or reflect any judgment on behalf of the Committee," it said in a statement.
Rule 18(a) is a procedural rule that the House Ethics Committee invokes to launch an investigation. It indicates that rather than create a subcommittee to look into the matter, it will be a staff-driven inquiry.
While Nunes blamed "leftwing" groups for the investigation, the 18(a) investigation suggests that the House Ethics Committee initiatives its investigation at its own accord, rather than from a referral through an outside complaint.
There is a very low bar for the House Ethics Committee to launch a probe into whether a lawmaker made an unauthorized disclosure of classified information. The way the arcane House rules are written, the House Ethics Committee requires an investigation if there is merely an allegation of classified information being spilled.
"The Committee on Ethics shall investigate any unauthorized disclosure of intelligence or intelligence-related information," reads the rule—a command, rather than a suggestion.
So Nunes is lying about the ethics investigation. Keep digging your hole deeper.