It was August of last year that a whistleblower filed a complaint with the intelligence inspector general about Donald Trump's attempt to extort Ukrainian President Volodymyr Zelensky in July to "do him a favor" of opening a bogus investigation into Joe Biden and his son for the benefit his reelection campaign, if Zelensky ever wanted to see the military aid appropriated by Congress, leading to Trump's impeachment.
A year later there is another whistleblower alleging foreign election interference in the 2020 election that the the Department of Homeland Security is manipulating to conform to Donald Trump's political agenda.
Steve Benen reports, Homeland Security whistleblower: Team Trump distorted intelligence:
The Department of Homeland Security's intelligence assessments have been in the news quite a bit lately, starting last week with reports that top officials within the cabinet agency delayed a bulletin on foreign powers targeting our elections.
Soon after, a separate DHS intelligence bulletin warned about Russian efforts to undermine our elections with false claims, which happened to echo Donald Trump's own talking points.
But yesterday's news was even more extraordinary, as the public learned that a Homeland Security whistleblower is accusing the agency's top leaders of manipulating intelligence reports to conform with the White House's political agenda. NBC News reported yesterday afternoon:
A written complaint by Brian Murphy, who was a top Department of Homeland Security intelligence analyst, accuses top DHS officials of blocking analysis of Russian election interference, watering down intelligence reports about corruption and violence fueling a refugee flow from Central America, and "modify(ing) assessments to ensure they matched up with the public comments by President Trump on the subject of ANTIFA and 'anarchist' groups."
The House Intelligence Committee released the 24-page complaint to the public yesterday, and it's an extraordinary document — not just in the seriousness of the allegations of wrongdoing, but also in the scope and breadth of the accusations against acting DHS Secretary Chad Wolf and acting Director of US Citizenship and Immigration Ken Cuccinelli, both of whom were appointed by the president. (A decision published by the Government Accountability Office, Congress' investigative arm, found both men are serving in their posts illegally.)
On domestic matters, for example, Homeland Security's political appointees are accused of, among other things, downplaying the threat posed by white supremacists, choosing instead to emphasize far-left threats.
And on foreign matters, the whistleblower alleged he was directed to curtail intelligence reports on Russian efforts to interfere in our elections, at least in part because the information made Trump "look bad."
As the Washington Post reported, Murphy's whistleblower complaint alleged "that on two occasions he was told to stand down on reporting about the Russian threat," instructions he believed undermined national security. The article added:
Murphy alleges an ongoing effort by senior officials to obfuscate the threat from Russia in particular. He claimed that in May, Wolf told him to stop producing intelligence assessments on Russia and shift the focus on election interference to China and Iran. He said Wolf told him "that these instructions specifically originated from White House National Security Advisor Robert O'Brien."
The circumstances are extraordinary. A serving Trump administration official is coming forward with detailed allegations about the Department of Homeland Security deliberately distorting intelligence for brazenly political reasons, indifferent to the consequences for the nation.
What's more, this isn't just a situation in which intelligence reports were altered for the president because officials didn't want to endure another Trump tantrum; the materials that were politically altered were prepared for the FBI and other law-enforcement agencies. That, of course, is the point of DHS bulletins: to alert officials to possible domestic threats.
In this instance, if the whistleblower complaint is accurate, it means Trump's Homeland Security guys distorted intelligence so that US law enforcement wouldn't know, among other things, about Russian efforts to interfere in our elections, which in turn makes it more difficult for US law enforcement to protect the country.
The practical consequences of such a move are, alas, obvious: it makes the United States more vulnerable, which appears to be a price the presidential appointees atop the Department of Homeland Security are willing to pay.
Steve Benen follows up with this related matter. Sanctions against Russian agent complicate matters for some in GOP:
At first blush, a report about the Treasury Department sanctioning a Ukrainian parliamentarian may seem like the sort of thing many Americans will skip right past. But the political relevance of a story like this one matters.
The Treasury Department has designated Andriy Derkach, a pro-Russian Ukrainian promoting discredited allegations against Joe Biden, for sanctions related to foreign interference in the U.S. election.
As part of the sanctions, U.S. officials argued that Derkach "has been an active Russian agent for over a decade, maintaining close connections with the Russian Intelligence Services." The Treasury Department added, "Derkach has directly or indirectly engaged in, sponsored, concealed, or otherwise been complicit in foreign interference in an attempt to undermine the upcoming 2020 U.S. presidential election."
What makes this so significant, however, is Derkach's possible interactions with Republican in the United States.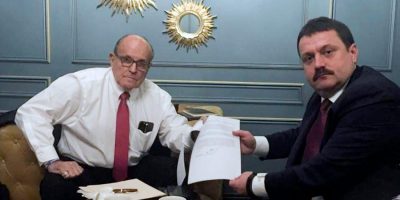 It was late last year, for example, when Donald Trump's personal lawyer, former New York City Mayor Rudy Giuliani (R), launched an effort to dig up dirt against Joe Biden in eastern Europe. Among the most notable figures Giuliani relied on for information was … Andriy Derkach.
Or as Chris Megerian summarized, the American president's personal lawyer "was meeting with someone that U.S. officials describe as a Russian agent while they were both targeting Joe Biden in the upcoming election."
Why isn't Rudy Giuliani also named by the Treasury for sanctions related to foreign interference in the U.S. election? Rudy is openly and flagrantly committing the same crime.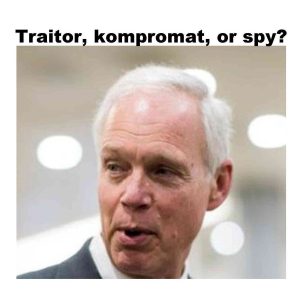 But did the Ukrainian have any other U.S. partners? Derkach also claims to have fed information to Sen. Ron Johnson (R-Wis.), who's helping lead an anti-Biden effort in the Senate ahead of this year's elections.
Asked whether he'd possibly relied on information from pro-Kremlin Ukrainians, the Wisconsin Republican replied that he and his panel "are getting information from a variety of sources." He added, "My question is: What are Democrats afraid of in my investigation?"
As we recently discussed, the question need not be rhetorical: what Democrats appear to be afraid of is Johnson is being used to launder Kremlin-backed intelligence, peddled by a man whom U.S. officials consider an active Russian agent.
A month earlier, at a House Intelligence Committee meeting, Rep. Sean Patrick Maloney (D-N.Y.) pressed Rep. Devin Nunes (R-Calif.) — the panel's top GOP member — whether the Republican had received anti-Biden information from Derkach.
According to a transcript from the closed-door discussion, Nunes didn't want to answer.
You can't swing a dead cat in the Republican Party without hitting an active Russian agent or "useful idiot." They are all traitors to their country.
The Daily Beast reports, Kremlin Hackers Hit 200 Political Targets, Including a Key Biden Campaign Ally:
Intelligence officials have long been warning that Russian agents will inevitably try to interfere in the 2020 campaign—now some appear to have been caught targeting nearly 200 political operations, including a a key communications firm with deep ties to the Biden campaign.
Reuters reported Thursday morning that suspected Russian state-backed hackers have attempted to breach the systems at Washington-based SKDKnickerbocker, a strategy and communications firm working hand-in-glove with Joe Biden's campaign. The attacks, which took place over the past two months, were unsuccessful.
The failed hacking attempt was brought to SKDK's attention by Microsoft, which reportedly gathered information identifying hackers linked to the Kremlin as the most likely suspects. The attacks are said to have mainly focussed on phishing—a common hacking method which lures users into disclosing sensitive passwords.
That was the method used by Russian hackers to access DNC emails, which were subsequently leaked online, ahead of the 2016 presidential election.
A person familiar with SKDK's repelling to the hacking attempts said the agents didn't get very far, telling Reuters: "They are well-defended, so there has been no breach." Another source said it was impossible to confirm if Biden's campaign was the target, or whether the Russians were trying to gather intel on the long list of other SKDK clients.
SKDK has an extremely close relationship with the Democratic Party—the firm's managing director Anita Dunn served as a White House communications director during the Barack Obama presidency and now works for the Biden campaign as a top advisor.
Officially, neither SKDK, Microsoft, or the Biden campaign have commented on the Reuters report.
* * *
U.S. intelligence officials briefed House lawmakers as early as last February that Russian actors were already interfering in the 2020 elections, once more to the benefit of Trump. The briefing was conducted for the House Intelligence Committee by an aide to then acting Director of National Intelligence Joseph Maguire, who was later forced out of his position by Trump.
Earlier this month, intelligence officials publicly confirmed their belief that Russia is using a range of techniques to damage Biden and, last week, the FBI stepped in to warn Facebook that Russia's troll farm was parading as a nonprofit news organization in an attempt to promote criticism of Biden from the left.
More on this from Taegan Goddard, Facebook Network Circulates Voting Misinformation: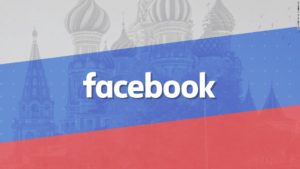 Popular Information: "Facebook has permitted a large network of Facebook pages and groups — with names like Trump's Deplorable Army, To The Death Media, and One Angry Conservative — to spread disinformation about voting in the 2020 election to millions of people."
"The network operates by funneling traffic to Conservative Brief, an obscure right-wing website. Conservative Brief does not engage in any original reporting. Instead, it distorts reports from mainstream sources to sow doubt about the legitimacy of the upcoming election."
"Over the last 90 days, the network of pages that promote Conservative Brief has generated 30.65 million engagements… That's more engagement than the main New York Times Facebook page generated over the same period of time (26.48 million)."
Russia has also sought to "amplify" concerns over the integrity of U.S. elections by promoting allegations that mail-in voting will lead to widespread fraud, according to a DHS Russia intelligence bulletin (Scribd) obtained by ABC News, again echoing a frequent and unfounded complaint raised by President Donald Trump.
The Department of Homeland Security has also discovered a Russian plot spreading disinformation about Biden's mental health—a reoccurring theme of Trump's attacks on his rival.
Biden said last Friday that the Trump administration is wrong about China being the biggest threat to U.S. elections, saying: "There are a lot of countries around the world I think would be happy to see our elections destabilized. But the one who's working the hardest most consistently and never has let up is Russia."
Later on Thursday, Microsoft announced that it had observed Russian hackers target at least 200 organizations, including Democratic and Republican political consultants, political parties at the state and national level, American think tanks, and European political parties over the past "several months." The company said that its software blocked "most" of the attempted hacks and that it has notified all of those targeted or breached.
Hacking groups linked to the Chinese government attempt to break into networks associated with the Biden campaign, prominent international relations pundits, think tanks, and "at least one prominent individual formerly associated with the Trump Administration," Microsoft added.
An Iranian hacking group also tried and failed to break into Trump campaign-related accounts in May and June, according to Microsoft.
The question reporters need to answer is whether there is a "stand down" order from the White House to allow Russian interference in the 2020 election to benefit Donald Trump to go unimpeded and unreported by the U.S. Intelligence Community.