Stephem Lemons at the Phoenix New Times writes that "Cathi's Clown" Doug Ducey comes out of the GOP Clown Car Primary for governor as a deeply flawed candidate with lots of baggage. Republicans Offer Up a Baggage-Laden Doug Ducey for Governor (shortened caption):
In the GOP primary for governor, former Mesa Mayor Scott Smith proved that the best man often does not prevail.
He trailed the winner, former ice cream peddler Doug Ducey, by a whopping 15 points.
Two pollsters — one Democratic-­leaning, one Republican­-leaning — show the general election contest for governor tied between Ducey and former Arizona Board of Regents chair Fred DuVal.
Which is why the Republican Governor's Association moved in quickly after primary day with a massive TV ad buy targeting DuVal. Define your enemy before he can define himself, natch.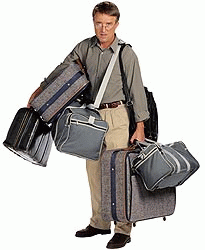 Ducey comes laden with massive baggage, from his record of pitch­-and­-switch vulture capitalism as CEO of Cold Stone Creamery to the employment of accused child molester and ex­-minuteman Chris Simcox at his Scottsdale company iMemories, which transfers analog home movies to a digital format.
Former GoDaddy exec Christine Jones, who spent more than $5 million on her vanity bid for Ninth Floor of the Capitol only to place third, has warned voters of an "October surprise" with a Ducey candidacy, and there are rumors about this swirling, which if proved true, will be catastrophic for state Republicans.
Do tell!
Normally, I would never underestimate the Arizona Dems' near­-inherent ability to fail. But Ducey is a deeply flawed candidate who scored a mere 37 percent plurality in the six-­way GOP primary.
To win, DuVal and those who support him must incessantly attack and counter­-attack.
For example, tie the Center for Arizona Policy's bigoted, anti-­gay Dr. Evil, better known as Cathi Herrod, around Ducey's neck, since she is part of his kitchen cabinet.
In other words, paint Ducey as a disaster-in­-the-­making for Arizona.
Shouldn't be too hard.
(I'm sure Mr. Lemons knows that we are already doing this . . . h/t to Phoenix New Times for the graphic.)
Dicey Ducey's primary opponents hit him hard on his alleged business experience: selling the American dream to wannabe entrepreneurs, getting his franchise fees up front, and then watching these businesses fail and default on their government-backed SBA loans. That's pretty much the modus operandi of a Flimflam Man.
The Arizona Democratic Party kept track of the accusations in the GOP Clown Car Primary for Governor, natch, and has some questions for Dicey Ducey that he has yet to satisfactorily answer.
3 Questions Doug Ducey Refuses To Answer About His Dishonest Practices While At Cold Stone Creamery
1) Why did Ducey falsely deny the dispute that led to a massive reduction in the sale price of Cold Stone Creamery, and is that why Kahala ended their relationship with him?
Kahala bought Cold Stone from Ducey and his partner in May 2007, but Ducey, his partner and Kahala had to go to arbitration to resolve a conflict that Ducey refuses to comment on. Four months later, according to the East Valley Tribune and Nation's Restaurant News, Kahala's Board of Directors ousted Ducey and refused to elaborate on their reason for severing ties. And in a recent Channel 3 gubernatorial debate, when pressed by Christine Jones and Scott Smith about the sale of Cold Stone Creamery to Kahala, Ducey denied there was any dispute. However, the Arizona Republic reported that arbitration resulted in the sale price being reduced by millions of dollars. [Nation's Restaurant News, 10/1/07, East Valley Tribune, 9/18/07, 3TV, 7/27/14, Arizona Republic, 8/21/14]
2) Did Doug Ducey engage in unethical conduct when he phoned attorney Leo Beus and invited him to work in a future Ducey administration?
Attorney Leo Beus recently revealed that he had been asked about the "Cold Stone arbitration with Kahala and the related depositions," which put him in an "uncomfortable position because we are not at liberty to discuss the pleadings, depositions or documents related to the arbitration." Beus then added that Ducey had phoned him Tuesday — two days after the debate aired — and left a voice mail "inviting me to work with him in his administration when he becomes governor. This is the first contact I have ever had with Doug." [Arizona Republic, 7/31/14]
3) Was it part of Ducey and Cold Stone's business model to lure in potential business owners at any costs through improper and dishonest means, and then leave taxpayers with the bill if these businesses failed and franchise owners defaulted on their government loans?
According to the New Times, Ducey's "business model encouraged expansion at all costs." After business owners lost their investments, taxpayers were expected to pick up the bill to the tune of $29.6 million in defaulted loan guarantees. [New Times, 8/12/10, Dayton Daily News, 4/7/13]
But wait! There's more!
Ducey's Company Exploited Child Labor
Phoenix, AZ—Today is Labor Day, an annual tribute to the American labor movement and a celebration of the economic and social contributions of American workers. While Doug Ducey was CEO of Cold Stone Creamery his franchisees didn't celebrate workers, they were repeatedly found to be in violation of the Fair Labor Standards Act and Child Labor Laws. In fact, Doug Ducey's company was fined tens of thousands of dollars for the exploitation of children. A chart of Cold Stone's Child Labor Law violations during Doug Ducey's tenure as CEO is linked here. The chart was created with data from the U.S. Department of Labor, Wage and House Division.
"Doug Ducey still hasn't come clean about the disputed sale of his former ice cream company, but he can't hide behind sealed court documents when it comes to Cold Stone's numerous violations of child labor laws," said DJ Quinlan, executive director of the Arizona Democratic Party. "Ducey's failure to contain his company's systemic exploitation of child labor raises serious questions about whether he can be trusted to continue the important work of reforming the Department of Child Safety."
The U.S. Department of Labor recorded numerous violations of child labor law by Cold Stone, and assessed tens of thousands of dollars in fines during Ducey's tenure as CEO of the company. The geographic breadth and sheer number of violations make a stone cold case that child labor law violations were a widespread part of the company's culture. When put in the context of Ducey's pattern of rule breaking (late taxes, traffic tickets and late corporate filings), it is clear that Ducey was responsible for the culture of his company.
Here is a "free sample" of Cold Stone's Child Labor Law Violations:
•In 2006, a Cold Stone Creamery in Chesapeake, VA paid $8,171.43 in back wages and $24,514.29 in overtime to 17 child employees. The store was also fined $6,160.00 for 22 different Child Labor Law violations by the Department of Labor.
•In 2004, a Cold Stone Creamery in Sparks, NV was fined $4,757.00 for 19 different Child Labor Law violations with 9 different child employees.
•In 2005, a Cold Stone Creamery in Orlando, FL was fined $9,185.00 by the Department of Labor for 15 different Child Labor Law violations relating to 8 child employees.
Twenty-seven different Cold Stone Creameries accumulated 99 different Child Labor Law violations and were assessed $40,567 in fine by the Department of Labor.
###
h/t Ice Cream Truck graphic: beatofthedrum.buzznet.com