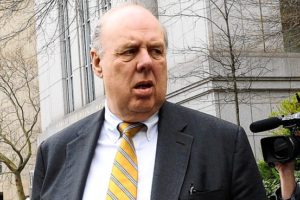 The New York Times, and others, reported this week that President Trump's lawyer John Dowd – who has resigned – broached the idea of President Trump's pardoning two of his former top advisers, Michael T. Flynn and Paul Manafort, with their lawyers last year, according to three people with knowledge of the discussions. Trump's Lawyer Raised Prospect of Pardons for Flynn and Manafort:
The discussions came as the special counsel was building cases against both men, and they raise questions about whether the lawyer, John Dowd, who resigned last week, was offering pardons to influence their decisions about whether to plead guilty and cooperate in the investigation.
The talks suggest that Mr. Trump's lawyers were concerned about what Mr. Flynn and Mr. Manafort might reveal were they to cut a deal with the special counsel, Robert S. Mueller III, in exchange for leniency. Mr. Mueller's team could investigate the prospect that Mr. Dowd made pardon offers to thwart the inquiry, although legal experts are divided about whether such offers might constitute obstruction of justice.
Mr. Dowd's conversation with Mr. Flynn's lawyer, Robert K. Kelner, occurred sometime after Mr. Dowd took over last summer as the president's personal lawyer, at a time when a grand jury was hearing evidence against Mr. Flynn on a range of potential crimes. Mr. Flynn, who served as Mr. Trump's first national security adviser, agreed in late November to cooperate with the special counsel's investigation. He pleaded guilty in December to lying to the F.B.I. about his conversations with the Russian ambassador and received favorable sentencing terms.
Mr. Dowd has said privately that he did not know why Mr. Flynn had accepted a plea, according to one of the people. He said he had told Mr. Kelner that the president had long believed that the case against Mr. Flynn was flimsy and was prepared to pardon him, the person said.
The pardon discussion with Mr. Manafort's attorney, Reginald J. Brown, came before his client was indicted in October on charges of money laundering and other financial crimes. Mr. Manafort, the former chairman of Mr. Trump's presidential campaign, has pleaded not guilty and has told others he is not interested in a pardon because he believes he has done nothing wrong and the government overstepped its authority. Mr. Brown is no longer his lawyer.
It is unclear whether Mr. Dowd discussed the pardons with Mr. Trump before bringing them up with the other lawyers.
Mr. Dowd denied on Wednesday that he discussed pardons with lawyers for the president's former advisers.
"There were no discussions. Period," Mr. Dowd said. "As far as I know, no discussions."
Wait, "as far as I know"? So in lawerise, Dowd is denying that he personally made the offer, but he is leaving open the possiblity that someone else could have.
Contacted repeatedly over several weeks, the president's lawyers representing him in the special counsel's investigation maintained that they knew of no discussions of possible pardons.
"Never during the course of my representation of the president have I had any discussions of pardons of any individual involved in this inquiry," Jay Sekulow, a lawyer for Mr. Trump, said on Wednesday.
Ty Cobb, the White House lawyer dealing with the investigation, added, "I have only been asked about pardons by the press and have routinely responded on the record that no pardons are under discussion or under consideration at the White House."
Mr. Kelner and Mr. Brown declined to comment.
During interviews with Mr. Mueller's investigators in recent months, current and former administration officials have recounted conversations they had with the president about potential pardons for former aides under investigation by the special counsel, according to two people briefed on the interviews.
In one meeting with lawyers from the White House Counsel's Office last year, Mr. Trump asked about the extent of his pardon power, according to a person briefed on the conversation. The lawyers explained that the president's powers were broad, the person said. And in other meetings with senior advisers, the president raised the prospect of pardoning Mr. Flynn, according to two people present.
Legal experts are divided about whether a pardon offer, even if given in exchange for continued loyalty, can be considered obstruction of justice.
Which leads to this interesting legal argument from Randall D. Eliason, who teaches white-collar criminal law at George Washington University Law School. Why Robert Mueller could be considering bribery charges:
President Trump's now-former attorney John Dowd allegedly told lawyers representing Paul J. Manafort and Michael Flynn last year that the president would consider pardoning the two men if they got into legal trouble. (Dowd has denied the reports.) Much of the news coverage has focused on whether offering pardons to induce a witness not to cooperate in the special counsel's investigation could constitute obstruction of justice. But there is another potential charge that could apply more directly and that prosecutors might have reason to favor: conspiracy to commit bribery.
Federal bribery requires that a public official agree to receive and accept something of value in exchange for being influenced in the performance of an official act. In this scenario, the official act would be granting a pardon. While the Supreme Court's 2016 decision in the case of former Virginia governor Robert F. McDonnell dramatically narrowed the definition of "official act," there's no question that a president granting a pardon would be an exercise of government power under the McDonnell v. United States standard.
"Thing of value" is also fairly easily met: It would be the agreement not to cooperate against the president. The thing of value in bribery law is not limited to envelopes stuffed with cash. It can include anything of subjective value to the public official, whether tangible or intangible. Such intangibles as offers of future employment and personal companionship have been found to be things of value for purposes of bribery. A promise not to cooperate in special counsel Robert S. Mueller III's probe could readily serve as the quid in this quid pro quo.
The public official, of course, is the president. Dowd is not a public official and cannot be bribed himself, but he could conspire with a public official to arrange bribes on the official's behalf. The theory would be that Dowd and the president engaged in a conspiracy to accept bribes by agreeing that Dowd would make the offer. This, of course, would require proof that Dowd was acting with the president's approval and not merely freelancing.
Neither bribery nor conspiracy requires that the underlying scheme be successful. The crime is the agreement itself, coupled with at least some steps to carry it out. If Dowd and the president agreed Dowd would offer an exchange of pardons for silence and he did so, that is a conspiracy to commit bribery. Whether the offer was accepted would not matter.
Thanks to the unusual circumstances in this case, bribery has a significant legal advantage over obstruction of justice. There has been considerable academic debate regarding whether a president can be charged with obstruction for a constitutionally authorized act, such as firing the FBI director or granting a pardon. Some argue that such an act, standing alone, can never be charged as obstruction regardless of the president's intent because that would unconstitutionally impinge on the president's executive authority. (I disagree with this view.)
But even those who make that argument agree that if the president engaged in independently criminal conduct, such as accepting a bribe or instructing witnesses to lie, he would not be shielded from criminal prosecution — even if those actions were related to a constitutionally authorized act such as granting a pardon.
In other words, even scholars who think that merely granting a pardon could never amount to obstruction agree that a president who took a bribe in exchange for granting a pardon could be charged with bribery. Of course no pardons have actually been granted — at least not yet. But regardless, the bribery theory avoids all of the legal uncertainty swirling around obstruction-of-justice charges and pardons. Nobody argues that bribery is constitutionally authorized.
I'm certainly not saying that we know any of this happened. Nor am I discounting the evidentiary hurdles prosecutors would face in proving a conspiracy and that a corrupt deal was offered; bribery is notoriously difficult to prove. But as a legal theory, I think it's sound. If Mueller is examining these alleged events, I'd be surprised if a possible conspiracy to commit bribery were not in the mix.
We'll have to wait and see. Gen. Michael Flynn is a cooperating witness, so he has presumably already told Robert Mueller about any discussions regarding a pardon in exchange for his silence. Paul Manafort is defending his indictment and is remaining silent. He has not yet made a plea deal to be a cooperating witness.
The pressure being put on Manafort by his former associate Robert Gates being a cooperating witness may change his position. Mueller just drew his most direct line to date between the Trump campaign and Russia. Gates has given prosecutors Manafort's Ukraine-based aide, Konstantin Kilimnik, who has ties to Russian intelligence. He served in the Russian military and attended a Russian military foreign language university that is seen as a breeding ground for intelligence agents.
What's particularly significant in the most recent Mueller filing, though, are six words: "and had such ties in 2016."
* * *
[The latest filing suggests] Mueller views Kilimnik as a possible link between the Trump campaign and Russia, and that he believes Kilimnik hasn't been forthcoming about his ties to Russian intelligence. We also know that Manafort had been in contact with Kilimnik during the 2016 campaign, meeting him at least twice and asking him to provide private briefings about the 2016 election to Oleg Deripaska, a Russian oligarch who is closely tied to Vladimir Putin.
"Whether that's pertinent to the broader collusion investigation is something we'll have to wait to find out. There is so much Mueller knows that we simply don't."