There is the far-right, and then there are those who are two steps further to the right. Unfortunately, this Constantin Querard backed candidate represents legislative District 11 in Arizona.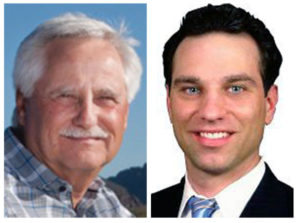 Senator Steve Smith (R-Maricopa) in Legislative District 11 is an acolyte of recalled former Senate President Russell Pearce, and was a member of Pearce's anti-immigrant "Super Friends" team with Cap'n Al Melvin, John Kavanagh, and Joe Arpaio.
You will recall that Smith sponsored legislation to make citizens recalls more difficult to try to derail the Pearce recall. Russell Pearce inspired recall bill is unconstitutional, experts say. When that failed, he later sponsored legislation that would have required the state to pay Russell Pearce for his expenses in the recall election. Proposed bill could repay ousted lawmakers from recall elections.
After Pearce was recalled, Smith carried the disgraced Sen. Pearce's anti-immigrant bills for him after his recall. Rep. Steve 'Secession' Smith carries Russell Pearce's anti-immigrant bills. He sponsored a bill that would require school districts to count the number of students who are in the country illegally, HB 2289 (2013), and to require hospitals to report patients who cannot prove their lawful status. HB 2293 (2103). Both measures are unlawful under existing law.
Smith sponsored an "English only" bill, HB 2283 (2103), which would forbid state agencies from mailing out certain documents in any language but English. The bill violated Title 6 of the Civil Rights Act. Even in states that have an English-as-their-official-language policy, you still have to follow federal law.
Steve "Secession" Smith sponsored HB 2291 (2013), a resolution of "interposition and nullification" to oppose any new federal firearms regulations. Along with every other Tea-Publican in the legislature, he also voted for SCR1016 which put the unconstitutional "State Sovereignty" ballot measure, Prop. 122 in 2014.
Smith has not been as in-your-face crazy in the media this past legislative session as in previous years, but he has still been on the wrong side of every major issue, e.g., cutting public education funding while supporting vouchers for private and parochial schools, supporting Prop. 123, opposing Medicaid expansion and restoration of KidsCare, supporting the GOP's "dark money on steroids" bill while voting for every GOP voter suppression bill, etc. This guy is an embarrassment to Arizona as much as his good buddies Russell Pearce and Joe Arpaio.
There is a solid Democrat running against Smith again this year in this GOP voter registration district. It's up to independents and Republicans who are finally willing to say "enough is enough" to far-right.
Ralph Atchue is a retired postal worker who spent 33 years in the postal service, 12 years of those years as a steward and local president with the National Association of Letter Carriers, and 21 years representing the National Association of Postal Supervisors. He retired as a postmaster. He is also a four-year veteran of the U.S. Air Force.
"Democrat Ralph Atchue, of Eloy, encouraged voters to change their course and vote him into office rather than 'career politicians,' like his republican opponent, incumbent Sen. Steve Smith of Maricopa." Pinal candidates talk issues at Maricopa's UltraStar:
A main point of conversation during the debate was Prop. 205, which would legalize recreational marijuana and would regulate it similarly to alcohol, such as by making it purchasable for those 21 years of age or older.
Atchue, in support of the proposition and the "freedom of choice," said although he would support the voters' decision if it doesn't pass, he wants to stop drug cartels from profiting from it.
Smith called the potential legalization "ridiculous."
"It's a harmful drug. That's why it's still illegal," he said, citing emergency room visits increasing in Colorado after marijuana became legal.
Furthermore, he said, regulation similar to that of alcohol is a "falsehood," because there isn't currently a breathalyzer for marijuana, Smith said, though the proposition would not allow law enforcement to charge an individual based on consumption alone.
"They're coming up with a breathalyzer test for marijuana," Atchue insisted, comparing denial of usage to "just say no" sex education. "You can't stop people from using marijuana."
The Arizona Daily Star candidate summary adds:
Sen. Steve Smith, often named among the most conservative members of the Legislature, will face first-time candidate Ralph Atchue, a self-described moderate Democrat.
* * *
Atchue says many voters are dissatisfied with that philosophy and with the Legislature's actions on education issues, children's services and working families' issues. He called Smith a "Tea Party radical."
"Their sign says 'God, family, and country,' but Steve Smith's actions in the Legislature prove that's just a hypocritical empty slogan," Atchue said.
Smith has "let down the voters and families in so many different ways," including cutting education funding and children's services and cutting corporate taxes, which reduces revenue for state programs and burdens county and city budgets.
"They've treated Arizona as a bargain basement business and we're getting bargain basement results," Atchue said.
* * *
Smith supported Proposition 123, the voter-approved measure meant to increase teacher pay and end a yearslong legal dispute between schools and the state.
Of the $9.6 billion state budget, more than half goes to education. "So when people say they want more money for education, how much would you like?" he said. "We have other things to pay for, including health care and law enforcement, and would you want to cut those, or raise taxes?"
Atchue voted against Prop. 123, equating it to blackmailing voters, who had earlier approved a measure to give regular budget increases to schools, which led to the legal dispute when the state didn't make those payments.
"It's not extreme to want a top-notch education system where we don't have to decide between paying teachers and fixing the roof," he said.
Smith voted against KidsCare because the population of about 30,000 children was covered in the Medicaid expansion related to Obamacare, he said. He also voted against the Medicaid expansion a couple of years ago.
Atchue supports more spending on social services, saying it's more cost effective to provide the services to children and their families than to deal with an economic or mental health crisis that could come from not having services.
He said the state should pay for it by stopping corporate tax cuts that erode revenue, sometimes with no measurable economic benefit. "It's not extreme to say everyone should be paying their fair share of taxes," Atchue said.
"I'm not saying let's instantly start raising taxes … but if we need to take a look at other tax issues, then we should," he said.
Smith said people need more choices when it comes to healthcare providers. He said the state also needs a better way to track the cost to taxpayers of providing healthcare to illegal immigrants. [See his earlier bills above.]
You can learn more about Ralph Atchue at Atchue for Senate and a Planned Parenthood survey, Meet Our Candidates: Ralph Atchue for State Senator, LD 11.
Smith is one of campaign consultant Constantin Querard's (Grassroots Partners) candidates. Querard also established the conservative Arizona Family Project, a conservative anti-choice organization. Querard only represents candidates who are acceptable to the Center for Arizona Policy, where he served as its Executive Director and CAP-PAC, as well as Director of Development for Arizona Right to Life.
Smith consistently votes with the religious right of the CAP on issues of access to contraception, funding of Planned Parenthood, and new legislative impediments to safe, legal abortions. Center for Arizona Policy scorecard on legislative priorities.
The Citizens Clean Elections Debate is Tuesday, October 4, at 6:00 p.m., at the Hilton Tucson El Conquistador Golf & Tennis Resort, 10000 N. Oracle Road, Tucson, AZ.