I watched all of the speeches of both the RNC and DNC Conventions over the past two weeks.  Many of these speeches occured during the day on cable channels to which not everyone in America has access, nor does everyone have access to the Internet. The networks only cover the prime time speeches (I miss the old days of "gavel to gavel coverage" when the networks did actual news reporting).
There have bee some excellent speeches, largely at the DNC Convention, which many Americans did not see and that did not receive the attention due from our feckless media.
Day four of the DNC Convention is a good example. The Rev. William Barber II from the North Carolina NAACP and the Moral Mondays movement gave a rousing speech that brought the house to its feet. The Rev. William Barber dropped the mic: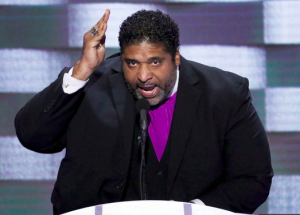 Well America, what the Rev. William Barber II stopped by the Democratic National Convention Thursday night to tell you was just about the most engaging version of everything that every other speaker touched on over the course of the four day event.
What he delivered — eight years after this brand of liberation theology took a beating from uninformed corners of the conservative commentariat — was evidence of a long tradition of liberal, religious patriotism. It was a call to action that, in Barber's view, serves this cause — an articulation of a liberal and patriotic philosophy with what Barber said was the moral force to shock and resuscitate the heart of the nation.
"We are being called like our forefathers and foremothers to be the moral defibrillators of our time," Barber said.
The call brought most of the audience in the convention hall to its feet.
Here is a video link, Reverend William Barber – Full Speech Democratic Convention 2016 and a Transcript from Daily Kos.
Another speech that has received a great deal of media attention today came from Muslim American Khizr Khan, whose son Humayun was killed while serving in the U.S. Army. Mr. Khan pointed out that if Donald Trump had been president, he and his family would not have been allowed to enter the U.S., and his son would not have been serving in the Army the day that he gave his life to save his fellow soldiers. Video link, Khizr Khan FULL REMARKS at Democratic National Convention, and Transcript: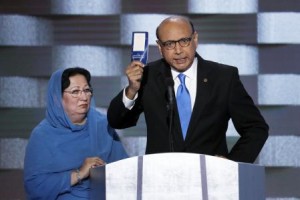 If it was up to Donald Trump, ]my son] never would have been in America.
Donald Trump consistently smears the character of Muslims. He disrespects other minorities, women, judges, even his own party leadership. He vows to build walls and ban us from this country.
Donald Trump, you are asking Americans to trust you with our future. Let me ask you: Have you even read the U.S. Constitution? I will gladly lend you my copy. In this document, look for the words "liberty" and "equal protection of law."
Have you ever been to Arlington Cemetery? Go look at the graves of the brave patriots who died defending America — you will see all faiths, genders, and ethnicities.
You have sacrificed nothing and no one.
We can't solve our problems by building walls and sowing division.
We are Stronger Together.
There were also the "Republicans for Hillary Clinton," most notably former Ronald Reagan staffer Doug Elmets, who paraphrased Sen. Lloyd Bentsen's famous line: "I'm here tonight to say; I knew Ronald Reagan; I worked for Ronald Reagan. Donald Trump, you are no Ronald Reagan." Doug Elmets – Full Speech Democratic Convention. Elmets went on to say:
This year's Republican platform is the most alarming I've ever seen. It's laced with anti-immigrant, anti-gay, anti-women positions that do not represent the views of most Americans.
That is why this year, I will vote for a Democrat for the first time.
To my fellow Republicans: if you believe like I do, you believe that loyalty to country is more important than loyalty to party . . . I ask you to join me in voting for Hillary Clinton as president of the United States.
The Trump Show at the RNC featured his wife and children speaking (because no one else would appear). The most frequent comment by pundits is that none of his family shared any anecdotes about "The Donald" that humanized him. See for example, Tiffany Trump Fails to Humanize Her Father; Trump Junior Had One Job Last Night. He Didn't Do It.
Chelsea Clinton introduced her mother, first in a video presentation, Hillary Clinton 2016 DNC Introduction Video, followed by a speech heavy with personal anecdotes about her mother. Watch Chelsea Clinton's full Democratic convention speech, and Read Chelsea Clinton's Speech at the Democratic Convention (snippet):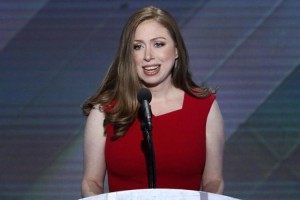 My earliest memory is my mom picking me up after I had fallen down, giving me a big hug and reading me Goodnight Moon. From that moment, to this one, every single memory I have of my mom is that regardless of what was happening in her life, she was always, always there for me.
Every soccer game, every softball game, every piano recital, every dance recital, Sundays spent together at church and the local library. Countless Saturdays finding shapes in the clouds, making up stories about what we would do if we ever met at triceratops, in my opinion, the friendliest looking dinosaurs.
Although, my mom would always remind me they were still dinosaurs. As a kid, I was pretty obsessed with dinosaurs and the day that my parents took me to Dinosaur National Park, I didn't think life could get any better.
Whenever my mom was away for work, which thankfully didn't happen very often. She left notes for me to open every day she was gone. All stacked neatly together in a special drawer, with at date on the front of each one, so I would know which note to open on which day.
When she went to France to learn about their childcare system, I remember one was all about the Eiffel Tower, another was about the ideas she hoped to bring home to help the kids of Arkansas.
I treasured each and every one of those notes They were another reminder, that I was always in her thoughts and in her heart.
Damn! She's good. This is how it is done.
And then the first woman nominee of a major political party came out to accept the nomination of her party. Hillary Clinton is not known for being a great orator, like Barack Obama or Bill Clinton; few are. But she delivered a workmanlike acceptance speech that was very much in the tradition of acceptance speeches from the past. Watch Hillary Clinton's full speech at the 2016 Democratic National Convention, and Transcript.
Compared to the fear mongering apocryphal acceptance speech of the mad man Donald Trump last week, Hillary Clinton offered an optimistic vision for the future in her acceptance speech: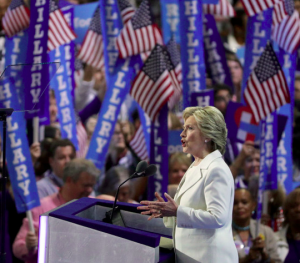 Hillary Clinton sought to transcend doubts about her character by presenting an uplifting vision for the nation's future, delivering the biggest speech of her enduring public life here Thursday as she formally accepted the Democratic presidential nomination.
Declaring that the United States is at "a moment of reckoning," Clinton promised that "progress is possible" and offered herself as a fearless executive who would get the job done. She also warned against what she considers the dangers represented by Republican nominee Donald Trump, who she said would usher in "midnight in America."
In an address that electrified delegates and put a personal exclamation point on the four-day Democratic National Convention, Clinton yoked the history of Philadelphia, the cradle of American democracy, with her own historic candidacy to become the country's first female president.
"Powerful forces are threatening to pull us apart," she said. "Bonds of trust and respect are fraying. And just as with our founders, there are no guarantees. It truly is up to us. We have to decide whether we all will work together so we all can rise together."
Clinton's 57-minute address was a coda to a convention week in which Democrats offered a meticulously choreographed answer to "Trumpism" and its apocalyptic view of the nation. They espoused service and diversity, inclusion and acceptance, and spoke of how the nation is "stronger together" — the newly energized anthem of the Clinton campaign.
The candidate delivered a scathing, although at times humorous, dressing-down of Trump and his polarizing brand of politics, declaring that as president she would neither ban a religion nor build a wall to keep immigrants out of the country.
"He's taken the Republican Party a long way, from 'Morning in America' to 'Midnight in America,' " Clinton said, the former a reference to Ronald Reagan's 1984 campaign theme. (transcript):
He wants us to fear the future and fear each other.

Well, a great Democratic President, Franklin Delano Roosevelt, came up with the perfect rebuke to Trump more than eighty years ago, during a much more perilous time.

"The only thing we have to fear is fear itself."

Now we are cleareyed about what our country is up against.

But we are not afraid.

We will rise to the challenge, just as we always have.
The former secretary of state offered what she hopes will be an unimpeachable rationale to restive voters for keeping the White House in Democratic hands by distilling what she would do on issues foreign and domestic, how she would build on President Obama's legacy and why she thinks Trump is temperamentally unfit to hold the office.
"He loses his cool at the slightest provocation," Clinton said. "When he's gotten a tough question from a reporter. When he's challenged in a debate. When he sees a protester at a rally. Imagine him in the Oval Office facing a real crisis. A man you can bait with a tweet is not a man we can trust with nuclear weapons."
True dat! There's your bumper sticker.
Addressing the urgent threat of Islamic State terrorists, Clinton said, "Anyone reading the news can see the threats and turbulence we face. . . . So it's no wonder people are anxious and looking for reassurance — looking for steady leadership."
Of her opponent, she added: "Now Donald Trump says, and this is a quote, 'I know more about ISIS than the generals do.' No, Donald, you don't."
* * *
An underlying theme of Clinton's address was that progress can be achieved only if people work together — a direct rebuke to Trump's pledge that he alone can fix what ails the nation.
"Every generation of Americans has come together to make our country freer, fairer and stronger," she said. "None of us ever have or can do it alone. I know that at a time when so much seems to be pulling us apart, it can be hard to imagine how we'll ever pull together. But I'm here to tell you tonight: Progress is possible."
Hillary Clinton thanked Sen. Bernie Sanders, and made a direct appeal to Sanders' most fervent supporters who have resisted her candidacy (transcript):
And … I want to thank Bernie Sanders.

Bernie, your campaign inspired millions of Americans, particularly the young people who threw their hearts and souls into our primary.

You've put economic and social justice issues front and center, where they belong.

And to all of your supporters here and around the country:

I want you to know, I've heard you.

Your cause is our cause.

Our country needs your ideas, energy, and passion.

That's the only way we can turn our progressive platform into real change for America.

We wrote it together — now let's go out there and make it happen together.
Exactly!
Clinton acknowledged the historical significance of her nomination (a video pan of the audience showed women and young girls with tears in their eyes):
Tonight, we've reached a milestone in our nation's march toward a more perfect union: the first time that a major party has nominated a woman for President.

Standing here as my mother's daughter, and my daughter's mother, I'm so happy this day has come.

Happy for grandmothers and little girls and everyone in between.

Happy for boys and men, too — because when any barrier falls in America, for anyone, it clears the way for everyone. When there are no ceilings, the sky's the limit.

So let's keep going, until every one of the 161 million women and girls across America has the opportunity she deserves.

Because even more important than the history we make tonight, is the history we will write together in the years ahead.
Clinton finished with a strong rebuke of the sinister darkness of "Trumpism," and a commitment to faith in our deeply held American optimism and American values (transcript):
For the past year, many people made the mistake of laughing off Donald Trump's comments — excusing him as an entertainer just putting on a show.

They think he couldn't possibly mean all the horrible things he says — like when he called women "pigs." Or said that an American judge couldn't be fair because of his Mexican heritage. Or when he mocks and mimics a reporter with a disability.

Or insults prisoners of war like John McCain — a true hero and patriot who deserves our respect.

At first, I admit, I couldn't believe he meant it either.

It was just too hard to fathom — that someone who wants to lead our nation could say those things. Could be like that.

But here's the sad truth: There is no other Donald Trump … This is it.

And in the end, it comes down to what Donald Trump doesn't get: that America is great — because America is good.

So enough with the bigotry and bombast. Donald Trump's not offering real change.

He's offering empty promises. What are we offering? A bold agenda to improve the lives of people across our country — to keep you safe, to get you good jobs, and to give your kids the opportunities they deserve.

The choice is clear.

Every generation of Americans has come together to make our country freer, fairer, and stronger.

None of us can do it alone.

I know that at a time when so much seems to be pulling us apart, it can be hard to imagine how we'll ever pull together again.

But I'm here to tell you tonight — progress is possible.

I know because I've seen it in the lives of people across America who get knocked down and get right back up.

And I know it from my own life. More than a few times, I've had to pick myself up and get back in the game.

Like so much else, I got this from my mother. She never let me back down from any challenge. When I tried to hide from a neighborhood bully, she literally blocked the door. "Go back out there," she said.

And she was right. You have to stand up to bullies.

You have to keep working to make things better, even when the odds are long and the opposition is fierce.

We lost my mother a few years ago. I miss her every day. And I still hear her voice urging me to keep working, keep fighting for right, no matter what.

That's what we need to do together as a nation.

Though "we may not live to see the glory," as the song from the musical Hamilton goes, "let us gladly join the fight."

Let our legacy be about "planting seeds in a garden you never get to see."

That's why we're here … not just in this hall, but on this Earth.

The Founders showed us that.

And so have many others since.

They were drawn together by love of country, and the selfless passion to build something better for all who follow.

That is the story of America. And we begin a new chapter tonight.

Yes, the world is watching what we do.

Yes, America's destiny is ours to choose.

So let's be stronger together.

Looking to the future with courage and confidence.

Building a better tomorrow for our beloved children and our beloved country.

When we do, America will be greater than ever.

Thank you and may God bless the United States of America!
Mic drop. Balloon drop. Hillary Clinton Trounces Trump With Democratic Convention Stagecraft.