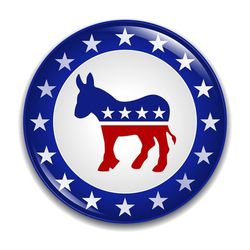 The DNC Winter Meeting was this past week, and the DNC has released its preliminary 2014 election postmortem (or what Republicans call an "autopsy"), Democratic Victory Task Force (.pdf) (excerpts):
Democratic National Committee Chairwoman Debbie Wasserman Schultz, immediately following the November 2014 elections, appointed the Democratic Victory Task Force.
The mission of the task force is simple: Examine the last several election cycles by soliciting actionable ideas from the entire Democratic family as to how we can improve the long-term strength of the national Democratic Party.
* * *
The Task Force met consistently between late November and February to look at factors that have contributed to our losses in midterm elections.
During this time, the Task Force met with experts in a variety of categories including message and research development, targeting and voter mobilization, voter advocacy and community building. Together the Task Force has met with hundreds of people involved in politics including elected officials, candidates, campaign managers, general consultants, academics, donors and, probably most importantly, activists and voters across the country.
The Democratic National Committee conducted a post-election poll with 100,000 of its supporters.
* * *
It is clear that Americans overwhelmingly support the people and issues that the Democratic Party fights for every day. Our work in support of equality in all areas – personal, wage, marriage, justice – was endorsed by Americans when they supported ballot measure after ballot measure that were focused on ensuring that this is a country for all.
Yet we know how to win elections. Elections in 2006, 2008, 2012 and ballot initiatives and other races this last cycle demonstrate that our issues and candidates resonate with voters. Through its examination of the last several election cycles, the Democratic Victory Task Force has identified areas for the DNC to strengthen its work and win elections in both presidential and midterm elections including:
• Having a clear, values-based narrative that unites us as Democrats and engages and appeals to the broadest swath possible of the American electorate.
• Creating strong accountable partnerships with active Democrats and all those who share our values in all 57 states and territories and Democrats Abroad.
• Proactively protecting and expanding every American's right to vote.
• Building a three-election strategy for redistricting – at the state and federal level.
• Identifying and promoting the next generation of Democratic leaders, including citizen activists from a cross-section of backgrounds and walks of life.
Over the next three months, the Task Force will continue to meet on a regular basis and it will commission additional research in each of these areas and develop action plans with the goal of having several pilot programs in place for the 2015 elections.
* * *
In May of 2015 the Task Force – in partnership with the Democratic National Committee – will release a strategic plan to guide the Party's efforts through the 2022 elections.
DEMOCRATIC VICTORY TASK FORCE RECOMMENDATIONS
CREATE A VALUES BASED NARRATIVE
No area of this review caused more debate or solicited more ideas than the belief that there is no single narrative that unites all of our work and the issues that we care about as a community of Democrats. It is strongly believed that the Democratic Party is loosely understood as a long list of policy statements and not as people with a common set of core values (fairness, equality, opportunity). This lack of cohesive narrative impedes the party's ability to develop and maintain a lifelong dialogue and partnership with voters.
The Task Force recommends creating a National Narrative Project to work with party leaders, activists, and messaging and narrative experts to create a strong values-based national narrative that will engage, inspire and motivate voters to identify with and support Democrats.
STRENGTHEN PARTNERSHIPS WITH STATE PARTIES
The Task Force recognizes that the Democratic Party and the DNC are only as strong as state and local Democratic organizations. We want each individual state party – including all 57 states, territories and the District of Columbia and Democrats Abroad – to be effective, productive, inclusive and exciting organizations. This is the only way to build a powerful and successful national party. The Task Force also recognizes that in Presidential cycles the focus of time, resources and talent has been in key battleground states. The DNC must recommit to efforts to strengthen all state parties to ensure wins at local, state and federal level across election cycles.
The Task Force recommends working with State Parties to build partnership agreements that include training, evaluation, metrics, and incentives and that are focused on ensuring that every State Party is on a pathway to self-sustainability. It is imperative that these partnerships be rooted in a commonly understood set of standards and that there is transparency and accountability related to shared resources that are dedicated to professionalizing state parties and designing and implementing winning campaigns at the state, local and federal levels.
PROTECTING AND EXPANDING THE RIGHT VOTE
In the last several years the Republicans have implemented an aggressive strategy to make it more difficult to register and exercise the right to vote. These barriers have been erected via legislation, administrative rules, and litigation. Democrats must stand for the right of all eligible Americans to be able to register to vote, cast their ballot and have their ballot counted, without exception.
The Task Force recommends the development of an aggressive, multi-faceted legislative and legal strategy to ensure every eligible American is registered to vote, has access to the polls and has their ballot counted. It should feature building support for an explicit right to vote in the U.S. Constitution and a new law to revive the preclearance powers of the Voting Rights Act. It also should include fighting for full implementation of existing registration and voting laws, including the VRA, NVRA and HAVA and developing a strategy to pass federal, state and local laws to modernize voter registration modernization, expand access to the polls, eliminate long lines; and ensure that all eligible voters have their balloted counted. Finally, it requires the expansion of professionalized election protection legal teams across the county and development of a plan in conjunction with our allies to register voters across the country within the current boundaries that exist today.
THREE-CYCLE REDISTRICTING PLAN
The current GOP stranglehold on state houses, governorships and congressional seats is a by-product of more than 30 years of organizing, fostering talent and significant financial investments at the state and local level. The DNC must develop – and accelerate – programs at the state and local level to ensure that the next redistricting and reapportionment projects encourage Democratic growth.
The Task Force recommends that the DNC – along with the Democratic family of organizations, state parties and allied organizations – create and resource a three-cycle plan that targets and wins back legislative chambers in order to prepare for redistricting efforts. This long-term effort must be
aggressive and focused on winning elections at the state and local level. It must also support efforts to take back the House of Representatives.
BUILD THE DEMOCRATIC BENCH
The Party needs to increase the number of Democrats running and winning their elections at all levels. In order to do this we need to get people – in all communities – excited about the opportunities present when you get deeply involved in your community and prepare them for the challenges of running for office.
The Task Force recommends that the DNC play a proactive role in helping identify, train and foster the next generation of Democratic leaders, especially at the state level. This includes potential candidates, campaign staff and advisors, and activists and volunteers with ties to different communities.
AREAS FOR FURTHER REVIEW
ENGAGE, MOTIVATE AND MOBILIZE THE VOTE
Throughout the review, the DNC heard that it – and all of the party committees – need to do a better job of communicating with voters over the long term and not just in the weeks leading up to the election. The Task Force recommends a comprehensive study of voter contact programs to ensure that consultants and campaign staff are developing balanced voter education and mobilization programs that focus on the highest quality communications and interactions with the largest number of voters.
CREATING AN ACCESSIBLE AND OPEN PARTY
Throughout the process, the Task Force has heard – from the very people who work for and vote for Democratic candidates – that the Democratic National Committee (as well as campaign committees and state parties) is not as open or as accessible to all members and voters as it should be. This focus area – identified in the member survey, regional meetings and individual interviews – requires a thorough review of staffing structures, contracting policies and party policies and procedures. The Task Force recommends the DNC conduct this review to ensure that the DNC's staffing, policies and procedures result in a national party that is reflective of the people and views it represents.
COMMUNICATING IN THE 21ST CENTURY
For several cycles, the DNC has lacked the necessary resources to make significant investments in paid communications in states, specialty media or digital communications. Immediately following the 2014 elections, the DNC has hired new communications staff and is developing new strategies to reach diverse communities. Working with these staff and marketing and media experts, the Task Force recommends the development of strategic Communications plans that cover national, state and specialty markets. The Task Force also recommends the development of digital communications strategies and tools that will help reach voters that aren't accessible through traditional channels.
BUILDING A BROAD COALITION OF VOTERS
In order to win elections, the Democratic Party must reclaim voters that we've lost including white Southern voters, excite key constituencies such as African American women and Latinas, and mobilize the broadest coalition of voters possible to not only recapture state houses but also Congress. In order to better understand how to bring this large coalition together, the Task Force recommends – in tandem with the National Narrative Project – that the DNC's research delve more deeply into the barriers that keep people from identifying with, and supporting, Democratic candidates. This also includes working to better understand drop off and independent voters.
I will be interested to see how the Arizona Democratic Party and its affiliated County Party organizations reach out to seek input from the elected precinct committeemen, and other registered Democratic voters and key voter constituencies.