Since at least 1994, to the best of my recollection, a bill has been introduced in the Arizona legislature to amend the Arizona Civil Rights Act to include protections for the LGBTQ community. (Many Arizonans falsely believe that such protections already exist). As I recall, there may have been one year the bill actually got a committee vote — and was defeated — but almost every year the bill does not even get a hearing in the GOP-controlled Arizona legislature.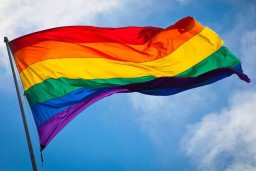 This remains true even after the U.S. Supreme Court and the Arizona Supreme Court have recognized equal protection for same-sex marriages, and same-sex spouses have the same parental rights as opposite-sex spouses under Arizona law.  Another lawsuit enjoined a 2009 statute that made domestic partners of state employees ineligible for health benefits.
Too many Arizona Republicans resist "the arc of the moral universe [that] bends towards justice," under "a Constitution that promised its people liberty, and justice, and a Union that could be and should be perfected over time."
To paraphrase Joseph Welch, "You've done enough. Have you no sense of decency, GOP legislators, at long last? Have you left no sense of decency?"
The GOP-controlled Arizona legislature is, once again, kowtowing to the hateful lobbyist for religious bigots, Cathi Herrod of the Center for Arizona Policy, whose undue influence over the Arizona legislature makes her "Arizona's 31st Senator." It's time to revoke her status.
The Arizona Republic reports, Bill to bar discrimination against LGBT people can't get a hearing:
For the first time ever, a proposal to protect LGBTQ people from discrimination in Arizona has gained support from a Republican in the Legislature, along with GOP municipal leaders.
But that doesn't appear to be enough to get a hearing at the Capitol.
The bill, HB 2586, would amend Arizona's anti-discrimination laws to make it illegal to fire someone from a job, deny them housing or refuse them service because they are gay, lesbian, bisexual or transgender.
Phoenix, Tempe, Flagstaff, Sedona, Chandler and Tucson have such protections, but there is no statewide law.
After more than a decade of only Democratic support, the bill this year is co-sponsored by Republican Sen. Kate Brophy McGee of Phoenix, who said it addresses a "tough" question and that it is "fair."
Because of her endorsement, proponents feel it may have a better chance of passing in future sessions as more Republicans continue to show support.
Brophy McGee could not say whether other Republicans in the Legislature would support the bill, but said she has "seen movement" on the issue.
"It's a good time to put this question forward and ask this question," Brophy McGee said.
Republican support also is coming from cities, including from Mesa Mayor John Giles and the Scottsdale City Council.
The bill has one more chance to get a hearing in the House Judiciary Committee next week prior to a deadline to hear proposals, but Chairman Rep. "Fast Eddie" Farnsworth, R-Gilbert, said he would "probably not" grant it because he disagreed with the proposal.
The sponsor of the bill, Rep. Daniel Hernandez, D-Tucson, said if it were to get a hearing, he believes it would be a close vote that would not necessarily fall along party lines.
"We're not saying we want special treatment for the LGBTQ community, we're saying we want an even playing field so that all people are able to be treated fairly and equally so that they can compete in the marketplace for jobs," Hernandez said.
He said this year's effort is one step in a long process to gain the support of the majority of the Legislature — or at least get a hearing — and that he will continue to advocate for it as long as he's in office.
One of his major obstacles is the Center for Arizona Policy, a conservative group that pushes "religious freedom" bills, among other things, and generally opposes gay rights issues. Hernandez' bill seeks to fix something that has not been proven to be a problem in the state, they say.
Many Republican members of the Legislature vote in accordance with the organization's stances.
Cathi Herrod, president of CAP, said bills like this "hammer people of faith," and "deny them their ability to live and work according to their faith." Herrod said Americans should continue to tolerate a diverse set of opinions, including religious [bigotry] beliefs.
"We have long opposed these types of proposals, whether it's a city, county or statewide proposal and the exceptions that sometimes are found in these laws are never sufficient to protect the rights of individuals," Herrod said.
The organization backed Senate Bill 1062 in 2014, which ultimately was vetoed. That bill would have provided business owners a legal defense if they faced discrimination lawsuits if they denied services based on "sincerely held" religious beliefs. [A "get out of jail free" card for bigotry and discrimination.]
Outside the Legislature, the anti-discrimination bill has gained support from other Republicans.
Giles in Mesa sent a letter to the Legislature Feb. 1, encouraging protections be adopted. Giles said in an interview that doing so is the "right thing to do," and predicted it would benefit the economy.
"The idea that civil rights are only for certain classes of people and not for everyone seems obviously wrong to me," Giles said.
"Our state is going to find it increasingly more difficult, I think, to compete for large sporting events and conventions and attracting major corporations if we are on the shrinking list of states that don't offer these kind of protections to everyone."
While he is "encouraged" by the Republican support, Giles said he is surprised by the lack of support by the majority. This issue shouldn't be partisan and that Republicans who trumpet the Constitution should find it easy to support, Giles said.
The Scottsdale City Council, including Mayor Jim Lane, who is a Republican, also sent the Legislature a letter asking them to pass such an ordinance. The council voted 6-1 in January to issue the letter, with Councilman Guy Phillips casting the lone 'no' vote.
Republican support in the Legislature isn't the only hurdle facing the bill. Advocates say people who would back the bill may be staying quiet because they don't know it's an issue.
Steve Kilar, communications director for the Arizona chapter of the American Civil Liberties Union, said there is a "lack of education" and the assumption that the bill already is law is a "very common feeling" among people in the state.
Kilar said while, in general, the public has accepted the LGBTQ community, some may assume everyone accepts them and thus the protections are not needed.
Republican support helps to show they are, he said.
"It cannot be understated how significant it is that there is someone who identifies as a Republican who is willing to put their support behind this," Kilar said.
So if you are a Republican who does not share the religious bigotry and discriminatory animus of Cathi Herrod towards the LGBTQ community, you need to contact your state legislators and let them know that you support HB 2586 and you demand that this bill get a hearing in legislative committees and a vote of the full House and Senate.
It is long past time for Arizona to perfect a more perfect Union and to join the 21st Century unencumbered by the ignorance, irrational fear, bigotry and discriminatory animus towards a segment of our fellow citizens which still lingers from our imperfect past.