Are you upset because Invest In Ed & Outlaw Dirty Money were kicked off the Nov 6 ballot by right-wing, activist judges?
Here's what you can do about it…
If you believe in these ideas:
Ensuring transparency in campaign finance reporting,
Getting big and dirty money out of politics,
Finding sustainable funding for public education,
Stopping the tax giveaways and, instead, raising revenue for education,
Stopping vouchers for private and religious schools,
There are three important NO votes you can make:
No on Prop 126
No on Prop 305
No on Prop 306
According to state Rep. Pamela Powers Hannley: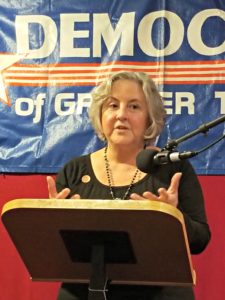 On Nov 6, Just Say NO
Thousands of Arizonans carried petitions through the summer heat to get the Outlaw Dirty Money and Invest In Ed Citizens Initiatives on the Nov 6 ballot.
Just a few weeks ago, the Arizona Supreme Court tossed both of these initiatives off the ballot– despite their obvious popularity with the voters and despite the gargantuan signature drives that were mounted by the people.
Outlaw Dirty Money was an attempt to bring more transparency to campaign finance laws. Invest In Ed would have raised the income tax on Arizona's richest residents to pay for stable funding for public education. If you believe in these ideas– campaign finance transparency, getting big money out of politics, sustainable funding for public education, stopping the tax giveaways, and stopping school vouchers– there are three important votes you can make on Nov. 6– No on Prop 126, No on Prop 305 and No on Prop 306.
Prop 126 is the Arizona Realtors Association initiative, which preemptively exempts all services from TPT (sales tax) FOREVER. This is a loss of hundreds of millions in potential future revenue. Vote NO on Prop 126 if you believe that we must leave the door open to new strategies that can raise revenue for public education.
Prop 305 is the Save Our Schools Citizens Initiative to stop school vouchers. Vote No on Prop 305 because public funds should be spent on public education– not private or religious schools.
Prop 306 is the Republican Legislature's latest attempt to kill the Clean Elections system and dramatically weaken the independent campaign finance watchdog duties of the Citizens Clean Election Commission. Vote NO on Prop 306 if you want to protect a system that audits campaign finance reports and allows candidates to say no to big money politics.