Update to Donald Trump Incites His MAGA Thugs To Riot (Again) When He Is Arrested In New York.
What started last weekend has now turned into a week long campaign by this domestic terrorist to incite violence from his MAGA thugs.
The New York Post reports, Trump posts disturbing baseball bat photo with Alvin Bragg, threatens 'death and destruction':
Donald Trump shared the image of himself holding a baseball bat — with Bragg's hands up — on his Truth Social platform Thursday as he devoted his day to attacking the prosecutor for pursuing a case over the "hush money" payout to porn star Stormy Daniels. The bat image was pulled from an article that he shared but was not removed.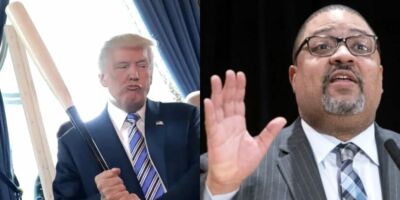 For the record, "Threatening a prosecutor is a crime": Experts say Trump's Truth Social post could badly backfire:
Former President Donald Trump's fury at Manhattan District Attorney Alvin Bragg could land him in hot water, legal experts warned on Thursday.
Trump has repeatedly attacked Bragg, who is reportedly nearing a potential indictment in his investigation of the 2016 hush-money payment to adult film star Stormy Daniels, calling him an "animal" and calling for his supporters to "protest" his widely anticipated arrest. The former president early Friday morning warned of "potential death & destruction" if he is charged in the case, and pushed back on calls for his supporters to remain "peaceful."
Amid his relentless all-caps attacks on Bragg, Trump shared an article from the far-right outlet National File that included an image of Trump holding a baseball bat next to an image of Bragg's head.
Norm Eisen, a former Democratic special counsel during Trump's first impeachment, called the post a "sickening threat" and a "call for violence."
"Threatening a prosecutor is a crime in NY. In fact MULTIPLE crimes," he tweeted, listing several statutes that he thinks Trump may have violated. [Add it to his arm-length rap sheet of crimes to be indicted for.]
Threatening a prosecutor is a crime in NY. In fact MULTIPLE crimes:

Harassment in the first degree NYPL 240.25;

menacing in the second degree NYPL 120.14;

stalking in the fourth or third degree NYPL 120.45 & 120.50

And that's just for starters…. https://t.co/yRFJZlo6YO

— Norm Eisen (@NormEisen) March 23, 2023
Former federal prosecutor Andrew Weissmann, who served on special counsel Bob Mueller's team, compared the post to a photo longtime Trump adviser Roger Stone posted of a judge overseeing his Mueller probe trial in crosshairs while he was on bail. Weissman tweeted that a judge may need to impose a similar gag order on Trump as the judge did in Stone's case after the post.
"Disgraceful," Weissmann wrote of Trump's post. "And meant to invite and incite violence. As on 1/6 and before."
Former conservative attorney George Conway, a frequent Trump critic, predicted that the post "could get his bail revoked" if he is charged in the Manhattan case.
"He lashes out because he feels he's being attacked. He feels he's being humiliated," Conway said on MSNBC. "But at the same time, he's going to put on a show to basically gin up his followers. That's what the danger is here — is that he will be doing this over a period of several months. A period over the next year and a half. I have to think he's going to get the Republican nomination, and he is going to try to foment violence, as he did on Jan. 6th. He's done a very good job of it this week. But if he keeps pounding on something for months, which he's going to be unless the judges put gag orders on him, you will see people starting to try to do things like they did two years ago, sadly."
This mad dog domestic terrorist kept on raging until the early hours of Friday.
Trump on Friday threatened "death and destruction" if he's criminally charged in New York. Trump warns of 'potential death & destruction' if he's charged in hush-money case:
Former president Donald Trump warned early Friday of "potential death & destruction" if he is charged in Manhattan in a criminal case related to alleged hush-money payments to adult-film actress Stormy Daniels to conceal an affair.
The posting after midnight on Truth Social, Trump's social media platform, was his latest — and most explicit — allusion to violence that could follow an indictment stemming from an investigation led by Manhattan District Attorney Alvin Bragg (D), whom Trump called a "degenerate psychopath."
Trump wrote: "What kind of person can charge another person, in this case a former President of the United States, who got more votes than any sitting President in history [WRONG! That is Joe Biden], and leading candidate (by far!) for the Republican Party nomination, with a Crime, when it is known by all that NO Crime has been committed, & also known that potential death & destruction in such a false charge could be catastrophic for our Country?"
In another post on Thursday, Trump criticized those who have called for his supporters to remain peaceful. Over the weekend, Trump urged a "PROTEST" over his potential arrest in the case, which he wrongly predicted would happen Tuesday.
The messages have all had echoes of the days leading up to the Jan. 6, 2021, attack on the Capitol by a violent pro-Trump mob. Trump had urged his followers to assemble in Washington that day, saying "Be there, will be wild!" as he pushed to stop Congress from certifying Joe Biden's win.
House Minority Leader Hakeem Jeffries (D-N.Y.) castigated Trump on Friday for his latest comments, echoing criticism by other Democrats.
"The twice-impeached former president's rhetoric is reckless, reprehensible and irresponsible," Jeffries said at a news conference. "It's dangerous. And if he keeps it up, he's going to get someone killed."
"We've already seen the consequences of incitement from the former president," Jeffries added. "He is principally responsible for inciting the violent insurrection that happened on January 6th, but clearly he has not learned his lesson."
Trump has been commenting frequently on the hush-money case as a Manhattan grand jury weighs evidence against him. The panel is not scheduled to meet again until at least Monday, according to people familiar with the situation who spoke on the condition of anonymity to discuss proceedings that are secret.
[In] an email to staff this past week, Bragg said the district attorney's office "will continue to apply the law evenly and fairly, and speak publicly only when appropriate."
"We do not tolerate attempts to intimidate our office or threaten the rule of law in New York," he wrote.
On Friday, House Majority Leader Steve Scalise (R-La.) said he had not heard Trump's comments, but he said, "There's no place in America for political violence of any kind."
"I've been saying that for years, and I think everybody ought to take that position," said Scalise, who was seriously injured in a politically motivated shooting in 2017 at a practice for the annual Congressional Baseball Game.
Rep. Dusty Johnson (R-S.D.), chairman of the Republican Main Street caucus, said, "In our system of government … you should never call for violence. So, you know, we need to do better."
House Speaker "Traitor" Kevin McCarthy (R-Calif.), when asked about Trump's latest comments Friday, said he had spoken about the issue already previously [fucking coward], and proceeded to talk about an upcoming House vote on education legislation.
McCarthy has slammed Bragg's investigation, but he said Sunday that supporters of Trump should not protest if the former president is indicted.
"Nobody should harm one another," McCarthy said, following Trump's call for protests. "We want calmness out there."
For his part, Trump resumed commentary on the case on Truth Social about eight hours after his overnight post.
"PROSECUTORIAL MISCONDUCT!" he wrote in all caps shortly after 9 a.m. Eastern.
"Trump will have another opportunity to criticize Bragg and other state and federal prosecutors investigating his conduct on Saturday" when he kicks off his 2024 campaign with another Nuremberg style campaign rally in Waco, Tex.
Trump is not randomly picking Waco, Texas. It is a symbol to White Christian Nationalists and anti-government domestic terrorist organizations, insurrectionists and secessionists, i.e., Trump's MAGA base. Trump holding his next rally in Waco, Texas, sends a message to the far right, experts say:
Former President Donald Trump – launching his bid to return to the White House even as he rallies supporters to protest against an arrest he claims is impending – chose an auspicious location for one of his earliest rallies for the 2024 election: the city of Waco, Texas.
The rally, planned for Saturday, will fall during the 30th anniversary of the siege of the Branch Davidian compound in Waco. Federal agents, aiming to arrest cult leader David Koresh, surrounded his walled compound in an armed standoff that lasted more than a month. It ended in a botched raid that left 76 people, including 25 children, dead.
Waco became synonymous with the worst failings of the federal government and has been used to push anti-government conspiracy theories for years. Though the Waco compound was home to a specific sect of religious extremists, elements of the tragedy resonate in today's times: gun ownership vs. gun regulation, rural independence vs. Washington bureaucracy.   
And some experts say that's likely exactly why the city was chosen for Trump to launch his campaign.
"Waco is hugely symbolic on the far right," said Heidi Beirich, co-founder of the Global Project Against Hate and Extremism. "There's not really another place in the U.S. that you could pick that would tap into these deep veins of anti-government hatred – Christian nationalist skepticism of the government – and I find it hard to believe that Trump doesn't know that Waco represents all of these things."
[T]he tragedy was a landmark in the rise of the so-called "militia" movement – a loose collective of far-right armed groups that grew significantly in popularity throughout the mid-1990s and early 2000s.
And the Waco "massacre" as it is often called, has endured as a deep source of hatred and distrust of the federal government among far-right extremists. Indeed, Timothy McVeigh, who bombed the Oklahoma City federal building in 1995, killing 168 people, had driven to the Waco siege two years earlier where he distributed pro-gun and anti-government literature. A few years later, an upstart Austin talk show host in his 20s led a group of volunteers to rebuild the chapel on the site. His name was Alex Jones.
"Waco was a seminal moment for right-wing extremism in this country," said Oren Segal, vice president of the Anti-Defamation League's Center on Extremism.
A 'dog whistle' or a 'train whistle?'
Though Trump has held more than 100 campaign rallies and similar events, and mounted a near-daily schedule of them during his campaigns, this week's appears to be the first one ever held in Waco.
Several experts on extremism told USA TODAY that the choice of Waco, of all the cities in America, clearly looks like a signal to far right and anti-government extremists.
The choice is especially noteworthy given the event arrives just after Trump's claim that criminal charges against him are forthcoming.
"Waco has a sense of grievance among people that I know he's (Trump's) got to be trying to tap into," Beirich said. "He's being unjustly accused, like the Branch Davidians were unjustly accused – and the deep state is out to get them all."
Megan Squire, deputy director for data analytics at the Southern Poverty Law Center, scoffed at the idea that Trump would be holding a rally in Waco for anything other than the city's symbolic resonance among the far right.
"Give me a break! There's no reason to go to Waco, Texas, other than one thing – in April," Squire said. "I can't even fathom what that's about other than just a complete dog whistle – actually forget dog whistle, that is just a train whistle to the folks who still remember that event and are still mad about it."
Wait and see what Trump says in Waco
Mark Pitcavage, a senior research fellow at the Anti-Defamation League's Center on Extremism, cautioned it may be too early to conclude Trump chose Waco to begin his campaign because of its significance to the far right.
Pitcavage pointed out that Texas is an important state for the Republican primaries, and noted that of the major cities in Texas, almost all lean Democratic – except Waco and Forth Worth. The choice of the central Texas city of 140,000 residents could be simply a safe bet for the Trump campaign to ensure a large, enthusiastic pro-Trump crowd, he said.
The only way to know for sure that Trump chose Waco for its symbolism will be if the former president refers to the events of 1993 in his comments at the rally, Pitcavage said.
"Like, for example, comparing federal government misdeeds or persecution of the Davidians to what's going on in his cases today," Pitcavage said. Without an explicit reference to the Waco siege, he said, "I would not automatically assume that that was a likely reason (for the rally) – not compared to some of the other much more current reasons why it might be the case."
But Pitcavage's colleague, Segal, said regardless of the reasoning behind choosing Waco, a certain proportion of Trump supporters will read an anti-government message into the choice.
"Clearly, in the current context, that is going to be understood by some extremists as a dog whistle," Segal said. "If Trump is promoting this idea of government overreach – of targeting him —– it's kind of the perfect place to send a message, and will be understood that way whether he intends it or not."
Ahead of the rally, Texas newspaper The Houston Chronicle published a scathing editorial that suggests it is not a coincidence that Trump is appearing in Waco for the first time just days after calling for his supporters to "protest" his apparent upcoming indictment. Texas Newspaper Slams Trump Ahead of Waco Rally:
A Texas newspaper's editorial board called former President Donald Trump's first scheduled rally in Waco, Texas, a "blaring air horn" for some of his most extreme followers, pointing out the symbolism tied to the Waco siege anniversary.
[T]he Houston Chronicle editorial board pointed out Thursday, Trump's coming rally is scheduled during the 30th anniversary of the siege of the Branch Davidian compoundin Waco—a botched federal raid on a religious sect that is seen as a potent symbol for anti-government and extremist groups.
[T]he Chronicle's piece on Thursday accused Trump of picking Waco for his "first major campaign event" as an overinflated version of dog-whistle politics—conveying a political message through coded or subtle symbols, which, as the editorial team writes, is made "for those with ears to hear."
"Trump doesn't do subtle; dog-whistle messages are not his style," the Chronicle wrote. "The more apt metaphor is the blaring air horn of a Mack 18-wheeler barreling down I-10."
According to the paper, Waco serves as a chance for Trump to play to the far-right conspiracy theorist groups who support the former president, without being too obvious.
* * *
"'Waco' has become an Alamo of sorts, a shrine for the Proud Boys, the Three Percenters, the Oath Keepers and other anti-government extremists and conspiracists."
* * *
Over the weekend, the former president had attempted to rally his supporters in New York City ahead of his potential arrest, which Trump predicted to occur on Tuesday.
"His call to arms echoed his "Be there, will be wild," exhortation a few weeks before January 6, as well as his "fight like hell" screed on the Ellipse, shortly before several thousand insurrectionists took him at his word, marched up Pennsylvania Ave. and sacked the Capitol," the Chronicle wrote regarding Trump's calls for protests this week.
"The Proud Boys and other anti-government extremists with a propensity for violence took him seriously on that ignominious day" the paper continued. "They might do the same in Waco."