The Department of Homeland Security warned on Tuesday that violent white supremacy was the "most persistent and lethal threat in the homeland" in an annual assessment that a former intelligence chief whistleblower had accused the agency of withholding in deference to President Trump. Delayed Homeland Security Report Warns of 'Lethal' White Supremacy:
The intelligence chief-turned-whistle-blower last month accused the department of blocking the report and directing analysts to play down the threat of violent white racism as well as Russian election interference to align the agency's message with the president's. But the final report appeared to do no such thing.
The threat assessment highlighted white supremacists as the most deadly among domestic terrorists in recent years and Russia as the primary threat to spreading disinformation.
"I am particularly concerned about white supremacist violent extremists who have been exceptionally lethal in their abhorrent, targeted attacks in recent years," Chad F. Wolf, the acting secretary of homeland security, wrote in the foreward to the assessment. The threat report also stated that "Russia is the likely primary covert influence actor and purveyor of disinformation and misinformation within the homeland."
The delayed release of the report has been a point of scrutiny for a department that has faced consistent accusations of morphing into a tool for Mr. Trump's re-election campaign. After the department singled out domestic terrorists and specifically white supremacists in a terrorism framework in September 2019, the agency's leadership committed to releasing a follow-up assessment to the threat as well as a blueprint to confront it within months. It took far longer.
Brian Murphy, who was demoted from his post as the Homeland Security Department's intelligence chief in August, said last month in a whistle-blower complaint that Mr. Wolf and his deputy, Kenneth T. Cuccinelli, blocked the release of the assessment because of how it would "reflect upon President Trump."
The administration's treatment of white supremacy re-emerged as an issue last week, when Mr. Trump failed to condemn white racist violence during the presidential debate, even after Christopher A. Wray, the F.B.I. director, affirmed to Congress the lethal threat of the racist extremists.
Now, the Homeland Security Department has done so in the assessment.
"This threat assessment confirms two things: that white supremacist extremists are the top domestic threat to the homeland, and they are often inspired by President Trump's rhetoric," said Representative Bennie Thompson, Democrat of Mississippi and the chairman of the House Homeland Security Committee.
This prescient warning was born out on Thursday when state and federal law enforcement agencies made arrests of 13 domestic terrorists in a plot to kidnap Michigan Gov. Gretchen Whitmer:
Thirteen people were charged Thursday in an alleged domestic terrorism plot to kidnap Michigan Democratic Gov. Gretchen Whitmer, federal and state officials announced.
The alleged scheme included plans to overthrow several state governments that the suspects "believe are violating the US Constitution," including the government of Michigan and Whitmer, according to a federal criminal complaint.
Six people were charged federally with conspiracy to kidnap, and seven other people, associated with the militia group "Wolverine Watchmen," were charged by the state, Michigan Attorney General Dana Nessel announced.
"The individuals in (state) custody are suspected to have attempted to identify the home addresses of law enforcement officers in order to target them, made threats of violence intended to instigate a civil war, and engaged in planning and training for an operation to attack the capitol building of Michigan and to kidnap government officials, including the governor of Michigan," Nessel said at a press conference.
* * *
The arrests are likely to draw additional attention to the political tensions roiling the nation in the closing weeks of the 2020 election season, and underline warnings from law enforcement officials, members of Congress and groups that track extremism about the increasing threat of militia and far-right groups. Whitmer at times has been the focus of extreme vitriol from far-right groups over her handling of the coronavirus pandemic.
In televised remarks Thursday afternoon, Whitmer said she "knew this job would be hard, but I'll be honest, I never could've imagined anything like this." She specifically blamed President Donald Trump, who has repeatedly declined to condemn far-right groups.
"Just last week, the President of the United States stood before the American people and refused to condemn white supremacists and hate groups like these two Michigan militia groups," she said. "'Stand back and stand by,' he told them. 'Stand back and stand by.' Hate groups heard the President's words not as a rebuke, but as a rallying cry, as a call to action. When our leaders speak, their words matter. They carry weight."
Hours before the FBI announced agents broke up the far-right militia plot to kidnap Michigan's governor, Donald Trump criticised Gretchen Whitmer as a "lockup queen" for stay-at-home measures in the state during the coronavirus pandemic. Trump called Gretchen Whitmer 'lockup queen' hours before FBI announced far-right plot kidnap her:
He told Fox Business News host Maria Bartiromo on Thursday: "I won Michigan, which hadn't been won in decades and decades … and we should win it again because I brought so much business there because she's the lockup queen."
The president added: "What she's done to that place is horrible. She's locked it up. She's got people like living in prison. The courts just overturned her. They said what you're doing is unconstitutional."
Michigan's Supreme Court had recently ruled against a 1945 public safety law invoked by the governor for restrictions to combat the spread of a virus that has infected more than 26,000 residents and killed more than 6,700.
The six charged by the federal government are Michigan residents Adam Fox, 37, Ty Garbin, 24, Kaleb Franks, 26, Daniel Harris, 23, Brandon Caserta, 32, and Delaware resident Barry Croft, 44.
The seven people charged by the state are Paul Bellar, 21, Shawn Fix, 38, Eric Molitor, 36, Michael Null, 38, William Null, 38, Pete Musico, 42, Joseph Morrison, 42. They face a variety of firearm and terror charges.
The FBI became aware of the scheme, first reported by The Detroit News, in early 2020 through a social media group of individuals, according to the federal criminal complaint.
Court documents say the FBI planted a confidential informant to travel to Dublin, Ohio, on June 6 for a meeting with Croft, Fox and about 13 others.
"They discussed different ways of achieving this goal from peaceful endeavors to violent actions … Several members talked about murdering 'tyrants' or 'taking' a sitting governor," according to the complaint.
At one point during the meeting, the group discussed increasing their members and Fox reached out to a "Michigan-based militia group," according to the complaint.
By June 14, a second confidential informant confirmed that Fox was introduced to the leader of the militia group and they met in Grand Rapids, Michigan. The informant audio-recorded conversations with Fox in which he allegedly said he needed "200 men" to storm the Capitol building in Lansing and take hostages, including Whitmer, according to the criminal complaint.
Fox allegedly explained they would try the governor of Michigan for "treason" and he said they would execute the plan before the November 2020 elections.
On June 20, Fox, Garbin and others met at Fox's business in Grand Rapids where attendees met in the basement accessed by a trap door hidden under a rug on the main floor, according to the criminal complaint. Attendees turned over their cell phones, which were brought upstairs to "prevent any monitoring."
"The attendees discussed plans for assaulting the Michigan State Capitol, countering law enforcement first responders, and using 'Molotov cocktails' to destroy police vehicles. The attendees also discussed plans for an additional meeting during the first weekend of July when they also would conduct firearms and tactical training," according to the criminal complaint.
In a video Fox live-streamed to a private Facebook group that included a confidential informant, he complained about the judicial system and the state of Michigan controlling the opening of gyms.
Fox referred to Whitmer as "this tyrant b****," adding, "I don't know, boys, we gotta do something. You guys link with me on our other location system, give me some ideas of what we can do," according to authorities. The video was preserved by the FBI and a Facebook spokesperson told CNN the company is cooperating with the investigation.
The conspirators conducted surveillance of Whitmer's vacation home on two occasions in late August and September, the complaint said. Croft and Fox discussed detonating explosive devices to divert police from the vacation home area, according to the FBI.
Earlier this month, Fox confirmed to others in the group that he purchased a taser, which he had previously discussed doing so for use in the kidnapping plot, the court document says. The FBI said Fox, Garbin, Harris and Franks had planned to meet on Tuesday to pay for explosives and swap tactical gear.
The five federal defendants who are Michigan residents made court appearances on Thursday afternoon and requested court-appointed attorneys. Bond hearings are scheduled for Tuesday.
Croft, who is from Delaware, made an initial appearance in federal court there and remains in custody.
He is expected to be extradited to Michigan after his detention hearing which has not been scheduled, officials said.
Whitmer previously target of far-right fury
Whitmer has been the target of multiple death threats in light of her coronavirus response efforts and decision to issue stay-at-home orders. In April, protesters and militia gathered at the state capitol for a rally, gridlocking the streets to call for Whitmer to lift her stay-at-home order.
LIBERATE MICHIGAN!

— Donald J. Trump (@realDonaldTrump) April 17, 2020
"Trump's 'LIBERATE MICHIGAN!' tweets incite insurrection. That's illegal." — Headline of an April 17, 2020 op-ed in the Washington Post by Mary McCord, a former U.S. acting assistant attorney general for national securityhttps://t.co/Vwhy5N00xd

— michaelscherer (@michaelscherer) October 8, 2020
At one point in the spring, armed protesters entered the state capitol, where it is legal to openly carry firearms, and demanded an end to Michigan's state of emergency.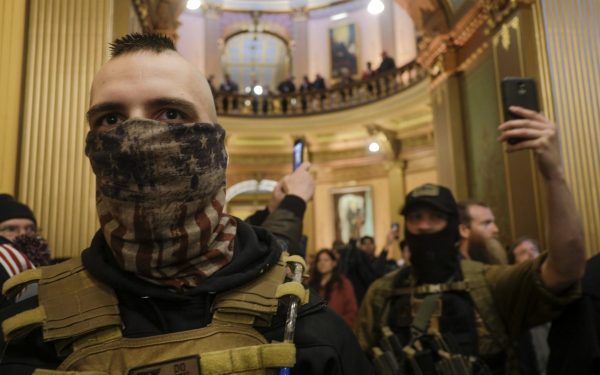 After protests, Trump tweets Whitmer 'should give a little':
The Thursday protest drew an estimated 800 to 1,000 people to Lansing. Some of them entered the Capitol building and demanded to be allowed into the House chamber as lawmakers met. The event drew national attention.
Many of the protesters called on officials to lift restrictions, like Whitmer's stay-at-home order, which they see as an infringement on their constitutional rights.
Some of the protesters openly carried firearms, which have long been allowed inside the Capitol.
President Donald Trump tweeted Friday morning that Gov. Gretchen Whitmer should "give a little" and "put out the fire" after hundreds of protesters rallied at Michigan's Capitol against restrictions to combat COVID-19 a day earlier.
The Governor of Michigan should give a little, and put out the fire. These are very good people, but they are angry. They want their lives back again, safely! See them, talk to them, make a deal.

— Donald J. Trump (@realDonaldTrump) May 1, 2020
Former Vice President Joe Biden, the presumptive Democratic nominee for president, weighed in later Friday, tweeting that he'd say what Trump wouldn't:
"The Confederate flag, swastikas, and other symbols of hate that have been used in these protests have no place in America. The president should encourage folks to follow Gov. Whitmer's public health orders — not sow further discord and division," he wrote.
I'll say what Donald Trump won't: The Confederate flag, swastikas, and other symbols of hate that have been used in these protests have no place in America. The president should encourage folks to follow Gov. Whitmer's public health orders — not sow further discord and division. https://t.co/fZrHELiXVh

— Joe Biden (@JoeBiden) May 1, 2020
UPDATE:
CNN continues:
State Republican leaders on Thursday swiftly condemned the plot.
"A threat against our governor is a threat against us all," Michigan Senate Majority Leader Mike Shirkey said in a statement.
And Michigan Republican Party Chair Laura Cox noted, "We live in a nation where we settle our political disagreements at the ballot box, not through violence, and any attempt to do otherwise is an attack on our Constitution, our values, and our American way of life."
But Trump campaign senior adviser Jason Miller lambasted Whitmer for calling out the President.
"We're all united standing against anyone who would conspire to cause such hatred and violence. And there is no place for that in American society in any way, shape, or form," he said on Fox News. "But why Gov. Whitmer would go and start attacking President Trump, this is just — people can see right through it. They can see that Gov. Whitmer is a complete phony and it is just disgusting that she would take a moment of unity to attack the President."
Yeah, fuck you Jason Miller.
This is a pattern: Trump paints a target. An attack or plot follows.

[Scheme to kidnap Michigan governor. Bombs mailed to news orgs/Obama officials. Vigilante violence at BLM protests.]

Why there is serious concern about election violence.https://t.co/u4FErQqNop

— Greg Miller (@gregpmiller) October 8, 2020
Donald Trump tweeted "Liberate Michigan" and now the FBI uncovered a plot to kidnap the Michigan governor and overthrow the government. This is dangerous. Trump doesn't care about law and order. He just wants to hold on to power. Don't let the racists win. pic.twitter.com/3WLcxFXWlp

— House Judiciary Dems (@HouseJudiciary) October 8, 2020
This white supremacist "civil war" cosplay by mentally unstable extremists with a gun fetish has got to stop. This domestic terrorism problem has been ignored or downplayed for decades. And now we have a white nationalist president inciting these "militias" to violence in opposition to COVID-19 public health safety precautions recommended by his own Coronavirus Task Force, CDC, NIH and FDA.